Low-interest starting from 227%
Short-term loans up to $1,000
Repayment up to 45 days
In-page navigation
---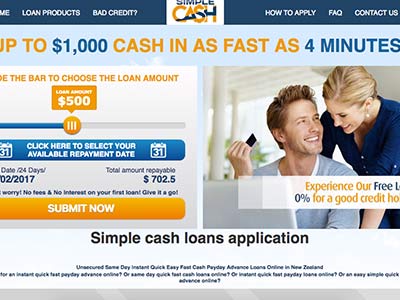 About Simple Cash
Simple Cash is a part of the Ferratum Group.
This group was established in 2005 and since then has been servicing clients globally. We are one of the most popular choices when it comes to obtaining emergency funds when you need them!
It is thanks to us specializing in short-term loans that we ensured that the necessary rules and regulations are followed. We ensure that this is in place to protect both ourselves and you, the consumer. We are a registered financial provider and pride ourselves in lending money responsibly.
Tailor-made loans
One of the fundamentals in the business is to strive for excellence through all our customer service dealings. Thanks to our fast and efficient services, we have become, without a doubt one of the best in the market and continually go beyond the call of duty when approving client loans with our tailor-designed offerings.
Straight forward loan application
Simple Cash has a dedicated team of consultants that work tirelessly to offer the latest and greatest throughout all countries and branches. With that said, we aim to serve you both in person and electronically. Don't worry about costs, we won't charge you for applying through us either! We believe that clients should experience a simple process when applying for an online loan.
Technology has allowed us to offer immediate responses through mobile platforms, it's no surprise that we have over 1.5 million happy clients! Go the online route and avoid tedious processes with banks and rather enjoy our effortless loan application process. Short-term loans mean gaining the quickest access to funds and Simple Cash insists on giving you just that!
What Simple Cash can offer you
As emergencies come up, so do the needs for money! It's for this very reason that short-term loans are so popular.
Some of the more popular options on the list of short-term loans at Simple Cash are payday loans and quick cash loans. Due to the nature of how easy they are to obtain and how perfectly tailored the solutions on offer truly are, these loans are taken out in large numbers daily.
Simple Cash s

hort-term loans

When applying for a short-term loan, there are things you need to consider. The first element is the type of loan you choose. This loan is specifically designed for customers that only need a small amount for a short period of time. Short-term loans are a part of the microloan category and will be approved without any issue or query to those individuals who meet the minimum criteria required.

We all have different reasons for taking out a short-term loan, however, with us, there are no questions from our side, you can spend it as you wish. We also don't require any credit checks before approving the short-term loan. It's mainly your affordability that we look assess via your bank statement. It is still a good idea to understand the rates and fees of short-term loans before you consider applying for one.
First-time clients
All out first-time customers are eligible to borrow up to $200 and will receive this money directly into your dedicated bank account before you know it! Within just 24 hours of submitting your online application, you can have full access to your loan money. The borrowing amount grows as our relationship with you does.
Simple Cash Product Details
Loan Type

Short-term loans

Interest Rate

from 227%

Loan Amount

up to $1,000

Repayment

7 days to 45 days

Decision

2 hours
Simple Cash understands your short-term requirements better than most!
It's true that these loans come with a high level of risk, however, there is a very good reason for it.
These loans are unsecured, therefore there is no security whatsoever for the lender when the borrower cannot repay the loan. Loans for blacklisted people are available. At Simple Cash, we choose not to perform background credit checks that could impact your approval, we rather assess your affordability at the time you apply for a loan.
Have you done yourself in with a history bad credit? If you have, then don't worry too much, because you'll still get a loan with us. It's only you that knows your ultimate affordability because you're the one who knows what other debt or responsibility you may have outside of what your bank statement might say.
Consider the following
If your expenses are leaving you dry each month, be careful when it comes to taking out a short-term loan. The capital amount is not all you need to worry about, you'll need to pay for the interest and admin fees as well. Do your best not to overindulge when it comes to the amount you borrow on the quick loan for the amount since you have to repay it all at some point.
Borrow only as much as you need! It's named short-term for a reason because it wouldn't be advisable to become a regular expense in your life. If you become too dependent on borrowing money to cover daily costs, then you'll end up needing credit in the long-term. Not only will you accrue debt, but you'll also be at risk of worsening your credit score.
Make short-term work for you
Pay your loans on time. Are you taking out a second loan? Then make use of the same provider which could attract improved interest rates. With good payments, come good rewards! You are a loan application away from getting the funds you need.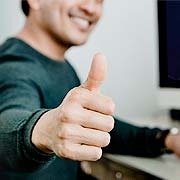 Simple Cash is a trusted & reliable provider of short-term loans
In our review, Simple Cash adheres to the compliance criteria in accordance with Credit Contracts and Consumer Finance Act (CCCFA), where the granting the loan will not cause financial distress to the consumer.
Simple Cash is a registered credit provider in New Zealand: FSP70021
Customer Reviews & Testimonials
"
After completing my application I was surprised by how flexible the application was. Not only did I have control over the amount I wanted to borrow but the borrowing period too! It feels good to...
Eric F
— Ohaka —
I have not had the time to step out of the office and found myself delaying my application. But once I discovered the online application option I did not look back. A cup of coffee later and ever...
Kevin F
— Albany —
Simple Cash Contact Details
Contact Number
E-Mail
Website
Physical Address
132 Hurstmere Road

Auckland

Auckland

0622

New Zealand
---
Postal Address
PO Box 33-1009, Takapuna, 0740, New Zealand
Opening Hours
Monday

09:00 – 17:00

Tuesday

09:00 – 17:00

Wednesday

09:00 – 17:00

Thursday

09:00 – 17:00

Friday

09:00 – 17:00

Saturday

– Closed

Sunday

– Closed