Low-interest starting from 521.43%
Short-term loans up to $1,500
Repayment up to 70 days
In-page navigation
---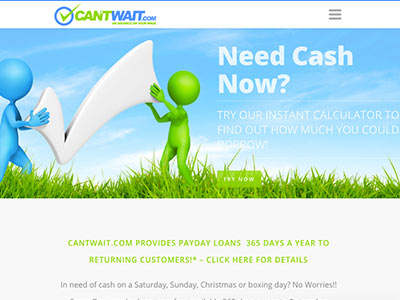 About cantwait.com
Life happens, and it might be difficult to prepare for everything life might throw at you.
If you require a short-term loan to help you cover a bill or to make a purchase, Cantwait.com has a solution for you.
Cantwait is a short term loan provider
They have been providing short-term loans to people living in New Zealand for more than 17 years. With 43000 satisfied customers, 45800 quick loans, and 27850 cups of coffee served so far, they take pride in offering you a great service every time.
Short term loans by a family-owned company
Cantwait.com owners have lived in New Zealand for a long time and know what it's like to be a Kiwi. During times of short-term cash shortages, they aim to provide you with a helping hand. They want to be there for you when you need them, and will advocate responsible lending! Visit their site to see how they can be a good fit for you.
Easily apply for a short-term loan
You can rest assured that their website is simple to use and their staff will offer assistance if you require it. The process is easy to follow and the approval requirements are fair.
Short term loans for returning clients
They value each of their clients. If you have finished paying off your previous loan, you will be able to apply for future short-term loans faster since they already have your verified information saved on your profile.
This shortens their application even more so that you will be able to get the money you require as soon as possible.
What cantwait.com can offer you
New Zealanders can apply for fast online loans through Cantwait.com simply and conveniently.
A short-term loan application takes just a few minutes and can be completed online, making it ideal for people who need money until their next payday.
What you can use your short-term loan for
These loans are perfect for unplanned expenses. When you receive a bill you were not planning to receive or need to fix a problem you did not plan for, a short-term loan can help you out for a short while.
How much can you borrow
Cantwait.com allows you to apply for a loan valued at $250 to $2000. You can choose to pay it back between 1 to 3 months. The great part is that you are in control of your short-term loan.
Each loan repayment will repay a portion of the principal loan amount as well as a low-interest fee and possibly a service fee. They are a very transparent company that will provide you with the breakdown of all costs incurred before you proceed with your short-term loan.
Short term loans that fit your needs
Cantwait.com has a quick response time and is open every day including weekends and public holidays. Their entire application process takes place online. This enables you to apply for a loan whenever you need it and wherever you find yourself.
cantwait.com Product Details
Loan Type

Short-term loans

Interest Rate

from 521.43%

Loan Amount

up to $1,500

Repayment

24 hours to 70 days

Decision

2 hours
Applying on Cantwait.com is as easy as filling in a quick application form online
Full name, date of birth, a photo of your face, and your signature must all be displayed on your photo ID.
A driver's license or a passport might suffice. You will need to provide proof of address and have access to your Internet Banking.
Steps to apply
Fill out their quick and easy online short-term loan application.
Keep an eye on your emails as one of their loan experts may be contacting you with additional requirements.
You'll receive an email with a breakdown of the ways you can repay them, your loan terms, and repayment amounts. You can sign and submit if you are happy.
They will deposit the funds into your account once they have received your loan acceptance response.
Criteria to meet when applying for a short-term loan
It is necessary to have New Zealand citizenship or permanent residency in the country.
To qualify for a short-term loan, you must be employed and earn at least $350 after taxes each week.
The minimum age requirement is 18 years.
You need to have a bank account that has been open for at least three months and request that your employer deposit your wages into it.
You are not allowed to currently be bankrupt, nor currently under SIO, and also not currently under NAP.
You must be able to show responsible spending habits as well as the ability to repay a loan without causing undue hardship to your family.
You need to pass the affordability and creditworthiness tests.
Get the service you deserve
Dealing with Cantwait.com is straightforward, and it will most likely be a fresh experience for individuals who have never used them before. Their team is competent, accurate, and speedy, and your loan application form will be examined and authorized in less than two hours.
This excellence in speed and service is why so many Kiwis prefer them. Apply for your short-term loans NZ online today and get the funds you need.
Benefits of Cantwait.com's short-term loans
You can create your short-term loan online by utilizing their loan calculator.
Apply any day of the year.
Once approved, your loan will be sent into your nominated bank account immediately.
They are transparent and do business simply and accurately.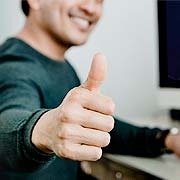 cantwait.com is a trusted & reliable provider of short-term loans
In our review, cantwait.com adheres to the compliance criteria in accordance with Credit Contracts and Consumer Finance Act (CCCFA), where the granting the loan will not cause financial distress to the consumer.
cantwait.com is a registered credit provider in New Zealand: 1965
Customer Reviews & Testimonials
"
One of the things that I was concerned about when it came to borrowing was flexibility. So often the borrower has little to no control over how their loan will be organised but with Cantwait.com ...
Victoria S
— Mount Maunganui —
After my vehicle needed some repairs I did not think that I would find a way to make it through the month. However, with the help of Cantwait.com, I was able to get my vehicle back on the road an...
Steve C
— Panguru —
The interest rate is low and there are no hidden costs, Cantwait was a huge assistance to me when I needed it. The online application procedure was straightforward, and they answered immediately.
Brent B
— Christchurch —
Due to their exceptional assistance during a time of financial difficulties, I would recommend Cantwait to anyone.
Ryan T
— Napier —
Thank you for treating me like a human being, not simply a customer. Thank you for your kind words. It is with deep gratitude that I express my gratitude to you for the help you have given me.
Howard E
— Wellington —
cantwait.com Contact Details
Contact Number
E-Mail
Website
Opening Hours
Monday

09:00 – 17:00

Tuesday

09:00 – 17:00

Wednesday

09:00 – 17:00

Thursday

09:00 – 17:00

Friday

09:00 – 17:00

Saturday

– Closed

Sunday

– Closed