mortgagerates.co.nz
Updated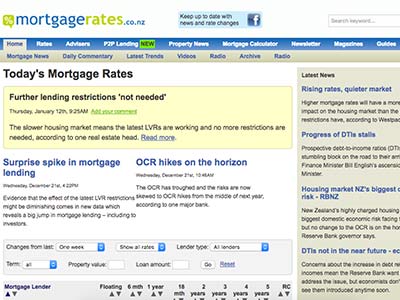 About mortgagerates.co.nz
Mortgagerates.co.nz is a website that is dedicated to informing kiwis about the current mortgage rates in the country.
Whether you're an avid property investor or a first time home buyer – our website can help you identify home loan providers and lets you know who offers the best rates.
An ever-changing property and financial market
Both the property and financial market in New Zealand is changing, evolving and growing at a fast pace that makes it hard to keep up with. When you're looking for a home loan the lowest interest rate may not necessarily be your current bank or previous home loan provider and it's mortgagerates.co.nz that is here to help you find out who does.
What mortgagerates.co.nz can offer you
Mortgagerates.co.nz is an independent website that provides homeowners, investors and the general public with a free and unbiased way to compare interest rates offered on home loans by the biggest and most competitive financial companies in the country.
You can compare rates, track changes and identify the most reliable lender all in one nifty little site!
Understanding our platform
Mortgagerates.co.nz is a simple, straightforward and accurate website that lists a number of lenders, home loans and interest rates from ANZ to First Credit Unions – we list offers from banks, private finance companies, building societies and credit unions on our website.
mortgagerates.co.nz Product Details
Loan Type

Loan comparison
Our website is the largest website dedicated to home loans in the country
The way that you make use of our website depends entirely on what you are looking for – if you're looking to invest at the most opportune time then you can track changes in home loan interest rates on our site for a period of 1, 2, 3 or 4 weeks and 3 or 6 months to find out which company has seen the biggest drop in rates.
Finding the ideal home loan
If you're looking to buy your very first home than you can use our website to find reliable lenders and get an idea of what a competitive interest rate looks like – just so you know what to look for. You can identify the lenders who are offering the lowest rates and therefore make your home finance treasure hunt easier and more efficient.
Information that you will find useful
When it comes to lending, especially if you are a first-time buyer, you may overlook certain details and steps that could have made your borrowing experience simpler and cheaper. We are here to help you take the best route on your financial journey.
Placing the perfect deposit
Especially if you are a first-time buyer, saving for a deposit can be difficult. Most lenders require a twenty percent deposit which means twenty percent of the current property value. Some lenders will allow up to ten percent for first-time buyers. However, the larger the deposit you make, the faster you will repay your mortgage and the less interest you will accrue. New Zealand has schemes like KiwiSaver and Home-Start Grant that can assist you to make the deposit on your dream home.
An adviser to put you at ease
Our website has a list of trusted and knowledgeable mortgage brokers in various areas in New Zealand. If you are struggling to decide which lender is the right choice for your circumstances, do not suffer in silence - a broker can help you. Most of the time you will not even be required to pay a fee since the broker obtains a commission from the lender you decide to borrow from.
Customer Reviews & Testimonials
"
When I needed to purchase my first home I was a nervous wreck. But with the help of Mortgagerates.co.nz I was able to make the best-informed decision for my circumstances.
Angela F
— Auroa —
The largest issue I have experienced with some comparison sites is that their data is disorganized and difficult to follow. But it is a pleasure to use Mortgagerates.co.nz website as everything i...
Jack M
— Inglewood —
Since the data on Mortgagerates.co.nz site is always up to date I was able to track the fluctuations in rates for various lenders accurately. Thank you for making decision making easier!
Paul N
— Alexandra —
mortgagerates.co.nz Contact Details
Contact Number
E-Mail
Website
Physical Address
---
Postal Address
PO Box 911254 , Victoria St West, Auckland 1142, New Zealand