mortgagerates.co.nz
Updated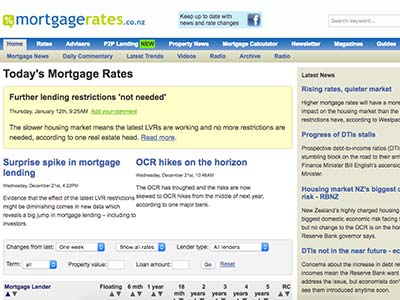 About mortgagerates.co.nz
Compare loans the easy way.
MorgageRates.co.nz gives detailed information for you to compare the latest mortgage options from the best banks that are available in New Zealand. They assist borrower's in locating home loan providers and determining who has the best prices.
They employ a refinance calculator to figure out how much interest can be saved. By refinancing to a new bank, you can also get cash right away.
MorgageRates.co.nz allows you to search for some of the best mortgage rates available in New Zealand at any given time. They explain how paying off your mortgage years sooner can save you a significant amount of money. They provide information to help you better plan your loan and better manage your own budget.
Find the best available Mortgage rates today
Mortgage rates aren't going to get much lower! Whether you're looking to buy or refinance, now is the best time to apply
Determine whether refinancing is a viable choice
This helpful tool will allow you to weigh all of the factors that could influence your unique circumstance, allowing you to make an informed decision. Refinancing has many potential advantages but requires careful consideration.
What mortgagerates.co.nz can offer you
They offer borrowers a free and unbiased way to compare interest rates on home loans offered by New Zealand's largest and most competitive financial institutions.
You can also calculate how much money you can save by refinancing your loan. What's more is that you will also be able to calculate how much you will save over the life of the loan, as well as how long it will take to break even on refinancing fees.
Reduced monthly payments
MorgageRates.co.nz assists you to filter through and compare loan quotations in order to reduce your payments by refinancing to a cheaper interest rate or extending your amortization period.
Refinance for fixed-rate loans to minimize risk
In providing quotations for fixed-rate instead of adjustable-rate mortgages, MorgageRates.co.nz helps to reduce the risk for the borrower.
Likelihood of receiving cash
Refinancing allows receiving a lump-sum payment at closing. Any amount refinanced in excess of what is needed to pay off prior mortgages (plus transaction expenses) will be refunded to the borrower.
mortgagerates.co.nz Product Details
Loan Type

Loan comparison
Our website is the largest website dedicated to home loans in the country
If you choose to refinance it will give you an opportunity to change your loan term.
It will allow you to pay off your mortgage early (assuming no prepayment penalty) by simply adding to the monthly payment.
Steps to apply online:
Step 1:
To use the mortgage calculator tool, you must first collect the information needed to be entered. The Mortgage Refinance Calculator assists visitors in performing preliminary research to see whether refinancing will save them money.
Step 2:
You will then need to complete and run the online calculator. Based on your input they will perform a loan comparison and provide you with home loan options and estimates.
Step 3:
You can then review the recommendation and may consider alternative suggestions based on changes made to the input criteria.
Step 4:
By getting in touch with them a mortgage broker can look at your current loan or help you get a new one.
Loan comparison portal to assist in locating favourable loan conditions
When it comes to house loans, the lowest interest rate may not be offered by your current bank or former lender. After entering your data, the results will appear instantly, enabling you to compare loan amounts, monthly payment amounts, and total interest charges.
Offers from banks, private finance businesses, building societies, and credit unions are listed on mortgageRates.co.nz.
Benefits of using MorgageRates.co.nz
Refinance calculator makes sifting through loan quotes of various banks easier.
Independent platform to find brokers.
Provides helpful content that enables the lender to pay off a home loan much faster.
Helps the borrower find the best terms available for refinancing.
Provides loan comparisons for the visitor in a clear and precise manner.
They offer a simplified process.
Customer Reviews & Testimonials
"
When I needed to purchase my first home I was a nervous wreck. But with the help of Mortgagerates.co.nz I was able to make the best-informed decision for my circumstances.
Angela F
— Auroa —
The largest issue I have experienced with some comparison sites is that their data is disorganized and difficult to follow. But it is a pleasure to use Mortgagerates.co.nz website as everything i...
Jack M
— Inglewood —
Since the data on Mortgagerates.co.nz site is always up to date I was able to track the fluctuations in rates for various lenders accurately. Thank you for making decision making easier!
Paul N
— Alexandra —
MorgageRates.co.nz made it easy for me to do all my comparisons for better rates in one place. They made me aware of how I can save capital on my mortgage loan.
Tasman J
— Dunedin —
They offer the most comprehensive mortgage comparison standards that are available on the internet for borrowers in New Zealand.
Williams S
— Tauranga —
They helped me shop for the best possible terms to refinance my home mortgage with an easy-to-use calculator.
Vito T
— Nelson —
mortgagerates.co.nz Contact Details
Contact Number
E-Mail
Website
Physical Address
---
Postal Address
PO Box 911254 , Victoria St West, Auckland 1142, New Zealand