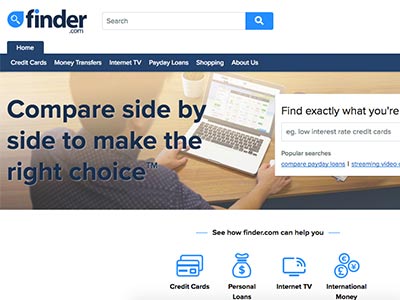 About finder.co.nz
Finder.co.nz is an independent financial product comparison service provider.
When you need to find a credit card that meets your needs and doesn't break the bank you need to compare products to find the best and we help you do that by showing your what's on offer and why it's the best at the moment.
We're free to use, accurate and reliable
When you use finder.co.nz you don't have to pay any fees and will incur no charges. Our service is free of charge and will always be this way! In addition to helping you find competitive credit card products in New Zealand we also help kiwis find payday loans, internet TV deals and even the most competitive online shopping sites.
What finder.co.nz can offer you
As mentioned our services are entirely free of charge and will show you what the best and most competitive financial products on the market are, how much they cost and what they offer you in terms of value.
We're proud of the fact that we are entirely independent and unbiased and that we have your best interests at heart.
Compare credit cards side-by-side
Finder.co.nz allows you to view the most crucial details on each credit card in a simple way. You can read our basic overview, check the interest-free period and the annual fees of each card and then click on the ones that make the most sense to you to see an in-depth side-by-side comparison – it's just that simple!
finder.co.nz Product Details
Loan Type

Loan comparison
Our service is free of charge and will always be this way!
Finding a credit card is possible one of the most difficult things to do because each product is so unique but, what adds to the difficulty is that lenders rarely make their fees, interest rates and requirements clear to the consumers.
This means it's nearly impossible to compare cards independently and that's where we come in.
Our in-depth comparisons
Once you've reviewed the basic details of the credit cards we list on the site you can then compare your best matches more deeply by selecting them and clicking on the compare tab. You will then be able to view additional details including the maximum credit limit, additional cardholder limit, cash advance rates, purchase rates, minimum repayment amounts, late fees and so on.
Help us build a brighter Finder
Global success entails a like-minded community of people working together. Our team of energetic, witty and passionate Finders are all devoted to guiding our audience through complex decisions. Every day, we help people save capital, get better rewards and also to learn something. Finder is equally devoted to helping our team develop, thrive and remain inspired to learn.
We have a generous package of benefits and opportunities to master your craft on offer:
Employee assistance program
Access to training, development and a substantial resource library
Free lunch and snacks in our vibrant offices daily.
Full technology package for in house and distributed crew.
Flexible outcomes - driven workplace.
Health and retirement benefits.
Passionate startup culture.
Free? What's the catch
Finder is free to use and it will always be!
We do not sell your details to marketers or harass you with annoying phone calls. Plus, we don't mark up prices or apply added fees. We are on your side.
Finders in numbers
Finder humans are monetary professionals, data nerds and dog lovers – in addition to being publishers, analyst, developers, designers and content specialist. What brings us all together is our passion for helping people live better lives.
What we aim for
Millions of people globally trust Finder to help them make better decisions. We can help you too. We understand that making everyday life decisions such as purchasing a home, finding a credit card and getting health insurance can be daunting. That's why we are here. Our aim is to help you steer those complex decisions by making them less of a chore and hopefully less of a bore too.
Customer Reviews & Testimonials
"
Fast and friendly service, if you want to make a good loan choice, compare with Finder
Nikau W
— New Zealand —
I was able to find a personal loan that met my needs and didn't cause unnecessary strain on my salary when it came to repaying my loan
Harper W
— Nelson —
finder.co.nz Contact Details
Contact Number
E-Mail
Website
Physical Address
10/99 York St, NSW

Australia

Sydney

2000

New Zealand
---
Postal Address
Santa Monica, 1460 4th Street, Suite 306, Santa Monica, CA 90401, New Zealand