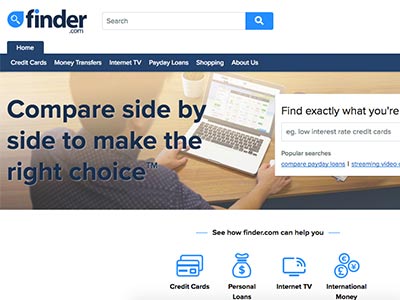 About finder.co.nz
Compare loans side by side and make the right choice.
Finder.co.nz is an independent financial loan comparison service provider. When you need to find a loan that best meets your requirements, Finder.co.nz can help you. They will show you the top loans and why it's the best at the moment.
A free, accurate, and reliable site
When you use Finder.co.nz you don't have to pay any fees. Their service is free of charge and will always be. They have helped kiwis find products like payday loans, internet TV deals, and even the most competitive online shopping sites.
Finder.co.nz allows you to compare loans and the most important details in a simple way. You can read the basic overviews, and check the interest-free period and the annual fees of each loan – it's just that simple.
Compare loans the easy way
Once you have reviewed the basic details of the lenders you can then compare your best matches more deeply by selecting them and clicking on the compare tab.
You will then be able to view additional details including the maximum credit limit, additional cardholder limit, cash advance rates, purchase rates, minimum repayment amounts, late fees, and so on.
What finder.co.nz can offer you
Global success entails a like-minded community of people working together.
Their team of energetic, witty, and passionate Finders is all devoted to guiding their audience through complex decisions. Every day, they help people save money, get better rewards, and also to learn something new.
What brings them all together is their passion for helping people live better lives.
A Loan comparison company trusted by many
Lenders partner up with Finder.co.nz because they deliver outstanding results. Their long-standing partnerships with leading global and local brands speak for themselves. Their support team will offer you some great and helpful advice to help improve your performance, and is committed to your success.
The loan comparison calculator
Be empowered and let the affordability tools like their comparison calculator work out everything for you. The calculator tool can help you by finding out how much you can afford to spend.
Improve your financial record and let the calculator help you to make more informed choices and compare loans in detail.
finder.co.nz Product Details
Loan Type

Loan comparison
Our service is free of charge and will always be this way!
Finder.co.nz is transparent to use and it will always be! They don't mark up prices or apply added fees to loans as they are completely on your side.
They are equally devoted to helping their team to develop, thrive and remain inspired to learn.
One reliable group with offices worldwide
They are a group consisting of hundreds of friendly employees. With over 20 offices across the country and in the following 5 cities
London, UK
Sydney, Australia
New York, USA
Manila, Philippines
Wroclaw, Poland
Their mission is global so they are located all over the world for your convenience.
Follow these easy steps and start to compare loans:
Go onto the Finder.co.nz website, and see what the lenders that are listed on their site have to offer.
Choose a lender that is the most suitable.
Fill in the online loan application form and attach all needed documentation if required.
If your application is approved, and all the documents are checked, they will notify you.
A Loan comparison company that aims for the best
Millions of people globally trust Finder.co.nz to help them make better decisions, they can help you too. They understand that making everyday life decisions such as purchasing a home, finding a credit card, and getting health insurance can be daunting, that's why they are there to assist you.
Their aim is to help you make those complex decisions by making them less of a chore and saving you some time. Make your financial problem something of the past, and find a lender that will offer you the most amazing loan.
Benefits when you compare loans with Finder.co.nz
Transparent, with no hidden fees.
A friendly and professional team of staff members.
Financial advice to choose the best loan options.
Safe and secure online loan comparison
Save money.
Learn something new.
Great deals offered to you.
Helping you to find the best options
Sometimes when you least expect it, the most unforeseen things happen. Maybe you have been planning for your dream wedding or a relaxing holiday for a while but finances just won't allow it.
Customer Reviews & Testimonials
"
Fast and friendly service, if you want to make a good loan choice, compare with Finder
Nikau W
— New Zealand —
I was able to find a personal loan that met my needs and didn't cause unnecessary strain on my salary when it came to repaying my loan
Harper W
— Nelson —
Fast and friendly service. I am a very happy customer and will recommend finder.co.zn to anyone.
Evans R
— Wanaka —
Fast and friendly service, if you want to make a good loan choice, compare with Finder.
Gilbert J
— Auckland —
finder.co.nz Contact Details
Contact Number
E-Mail
Website
Physical Address
10/99 York St, NSW

Australia

Sydney

2000

New Zealand
---
Postal Address
Santa Monica, 1460 4th Street, Suite 306, Santa Monica, CA 90401, New Zealand