Credit Cards Compare
Updated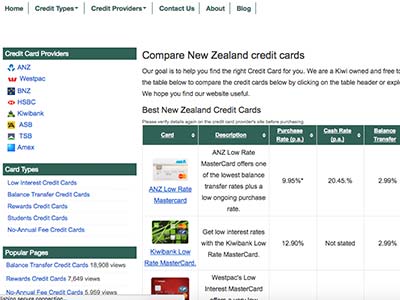 About Credit Cards Compare
See the smile in every purchase when you find the best credit card by comparing credit cards the right way.
Credit Card Compare helps thousands of Kiwis find the best credit card in NZ to suit their needs.
They are a card comparison website that aims to make credit card shopping a simplified process and to help you find something that is perfect for your lifestyle. With them, you can easily make an informed decision by conveniently filtering through all the cards available.
Why should you choose Credit Card Compare
A credit card can be very useful in times of emergency or when there are unforeseen expenses or even to make upfront payments. The best part of choosing them is it's absolutely free! With a variety of lenders to choose from, you will be spoiled with choice.
The top lenders easy-to-use tool
Sometimes it can feel like a challenge to get the perfect credit card and to find the information you need to accurately do a comparison between lenders.
On their website, you will be able to find all the important information on interest rates, and see which lenders offer the longest interest-free periods and annual fees. Compare credit cards and save money and time without having to go to the bank.
What Credit Cards Compare can offer you
With them, you can spare yourself the effort of searching on your own as they've made it easy for you to access everything you need to know in one place.
They specialize mainly in credit cards as they know how convenient they are for general payments, transfers, having backup credit, and buying online or in-store worldwide while earning rewards.
By gathering ample options from the top lenders across New Zealand, they have made the journey of finding the perfect card so easy and hassle-free.
Balance transfer credit cards
The Balance transfer credit card enables you to transfer your existing credit card debt to a new credit card and repay over 6 to 24 months at a lower rate between 0% to 5%.
If you have a lot of debt, then a balance transfer credit card might be a good option for you. You will get absolutely free balance transfers for up to 12 months!
Access a card that offers the most rewards
Enjoying ample rewards while you spend has always been a win-win. Choose a card that will make you smile every time you make a purchase.
You can get rewards and benefits in the form of reward points you can spend on anything, free travel insurance, free airport lounge access, free purchase protection, cash backs and so much more.
Credit Cards Compare Product Details
Loan Type

Loan comparison
We show you what the top lenders are offering and how much it will cost you in one easy to use table
The most suitable credit card for you would depend on your personal circumstance and how you are going to use it.
Their friendly team will be available to guide you through the credit card comparison process and assist you with advice. Whatever your card queries might be, they will be there to support you as well.
Requirements:
You must be a New Zealand citizen or permanent resident.
Have an income.
Proof of identity like a passport or license.
Over the age of 18.
Proof of address, you can simply take a photo of your documents using your smartphone and upload them.
Follow these easy steps to compare the credit cards of your choice:
Step 1:
To apply, simply click on the Apply button to go to the credit card provider's website.
Step 2:
Do a credit check and compare the card quotes provided and choose the perfect option for you.
Choose Credit Card Compare today
It will save you a lot of time when you compare credit cards in one place. Credit Card Compare does all the hard work for you by gathering all the information you need to make a proper decision.
You don't need to spend hours searching for the perfect card anymore! Start your credit comparison in a few clicks.
Benefits when you use them to compare cards
Safe and secure website.
Credit Card Compare does all the work for you.
Reliable and helpful customer service.
A variety of card options to choose from.
Customer Reviews & Testimonials
"
I could find out what the top lenders were offering and how much it was going to cost me in a very easy to use table
Charlene C
— New Zealand —
Credit Cards Compare helped me find a low rate credit card with a purchase rate of only 12,5% per year
Rayzeen J
— Nelson —
I had bad credit and wasn't sure if I ever would be able to get a personal loan, with Credit Cards Compare it's possible
Renton P
— New Zealand —
If they keep giving me affordable loan offers, there's no reason to look elsewhere. They are a top-class loan provider.
Luke E
— Napier —
I received the best service from Credit Card Compare. Their friendly staff was very helpful and amazing to work with.
Gill R
— Gisborne —
I could find out what the top lenders were offering and how much it was going to cost me in a very easy-to-use table.
Roberts E
— Nelson —
Credit Cards Compare Contact Details
Contact Number
E-Mail
Website
Physical Address
Credit Cards Compare, 94 Chelwood Street, Takaro, Palmerston North, New Zealand

New Zealand