Credit Cards Compare
Updated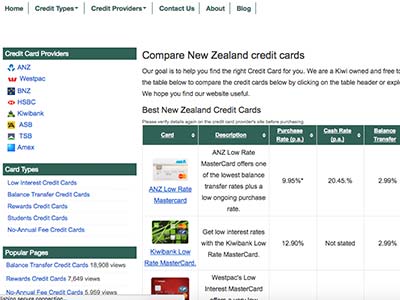 About Credit Cards Compare
CreditCardsComapre.co.nz is an independent and unbiased website that helps kiwis find and compare the best credit card products on the market.
We're different because unlike our competitors we don't pretend to be experts in all areas – just the one we specialize in – credit cards.
Our simple online card comparisons
Anyone who's ever tried to apply for a loan or a credit card knows just how impoosible it is to find the information you need to accurately compare products is. It's almost as if the lenders and banks try to hide the details on purpose and make you have no choice but to make an application to find out what they offer.
What Credit Cards Compare can offer you
We specialize in helping New Zealanders find and compare credit cards from a variety of the most competitive providers in the country.
From ANZ to Amex and Kiwibank – you can see what the top lenders are offering and how much it will cost you in one easy to use the table.
Finding the best credit card for you
You can use our website to find lenders who offer credit cards, compare credit cards based on interest rates, see which lenders offer the longest interest-free period and even see what the annual fee for each card will be. With CreditCardsComapre.co.nz you can save money and time and get the most suitable card for your needs!
Credit Cards Compare Product Details
Loan Type

Loan comparison
We show you what the top lenders are offering and how much it will cost you in one easy to use table
Our website and credit card comparison system are so simple that it's self-explanatory and require absolutely no effort on your part.
All you need to do to find the most suitable and competitive product on the market is to visit our site and choose your ideal card.
How you can compare online
We have listed all the credit card products, the lender offering the card, the purchase interest rate, the interest rate for cash advances, balance transfer rates, interest-free periods and annual fees in a table format that makes it easy to compare each card. Once you find your ideal card all you have to do is click on the application table to be directed to the lenders' site.
Why a credit card comparison website
Our credit card comparison website provides convenience, choice and information- it is that simple.
Balance transfer credit cards
Balance transfer credit cards let you transfer your existing credit card debt to a new credit card and pay back over 6 to 24 months at a much lower rate normally between 0% to 5%. If you have a sizeable credit card debt, then a balance transfer credit card might be suitable for you as credit card balance transfers can give you the reprieve you need to get your monies in order.
Low rate credit cards
Low rate credit cards are credit cards with fairly low purchase rates of usually 15% or below per year.
A low rate credit card might be suitable for you if you don't have any intentions to pay off your credit card debt on time or intend to incur a significant credit card debt in the future. Low-interest rate credit cards do not normally come with much extra benefits or rewards though and they tend to incur a yearly fee ( with a few exceptions.) If you're interested in a low rate credit card, view our low rate credit cards page to review and compare low rate credit cards in New Zealand.
Customer Reviews & Testimonials
"
I could find out what the top lenders were offering and how much it was going to cost me in a very easy to use table
Charlene C
— New Zealand —
Credit Cards Compare helped me find a low rate credit card with a purchase rate of only 12,5% per year
Rayzeen J
— Nelson —
I had bad credit and wasn't sure if I ever would be able to get a personal loan, with Credit Cards Compare it's possible
Renton P
— New Zealand —
Credit Cards Compare Contact Details
Contact Number
E-Mail
Website
Physical Address
Credit Cards Compare, 94 Chelwood Street, Takaro, Palmerston North, New Zealand

New Zealand