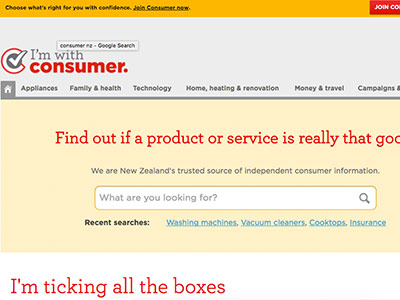 About Consumer
Consumer.org is a non-profit company that exists to help kiwis find and compare a variety of products and deals.
Whether you're looking to buy a home, apply for a credit card or buy an espresso machine we will help you do it by showing you what available and what's the best.
How we do the impossible
As you can imagine, comparing such a variety of loan products and services on the market is not a simple task. We conduct extensive research, employ a variety of experts, mystery shop and conduct test after test to ensure the information we provide is accurate and beneficial to consumers.
What Consumer can offer you
At consumer.org you can virtually find and compare almost anything you may be interested in purchasing and applying for.
With us, you can compare peer-to-peer loans, home loans and a variety of credit cards and so much more. All you need to do is click on the relevant category and view our hard earned results.
Comparing financial products
If you're looking for a personal loan you may be overwhelmed by the sheer number of available products on the market. With consumer.org you can cut straight to the point and find out which lenders are offering you the best rates and the highest value product – all in one simple click of your mouse!
Consumer Product Details
Loan Type

Loan comparison
We are all about the consumer and place the New Zealand public at the centre of all our operations
In order to make use of our service, we require that you sign up with us – this allows us to keep you informed on any deals and products that are surely not to be missed.
Once you've signed up you will gain instant access to the world of information on just about every product that you can think of and more!
Navigating the Consumer.org world
If you're looking to buy a new washing machine or television you will like our appliances and technology categories which you will find on our top navigation bar. If you're looking to compare personal loans or credit cards our money and travel category will do the job for you. Simply select the applicable category and then feast your eyes on our expert results.
Take your financial future into your hands
When it comes to handling your finances, it can be quite a daunting process which is why we try to help our customers as much as what we can. It is our promise that we will assist you to find the best possible solution to the financial problem that you are experiencing.
Calculate your way to a better future
If you are the type of person that prefers to take matters into their own hands then our website and online calculators are perfect for you. Our website will enable you to determine which choice is best for you based on the research we have conducted on various lenders. Our calculators, however, are there for you to decide the borrowing amount that you will be able to afford as well as the term and repayments. The best way to fully evaluate your situation is to understand your past, current and future finance. Take control of your finance the right way.
Understanding interest is in your best interest
When it comes to loans and interest, the lower the rate is better for the borrower. However, this is not always the case depending on the financial situation of the borrower. For this reason, the borrower may encounter higher interest rates but this is not something to fret over! This can be easily combated by paying the highest affordable repayment on your loan. This will ensure that the overall balance is repaid faster so that interest is only accrued on a smaller amount. Save yourself time, money and stress!
Customer Reviews & Testimonials
"
When I needed to apply for a loan I did not have any idea of where to begin. But, with the help of Consumer, I was able to find a variety of options that would be suitable for me. Thanks for the ...
Luke M
— Auckland —
When I opened the Consumer website I was impressed by the assortment of financial products and services at my disposal. It was wonderful to be able to sift through each option until I found one t...
Barbara M
— Linkwater —
One of the biggest headaches I get is from struggling to make a decision. But, with the assistance of Consumer, I could give the headache pills a rest as I was done nearly as fast as what I start...
Fred S
— Foxton —
Fast and friendly service, if you want to make a good loan choice, compare with Consumer
Nikau W
— New Zealand —
Consumer Contact Details
Contact Number
E-Mail
Website
Physical Address
Level 5, 17 Whitmore Street, Wellington, 6011

New Zealand
---
Postal Address
Private Bag 6996, Marion Square, Wellington, 6141, New Zealand
Opening Hours
Monday

08:30 – 16:30

Tuesday

08:30 – 16:30

Wednesday

08:30 – 16:30

Thursday

08:30 – 16:30

Friday

08:30 – 16:30

Saturday

Closed –

Sunday

Closed –