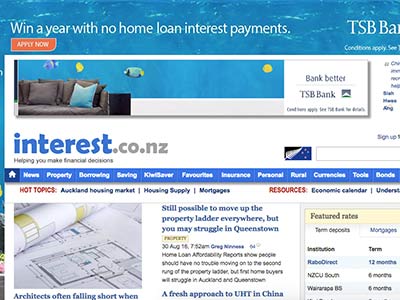 About interest.co.nz
Established in 1999, interest.co.nz is an interest rate comparison resource that's in a league of its own.
We are completely independent of any and all other financial organizations in New Zealand and are able to provide a comprehensive snapshot of the current interest rates offered on various markets.
Up to date and accurate
Our interest rate information is updated on a regular basis and we have one of the most advanced and accurate systems on the market - which means you're able to accurately view and compare interest rates 24 hours a day 7 days a week.
What interest.co.nz can offer you
At interest.co.nz you can compare virtually any type of credit product on the NZ market from mortgages, car loans, credit cards and business loans to property leasing, buying and renting rates.
You can also compare insurance products, currency exchange rates and a variety of savings and investment accounts.
Find out who the top lenders are
With interest.co.nz you can easily find out who the top lenders are by comparing their going interest rates. If you're looking for a credit card and are overwhelmed by the sheer number of options you have available interest.co.nz can make finding the best one a simple process.
interest.co.nz Product Details
Loan Type

Loan comparison
We are here to offer you advice on an adverse number of loans
Apart from selecting the form of credit that you're looking for and making use of the table listing the various lenders and their most competitive products you can also follow our new sections and stay informed on all the financial, insurance and market information that truly matters.
You can also sign up for our newsletter which will keep you informed on any relevant news and views in the financial, insurance and business industries.
Easy to understand - simple navigation
Our primary navigation bar lists the various categories that we cover and each offers a drop-down menu of specific products. Our borrowing category offers you the option of comparing mortgage rates, revolving credit rates, car loans, business loans and credit card rates and each offer its own table of lenders and rates.
An opinion that you can trust
At Interest.co.nz we pride ourselves on being able to provide our fellow Kiwis with an accurate and trusted opinion. It is our goal to ensure that all New Zealand citizens make better-informed decisions about their finances.
Calculate today to be better informed tomorrow
The first step to a better financial future is to understand your current financial position and knowing exactly where you would like to be in the future. An excellent way to determine loan affordability is by making use of an online calculator in order to discover which funding will suit your individual circumstances best. Our website offers online calculators for mortgages, debt consolidation and even deposit calculators. Our comparison table compares rates offered by banks and non-banks offering both secured and unsecured loan options. Whatever it is that you are looking for; we will help you to find it.
Secured options and unsecured options – how do I choose?
When it comes to secured and unsecured loans, the option that you choose will strongly depend on your current economic circumstances. The largest difference between the two options is that secured loans require a type of collateral while unsecured loans do not. So if you do not own property or a vehicle you will only be able to gain access to an unsecured loan option. However, if you are able to provide collateral then a secured option will allow you to borrow larger amounts at lower rates due to the added security. The option that you choose will be influenced by your personal preferences.
Customer Reviews & Testimonials
"
With the help of Interest.co.nz I was able to find the perfect loan for my situation. Thank you for your accurate data!
Jean K
— Auckland —
Whenever I need to make a financial decision I first consult my trusted loan comparison website. I do not make a decision without it!
Jeff S
— Ashley —
Interest.co.nz is a comparison site that has Kiwis in its best interest. I love their newsletter that helps me keep up to date with the current trends.
Nicole W
— Barrytown —
I would highly recommend interest.co.nz because they have the most friendly staff that makes sure you understand everything 100%.
Georgia C
— New Zealand —
interest.co.nz Contact Details
Contact Number
E-Mail
Website
Physical Address
206 Jervois Road, Level 1

Auckland

Auckland

1011

New Zealand
---
Postal Address
PO Box 47-756, Ponsonby, Auckland, 1011, New Zealand