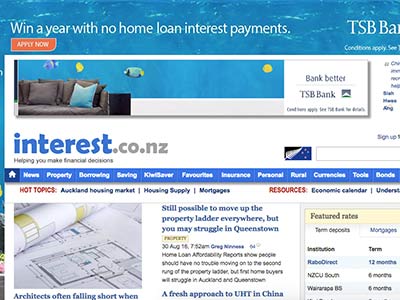 About interest.co.nz
Surfing the internet in search of financing can be a tremendous task. Luckily Interest.co.nz has made the task pain-free by doing all the search work for you.
Being able to make the best decisions when it comes to saving is great. Now imagine being able to get all your options in one place. It's like going to a hypermarket. All your options are neatly laid out for you to compare against each other.
If you are in the market to buy a new home, Interest.co.nz is the place to be. You get to compare home loans against each other on this extraordinary loan comparison website.
How Interest.co.nz came to be
For the longest time, there has been a need to be able to make the best choices financially. Interest.co.nz was established in 1999 for exactly this purpose. It was intended to help Kiwis save money in every way possible.
Being able to go to a website where you can compare loans is indeed saving you money and time. You can compare loans from different banks and financial institutions in no time at all.
They offer up-to-date industry and market figures intelligence on lending as well as deposit products. You always know what the going rate is. Interest.co.nz is a free and live service to help Kiwis make the best financial decisions.
Who and what Interest.co.nz is
Interest.co.nz is an independent provider of a service from JDJL Limited of Auckland. With Publisher David Chaston at the steer of things providing relevant information to help Kiwis make informed financial decisions.
With a brilliant team of analysts, Interest.co.nz researches all the relevant information so that you can find it free of charge in one place while they do all the work for you.
What interest.co.nz can offer you
Interest.co.nz brings you a service that is like none other and this is an accomplishment in itself. By being able to go online to their website you will have access to all the information you need.
They have relevant information on all the necessary rates you need so you can make the most informed choice. Enjoy getting the best online loans available from the comfort of your own home.
Get the best loan with this Loan comparison site
Interest.co.nz has made it possible for you to search for a whole range of loans. They have put together a very comprehensive and competitive site for the people of NZ. You can compare loans from many different banks and institutions.
You can compare anything from home loans, business loans, insurance, quick loans, vehicle finance, and so much more. With their real-time updates on interest rates, you will know exactly which loan is the right one for you.
Never again will you have to spend hours online searching a range of different financial institutions in search of the right loan for you. Visit Interest.co.nz today and see for yourself what a great loan comparison site they have.
Calculators to make life easier
Apart from making life easier by being able to bring a loan comparison site to Kiwis, Interest.co.nz has thrown in a little extra. They know that being able to compare loans is a big deal but so is being able to see if you can afford it.
They have made available a handy loan calculator. You will now be able to see if you can afford the loan that you need even before you apply. It is always good to know what you are in for before you agree.
Comparing loans and calculating affordability makes life uncomplicated and Interest.co.nz has made this all possible for free.
interest.co.nz Product Details
Loan Type

Loan comparison
We are here to offer you advice on an adverse number of loans
If you are searching for the perfect loan you probably already know you have come to the right place.
Interest.co.nz has made life easier than ever in comparing almost any online loan.
They have put together a website that is not only easily navigated but also very high tech. With the wide variety of tools that they have put together, you are now able to find the perfect loan in minutes.
Here is how you go about searching for the loan you need:
Step one:
You will make your way to the Interest.co.nz website. From there you will be able to compare the loan that you are looking for.
Step two:
You will be able to see the latest charts on interest rates from all the financial service providers in New Zealand. Along with this, you will be able to access calculators to show you what you are going to pay and how much you will save.
Step three:
Depending on the loan you are looking for, you can click on the one that suits you best. You will then be directed to a directory with all the relevant information regarding the company in question. From this directory, you are welcome to search the company you want to apply for a loan from and follow their application procedures.
Make the best financial decisions
It makes life much easier if you can compare loans in just a few clicks. To be able to see how much you will be paying even before you apply is a great benefit. It saves a lot of time as well as money.
When you use the loan comparison service from Interest.co.nz that is exactly what you will get. You have the convenience and the luxury of being able to do everything from home. They have been giving Kiwis this service since 1999 and they are proud to say that they have saved Kiwis a lot of money.
Benefits of using Interest.co.nz
You can compare almost any loan.
They offer their service for free.
Their rates data is updated many times daily.
They cover all banks and financial institutions.
Customer Reviews & Testimonials
"
With the help of Interest.co.nz I was able to find the perfect loan for my situation. Thank you for your accurate data!
Jean K
— Auckland —
Whenever I need to make a financial decision I first consult my trusted loan comparison website. I do not make a decision without it!
Jeff S
— Ashley —
Interest.co.nz is a comparison site that has Kiwis in its best interest. I love their newsletter that helps me keep up to date with the current trends.
Nicole W
— Barrytown —
I would highly recommend interest.co.nz because they have the most friendly staff that makes sure you understand everything 100%.
Georgia C
— New Zealand —
I needed a new car but didn't have the time to search different financial institutions for the best loan. A friend told me about Interest.co.nz and I went to see what they had to offer. They have...
Brown A
— Dunedin —
Interest.co.nz is a great website. Being able to go online and search all the loans with their interest rates is a big bonus. I could hardly believe that all of this was available for free. I rec...
Jones N
— Wellington —
There is no better comparison website than Interest.co.nz. They go above and beyond to bring you up-to-date and relevant information. You will find the best loan possible when making use of their...
Smith E
— Nelson —
interest.co.nz Contact Details
Contact Number
E-Mail
Website
Physical Address
206 Jervois Road, Level 1

Auckland

Auckland

1011

New Zealand
---
Postal Address
PO Box 47-756, Ponsonby, Auckland, 1011, New Zealand