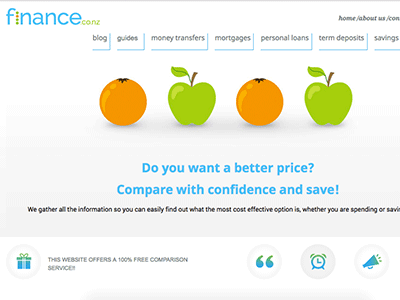 About finance.co.nz
We are an unbiased loan comparison website that allows people to find the most suitable loan products that are on offer on the market.
Whether it's from a bank or an online lender you can find the most competitive credit cards, mortgages and personal loan products in just seconds.
Completely free and unbiased comparisons
Finance.co.nz is a completely unbiased loan comparison website that lists lenders and loan products based on how competitive they actually are. When a specific product has made it to the top of our list you can rest assured that it's there because it deserves to be.
What finance.co.nz can offer you
With finance.co.nz you can compare a range of credit products from personal loans to home loans in a simple click of a button.
This allows you to cut through all the sales talk and compare the loans using the actual rates, loan amounts and loan terms that are available. If you want to make a good loan choice – compare with finance.co.nz!
Helping you find the best
In addition to the loan products that you can find and compare as mentioned above at finance.vo.nz you can also find and compare some of the best money transfer, term deposit and savings products in New Zealand in the click of a button. Whatever your financial goals and intentions we're here to support you!
finance.co.nz Product Details
Loan Type

Loan comparison
All of the lenders that we list are trustworthy and provide good quality financial products and services
You can compare loans solely on the rate that a lender is offering or by the loan amount that each offer.
This allows you to find a personal loan that meets your needs and will not place unreasonable strain on your salary when it comes to making the repayments. You will then see the lenders logo, the product and loan type, the up-to-date rate, minimum and maximum loan amount and finally a link where you can get more information.
Comparing credit cards on Finance.co.nz
When comparing credit cards on our website it's important to keep in mind that there are a variety of different credit card types which are each designed for their own set of uses. You must know whether you're looking for a card to make purchases, a card to transfer balances or a credit card that offers you special deals and point or rewards for your spending.
The obvious choice for loan comparison
Sometimes having too many options in front of you can be daunting, especially if you do not fully understand the difference between the options and their individual implications.
Finance.co.nz noticed this gap in knowledge and our business was born: we are now dedicated to providing New Zealanders with information about a variety of loan options to assist them in making the right choice.
Get the pick of the lot
It is not unusual for a prospective borrower to link a bank to a loan; while banks are still a popular choice for a loan, they are not the only option. There are other non-bank lenders available that could provide much better prospects for your current financial status. There are a variety of options like credit unions and peer-to-peer lenders – explore them all! When assessing deals be sure to not just look at the interest rate but also what additional charges and fees you could incur. It is also worthwhile to speak with other people to get their opinion on the services of a particular lender.
Bad credit? Not a problem!
Even a single missed repayment can impact your ability to borrow money which is why there are bad credit lenders that will consider your circumstances in their entirety. When applying for credit a lender looks at your income, your debts, and your credit rating. Even if you have a poor credit record there are bad credit options available such as guarantor loans. The best part about bad credit loans is that you are able to improve your credit record if you make repayments without any problems! So get the finance that you need with the potential of improving your credit score – a win-win situation for you!
Customer Reviews & Testimonials
"
After I found Finance.co.nz I decided that I would never look back. They are now highly recommended in my books and I use them for all my financial decisions.
Daisy W
— Okato —
With their website that is constantly updated I never feel insecure making a decision based on their data. Finance.co.nz knows what is potting!
Eric D
— Oratia —
finance.co.nz Contact Details
Contact Number
E-Mail
Website