Rating based on 763 reviews
---
Westpac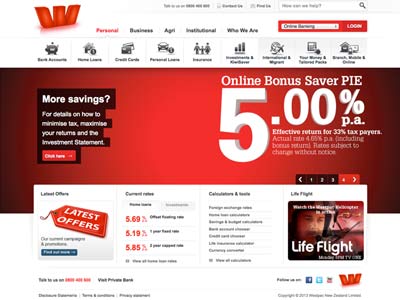 About Westpac
As one of New Zealand's most popular banks - we're proud to say that we've helped more Kiwis than any of our competitors.
We're one of the most advanced banks in the market - offering you online and mobile banking, a variety of hand apps and a range of financial products and services that simply can't be topped.
World class customer service
We can go on about how our range of financial products and services are matched by no one and how we offer some of the most competitive home loans, credit card and personal loan rates but, what will truly make us stand out is our world class service which is something customers remember long after their loans are paid off!
What Westpac can offer you
Westpac offers New Zealand's most comprehensive range of financial and banking products and services which come at some of the lowest and most competitive rates.
If you're a prospective customer we can guarantee that the best financial move you'll ever make is choosing to switch to Westpac.
Our massive range of credit cards
Unlike the majority of our competitors who only offer one or two credit cards we have a massive range of credit cards - which means that no matter who you are, what you do and what your needs are you'll find a card to match your lifestyle and your needs while remaining incredibly affordable.
---
---
In a Nutshell
Available cards

Low Rate MasterCard
Airpoints MasterCard
Airpoints Platinum MasterCard
Airpoints World MasterCard
Hotpoints MasterCard
Hotpoints Platinum MasterCard
World MasterCard
Hotpoints Gold Credit Card
Ultimate Credit Card

Rewards
Overdraft maximum $3,000
Annual fee ranges From $44 to $390 per annum
Average processing time 72 hours
Online application
In-store application
---
We're proud to say that we've helped more Kiwis than any of our competitors
Applying for a credit card or, any of our other great range of products is as simple as can possibly be.
In fact, Westpac's relationship managers will make a huge effort to make sure your transition is as quick and smooth as possible and that you're set up before you know it!
Apply online or in-store
We offer a 100% online credit card application which will save you loans of time and effort. Whether you're a new or existing customer you can apply online and one of our expert staff members will be in contact with you shortly. Customers that do not want to make a loan application online can make one in any of our nationwide branches.
What makes Westpac stand out?
The number of years we have been in the industry has been a reassuring moment that there is something we are doing right. The reason we opened an operation of this calibre was so that we could reach out to as many customers as we can regarding their credit cards and other financial queries. If you want to get a credit provider that cares about you and your credit profile, you have come to the right place at Westpac. We will never lead you to stray. Instead, we will show you the way when we feel like you are not doing things accordingly.
Putting you first always
Should you have any problems that may make it difficult for you to pay your monthly instalment on time, we will try to come up with another alternative. The customer must remember that he will be liable for extra charges in the event of failing to ensure that a successful debit order took place. If you are not too sure that you will have money on the date of your debit order, don't apply for the credit card, to begin with. Protecting your credit profile should be a priority at all times.
---
Eligibility & Requirements
---
Other Products & Services
Accounts and online solutions
lending and credit cards
Payment solutions
International Insurance
Industry Specialists
Economic Updates
Business Resource center
---
Customer Reviews & Testimonials
Contact Details
0800 400 600
(03) 3132510
03 3134269
Visit Website
Address
Physical Address
13 - 15 Ashley Street

,

Rangiora

,

Waimakariri

,

7400

,

New Zealand
Postal Address
PO Box 934, Shortland Street, Auckland, 1140, New Zealand
Opening Hours
Monday 09:00 – 16:30
Tuesday 09:00 – 16:30
Wednesday 09:00 – 16:30
Thursday 09:00 – 16:30
Friday 09:00 – 16:30
Saturday 09:30 – 13:00
Sunday Closed –