Low-interest starting from 13.60%
In-page navigation
---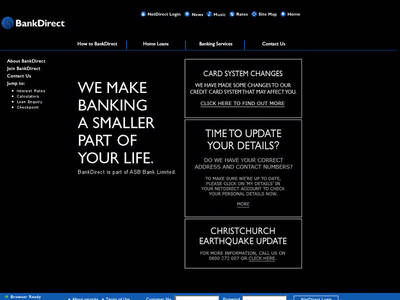 About Bank Direct
Get the credit card you deserve.
Bank Direct opened its doors in 1997 and they were the only bank in the country operating via phone and internet without any branches.
They are a registered credit provider and now offer the Bank Direct Low-Interest Visa card that offers clients competitive rates, and flexible, interest-free period credit cards.
You will earn interest on credit balances, not to mention the new look of the visa cards, which is an attractive design. Clients receive 1,00% interest per annum on credit balances.
Link your accounts
You can also link your Bank Direct Low-Interest Visa to your other Bank Direct accounts, which allows you to use one card for everything. They are centred on offering the most convenient services for you.
Choose your payment terms
Clients are permitted to pay the minimum fee or to settle the account or an amount in between but flexibility is something they strive for. Additional cardholders and 24-hour card replacements are only some of the features available with Bank Direct's Low-Interest Visa.
What Bank Direct can offer you
Bank Direct Low-Interest Visa is one of the best credit card options for New Zealand residents and they offer their clients a variety of services and benefits to suit them.
$1,000 cash advance per day
You can get cash advances for credit and EFTPOS purchases. Terms and conditions apply. What's more, is that you can draw money from over 1200 ATMs available in New Zealand. You can also use your Bank Direct Low-Interest Visa all over the world.
A 55 days interest-free Credit card for you
Enjoy the 55 days interest-free period. You never have to pay interest for purchases again. They only charge interest for failed payments. So, you will save more money to spend on the things that matter to you.
Should you require a card replacement, whether in NZ or abroad, they offer a 24-hour card replacement option. Various payment options such as automatic payment, cheque or internet banking are available. An easy online credit card application makes it easy for you to apply today!
Bank Direct Product Details
Loan Type

Credit cards

Interest Rate

from 13.60%
We offer client's competitive rates, flexibility, interest-free period credit cards
Apply for your Bank Direct Low-interest Visa online or visit your nearest store
Step 1:
To be eligible to apply you'll need to join Bank Direct as a client first, you can then easily log in and start your application.
Step 2:
They will inform you of your outcome in the shortest time possible and will then issue a new card for you if you are happy to proceed.
Step 3:
Get your brand-new, easily managed, worldwide credit card.
Safe and secure payment options
Their credit cards offer a safe, convenient way, in which you can safely and securely pay your bills and make purchases. The great part is that there is no interest charged for up to 55 days, so if you repay what you borrowed within this timeframe you will not be paying additional fees. It offers you a safe and convenient way to settle all your bills.
All Bank Direct accounts can be linked, which is just another way they are trying to make your life easier.
Easily manage your Credit card
Managing your card is hassle-free and flexible. You have the option of their online banking service, which allows you to:
View statements.
Make and view transfers.
Apply for credit limit increases.
And much more.
Alternatively, ATMs offer similar services.
Telephone banking is an option should you wish to speak with a consultant directly.
Bank Direct will give you the best of everything
Enjoy ample benefits and savings whenever you make use of your credit card in New Zealand. In essence, this is what Bank Direct wants to achieve, a continuous joyous customer-organization relationship with their clients.
When their biggest assets are happy, it means there is something they are doing right. They always strive to ensure that they keep their customers delighted with their services because they know that they are nothing without them.
The best method of paying for my Bank Direct Credit card
Bank Direct usually advises their customers to make use of the debit order option because it makes things easier for all parties involved. This way, there is no need to remind the client about their payment date.
Should Bank Direct find that there are insufficient funds in your bank account, they will try again at a later stage. A constant pattern of deficient funds in your bank account will automatically incur additional charges for you and your credit card.
Benefits
Save on interest.
The convenience of having credit on the go, wherever you go.
Earning rewards and interest on your purchases.
Easily and safely manage your money.
Customer Reviews & Testimonials
"
Bank Direct helped me with a credit card when nobody would.
Samuel P
— Geraldine —
I have found an affordable credit at Bank Direct. I am not going to any other credit provider.
Samantha H
— Gisborne —
They are absolutely the best company to get a credit card with plus the cards are so pretty.
Edwards A
— Hamilton —
I am super chuffed with the card I got from them, all the little extra features make it so nice and convenient for me. I love it.
Robinson L
— Auckland —
So excited about my new card, I got it fast and everything is 100% set for me to start my spending. They have such great benefits on this card.
Hunter D
— Napier —
Bank Direct Contact Details
Contact Number
E-Mail
Website
Physical Address
---
Postal Address
Freepost 96856, BankDirect, PO Box 35, Shortland Street, Auckland, 1140, New Zealand