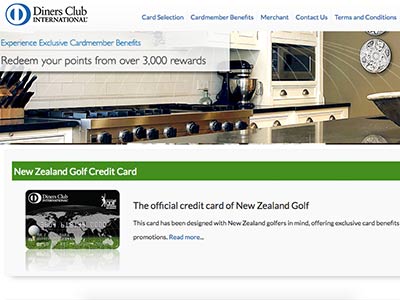 About Diners Club NZ
As an international brand, Diners Club offer one of the most comprehensive and benefit laden selection of credit cards and related packages in New Zealand.
With us, you get more than just a credit card - you get a whole host of privileges, benefits and rewards.
A card that's accepted globally
Diners Club cards are accepted across the world in more than 185 countries and can serve Kiwis no matter where in the world they may be. We offer services to both private individuals and businesses and have a range of card options to suit a variety of budgets and lifestyles.
What Diners Club NZ can offer you
At Diners Club NZ we offer a selection of three credit cards to suit the needs of our valued customers.
We offer New Zealand's official Gold Credit Card which offers avid golfers a host of premium privileges and benefits as well as our regular Diners Club Credit Card which offers a host of benefits.
Our rates and card details
Our NZ Gold Credit Card current boasts no annul membership fees while our Diners Club Credit Card carries an annual fee of $68 - much lower than the majority of cards on the market. The interest rates on purchases and charges are currently 19.95% while taking a cash advance will incur an interest rate of 21.95% per annum.
Diners Club NZ Product Details
Loan Type

Credit cards

Decision

2 weeks
With us, you get more than just a credit card - you get a whole host of privileges
In order to apply for one of our credit cards you must be over 18, be a New Zealand citizen or resident, have an income exceeding $20,000 per annum and have a good credit rating.
If you are applying for the NZ Golf Credit Card you must also be a member of an NZ Golf Club or PGA.
Applying for your card online
Diners Club allows prospective club members to apply for the card they're interested in online. Once you've verified that you meet our minimum requirements you will then be directed to our formal online loan application page where you can enter all your details and tell us what credit limit you're after.
What can I do with my credit card?
When we tell clients that they can do anything with their credit card, they feel it is too good to be true. This is the honest truth, the credit card that you have can pay your bills and your life so stress-free. There will no longer be a reason to run around and make payments. Everything can be done at the comfort of your own office or home. In essence, this is what we want to achieve, we want to ensure that customers get the utmost convenience at all reasonable times.
Understanding the fine print
The credit card that you will be applying for won't be offered to you until you sign a credit contract and read the terms and conditions. Agreeing to everything stipulated in the loan agreement means you are happy with all the rules and regulations stipulated on the credit card loan process. We advise our customers to not agree to anything they are not certain about. The only time you should sign a credit card contract is when you understand all the content that has been referenced in the contract. Don't agree to anything without understand your responsibilities as the customer.
Customer Reviews & Testimonials
"
The credit card application process was fast and easy to follow through.
Grace U
— Fairhall —
I would recommend the Diners Club NZ credit card to anybody who wants to save on the interest charges.
Nythel K
— Fairlie —
Thanks to Diners Club NZ, I now have a credit card I can actually afford.
Thomas G
— Featherston —
Diners Club NZ Contact Details
Contact Number
E-Mail
Website