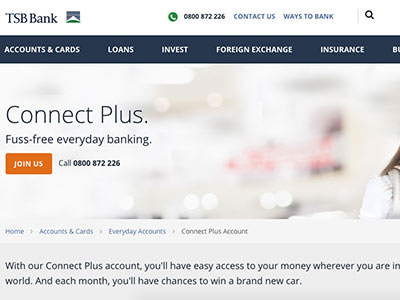 About TSB Bank
TSB Bank is one of New Zealand's fastest growing banks with most of our new customers originating from recommendations from their very own friends and family.
We are an independently owned banks which means with us there are no foreign owners and we are able to take decisions based on the needs of our customers not the need of foreign owners.
A better way to bank
At TSB Bank we offer a range of financial products and services that are miles ahead of the competition. We truly care about the well being of our customers and place a great deal of focus on ensuring that we offer a better way to bank, lend and save.
What TSB Bank can offer you
TSB Bank offers a wide range of services which includes: home loans, bridging finance, car loans, debt consolidation loans, credit cards, KiwiSaver accounts, regular banking accounts and foreign exchange, investment and savings accounts.
Whatever your needs TSB Bank has a solution and product to meet them!
Our credit card range
We offer a small yet potent range of credit cards which are designed by Kiwis for Kiwis. If you're looking for a credit card than out Visa Classic Credit card is the ideal card for you. With low-interest rates and fantastic savings and deals - you simply couldn't ask for more!
TSB Bank Product Details
Loan Type

Credit cards

Decision

5 days
TSB Bank is one of New Zealand's fastest growing banks
If you're 18 or over, are a New Zealand resident or citizen and meet our minimum income requirements than you can apply for a TSB Bank credit card either online or in one of our many branches across the country.
You can also download our credit card application form and make your way to our branches to speed up the process.
Existing customers - applying online
If you're an existing TSB Bank customer you can simply log into your online banking and apply for a credit card. Since you're an existing customer you need not upload the same supporting documents that customers do and your credit card application will be processed faster.
Ensuring that you can afford the credit card you're applying for
As much as we would like to help everybody who comes to us for assistance, we can't help a customer who is not paying his other financial obligations. There wouldn't be any justice in adding further credit to a client that is already battling to pay their current debts. Our job is to ensure that we give you a credit that is not only affordable but that wouldn't make you fall on your payment plans. TSB Bank wants to always meet customers halfway but they too need to always ensure that they do their end of the bargain as well.
What are the implications of a late payment?
Failing to pay your credit card instalment on time will not only give you a bad name but you will also be expected to pay the charges. We always expect clients to inform us of not being able to reach their payment deadlines as soon as possible. Waiting for the day of your debit order will give us the indication that you are not committed to paying your debts on time. We are not a bank that is not reasonable, we will hear you out.
Customer Reviews & Testimonials
"
TSB Bank is a bank that understands and treats their customers with respect and admiration.
Thabitha F
— Flaxton —
The interest rates at TSB Bank are affordable and I was able to still carry on with my monthly expenses.
Richards D
— Fox Glacier —
TSB Bank Contact Details
Contact Number
E-Mail
Website
Physical Address
292 Queen Street Corner of Queen & Wellesley Streets

Auckland Central

Auckland

1010

New Zealand
Opening Hours
Monday

09:00 – 17:00

Tuesday

09:00 – 17:00

Wednesday

09:00 – 17:00

Thursday

09:00 – 17:00

Friday

09:00 – 17:00

Saturday

– Closed

Sunday

– Closed