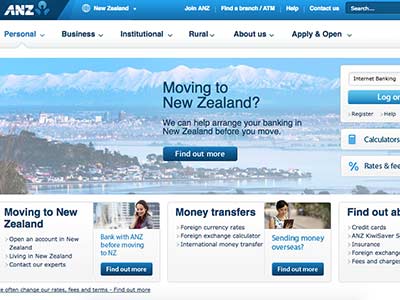 About ANZ Bank
As one of New Zealand's largest credit card providing companies and most popular financial brands we have secured a large market share and are continuing to expand through our sister brands and ongoing financial product and service diversification.
Our team of experts
With over 16,000 employees and one of New Zealand's most experienced, expert and professional leadership, management and board teams we are a cut above the rest in all that we do. We are committed to providing all NZ citizens with the opportunity to develop a career with us and focus a lot of our corporate responsibility initiatives towards achieving this goal.
What ANZ Bank can offer you
ANZ Bank offers a range of financial products and services including regular transaction accounts, personal loans, business loans and credit cards.
Our credit card range is amongst the most competitive in the country and includes 8 different products.
Which card is right for you?
If you plan on using your credit card to make the majority of your monthly purchases then our low rate MasterCard selection or CashBack cards are ideal. For those who are frequent travelers, our ANZ Airports Visa card which allows you to earn Airports Dollars will offer you fantastic rewards and savings.
ANZ Bank Product Details
Loan Type

Credit cards

Decision

2 weeks
Here's how to apply with ANZ Bank
When you apply for a credit card with ANZ we will need to collate some details and information that includes your monthly budget, existing debts, income, assets and savings.
Once you've completed the online loan application we will then process these details to determine if you are eligible for the particular credit card.
Good credit is required
In order for us to approve your application for any credit product offered by ANZ and its subsidiary brands we require that the customer have a good credit history and be able to provide proof of affordability. When it comes to credit cards the selection criteria is even more stringent and depends not only on your credit history but also on your income and existing debts.
Can I get a home loan I can afford?
ANZ Bank will never give you a credit that won't be affordable with your budget. The reason we request salary invoices is so that we can see how much you earn and how much money you left with after you have settled all your debts. This way, we will be able to make an informed decision about which home loan you can afford.
I meet the requirements but my home loan application was rejected
It is important that customers understand that while we strive to ensure that they all get a thumbs up from us when it comes to their mortgage request, we can't approve your home loan if your affordability doesn't meet our lending criteria.
Can I set up an appointment?
We know that there are customers that prefer meeting us in person as opposed to divulging their personal information online or over the phone. We don't have a problem with clients calling us to set up an appointment. Our job is to ensure that all your financial queries are attended to. Our main function is to ensure that we attend to all your credit queries and keep our customers happy at all reasonable times.
Customer Reviews & Testimonials
"
ANZ Bank afforded an affordable home loan. I was able to live in my dream home thanks to the low-priced interest rates that were charged. I have narrowed down my budget and I will still be able t...
Kenneth W
— Dairy Flat —
Completing the online home loan application felt like a breath of fresh air. Everything was completed to the best of my understanding and I didn't encounter any difficulty. I was asked to answer ...
James B
— Cust —
ANZ Bank Contact Details
Contact Number
E-Mail
Website
Physical Address
269 Lincoln Rd

Christchurch

Canterbury

8024

New Zealand
---
Postal Address
Private Bag 92210, Victoria St, West Auckland, 1142, New Zealand
Opening Hours
Monday

09:00 – 16:30

Tuesday

09:00 – 16:30

Wednesday

09:00 – 16:30

Thursday

09:00 – 16:30

Friday

09:00 – 16:30

Saturday

– Closed

Sunday

– Closed