Rating based on 633 reviews
---
Kiwi Bank
Kiwi Bank is a Registered Financial Service Provider / FSP200146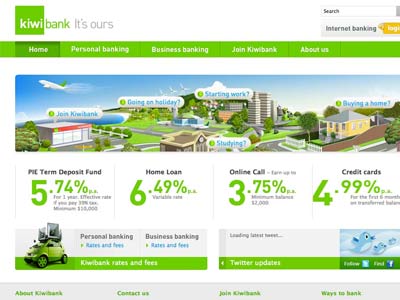 About Kiwi Bank
Kiwi Bank is New Zealand's most loved and trusted local bank and offers some of the most competitive rates, fees and products on the market.
As a New Zealand lender who strives to help our customers achieve their financial goals - we listen, we learn and we do.
Standing out when others blend in
At Kiwi Bank we pride ourselves in doing things a little differently - from offering unbelievable low rates on a variety of different financial products and personal loans to the way in which we interact with our customers - we're better in every way. if you want to deal with a truly local lender - it's Kiwi Bank you're after.
What Kiwi Bank can offer you
Kiwi Bank is a competitive financial service provider and offers New Zealanders everything from home loans and car loan to personal loans and some of the most affordably priced credit cards - when you want products and services with a competitive edge and a smile - we're the place to get it.
Our range of credit cards
From our highly competitive Low Rate MasterCard to our Airpoints Platinum credit card - Kiwi offers some of the best and most affordable range of credit cards in New Zealand. Whether it's for everyday spending or regular international travel - our range covers it all.
---
---
In a Nutshell
Available cards

Low Rate MasterCard
MasterCard Zero
MasterCard Gold
Airpoints Low Fee
Airpoints Standard
Airpoints Platinum

Interest ranges From 13.45% to 22.95%
Interest-free balance transfer periods From 44 to 55 days
Overdraft maximum $500 to $10,000
Annual fee ranges $0 to $150
Average processing time 5 days
Online application
In-store application
---
We strives to help our customers achieve their financial goals
At Kiwi Bank, we try to make applying for any of our fantastic financial products as simple and as quick as possible.
If you want to apply for a loan or a credit card you can do so online or in one of our many nationwide branches. You can also download our credit card application form and bring it in with you to make the process a lot faster.
What you need to apply for a credit card
If you're an existing customer you can simply complete an online application form and we will have it processed in no time. New customers must provide us with an ID document, drivers license, a bank statement, utility bill and your current bank or credit card.
I would like to make my credit card application at the branch
We know that customers usually don't like giving personal information over the phone. We understand this as there are so many scams happening lately that one can't help but wonder if you are really being contacted by representatives of Kiwi Bank. We don't have a problem with customers coming into one of our branches to make their application. In fact, we are happy that we can get the opportunity to interact with our customers as opposed to communicating with them over the phone all the time. Should you also be comfortable with divulging your personal details over the phone, we will still assist you. There are security verification questions that you will be required to answer before we can assist you.
What happens when I can't answer the security verification questions correctly?
Failing to answer the security questions correctly will give us the indication that you are not the customer you claim to be. We will take the matter further and lay charges of fraud and identity theft. This is just another security remedial action we have for our customers. We will always put the needs and expectations of our clients first.
---
Eligibility & Requirements
---
Other Products & Services
Everyday banking
Home loans
Insurance
Rates & fees
Investments
KiwiSaver
Personal& Car Loans
Credit Cards
Overdrafts
---
Customer Reviews & Testimonials
Address
Physical Address
969 Dominion Road

,

Auckland

,

Auckland

,

1041

,

New Zealand
Postal Address
Private Bag 39888, Wellington mail Centre, Lower Hutt, 5045, New Zealand
Opening Hours
Monday 09:00 – 17:00
Tuesday 09:00 – 17:00
Wednesday 09:00 – 17:00
Thursday 09:00 – 17:00
Friday 09:00 – 17:00
Saturday 09:00 – 12:00
Sunday Closed –