Low-interest starting from 17.95%
Business loans up to $40,000
Repayment up to 5 years
In-page navigation
---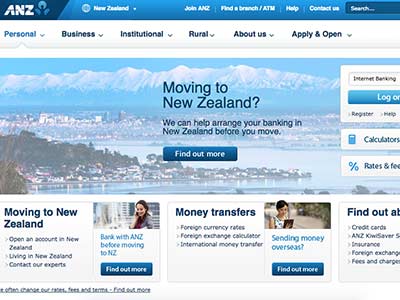 About ANZ Bank
One of the activities and services that ANZ Bank takes pride in the most is supporting local businesses by providing them with the finance they need to start, expand and make it through a difficult time.
By supporting business we support the economy and the communities we serve with respect, understanding and pride.
Secured business loans merit a low rate
Almost all business loans require security so, since the lender will always have a means to recover their investment, the rates and fees should reflect this as they do with secured versus unsecured personal loans. At ANZ Bank we offer low rate secured business loans that keep your business going both in the short-term and in the long run.
What ANZ Bank can offer you
We offer a range of business finance solutions from business start-up packages and business current accounts to business credit cards and loans.
We offer both fixed and floating rate business loan with terms of up to 10 years and a minimum loan amount of $5,000.
Helping you grow and move forward
At ANZ Bank our expert staff are able to assist businesses to identify the best business loan or revolving line of credit package for their specific needs. Whether you're running a large manufacturing business or a small dentist's office – our financial solutions will get you going, growing and moving forward!
ANZ Bank Product Details
Loan Type

Business loans

Interest Rate

from 17.95%

Loan Amount

up to $40,000

Repayment

6 months to 5 years

Decision

48 hours
At ANZ Bank we offer low rate secured business loans that keeps your business going
While you may have been led to believe that applying for finance is a long, difficult and uncertain process at ANZ Bank we strive to make things clear, easy and most of all quick.
If you're looking for a business loan or business banking solution simply complete our online application and we will get to you – FAST!
Find out about our business loans before applying
Our website lists our full range of business loan products and services and you can find out what you will need to apply for a loan, how much it will cost you and the various features that you will benefit from when choosing us. We consider a variety of different forms of security and will require detailed account statements as well as other supporting documentation to process your loan request.
You can apply at one of our branches for your loan
Would you prefer to contact one of our brokers and get them to help you with your loan? You can do it all you have to do is click on find one of our branches and then you can come in and we will help you apply for your loan. You can contact us via the phone numbers below and you can also email us your query and we will contact you back with your answer. We are here to help you and we endeavour to give you the best services.
Our minimum loan amount
Our minimum loan amount for your company will be $5000 that you will be able to take if that is all that you will need. Our loan rates and fees all differ from each other for the amount that you will need. If you would like to know more about the loan fees you can email us.
Using our loan calculator
You can use our calculator to get you the perfect loan that you are looking for or that your company is looking for. You can play around with the number and the rates will change as you will see depending on the amount that you would like to loan. You can pay back the amount weekly monthly or every fortnight.
Customer Reviews & Testimonials
"
It is so good to see that lenders still care about their customers. Not only did I receive excellent treatment while my loan was being arranged but I also experienced amazing after sales service....
Gus M
— Oban —
After I completed my application and received a response within minutes I knew that I had made the right choice. No more tedious and times taking queues for this ANZ Bank!
Nicky R
— Carterton —
ANZ Bank Contact Details
Contact Number
E-Mail
Website
Physical Address
155 Palmerston st

Westport

West Coast

7825

New Zealand
Opening Hours
Monday

09:00 – 16:30

Tuesday

09:00 – 16:30

Wednesday

09:00 – 16:30

Thursday

09:00 – 16:30

Friday

09:00 – 16:30

Saturday

– Closed

Sunday

– Closed