Rating based on 660 reviews
---
Oxford Finance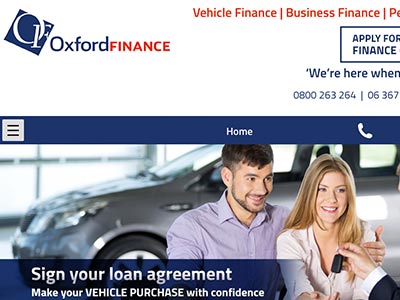 About Oxford Finance
As a lending giant that's been operating for over 25 years, we've been around for both the highs and the lows – so whether we're supporting local business by providing them with flexible business finance solutions or providing you with a flexible personal loan we go above and beyond to offer you only the best.
Taking your business to the next level
Whether you need to refurbish your business premises, buy stock, hire new employees or simply make it through an off-peak season we can offer you a business loan that will take your business to the next level. We offer affordable asset finance and will always remain a flexible, reliable and transparent Kiwi lender.
What Oxford Finance can offer you
At Oxford Finance we offer secured business loans of up to $1 million and rates that range from 9.95% to 21.95% per annum.
We also offer vehicle finance and affordable personal loans which can be used for a wide range of purposes from debt consolidation to financing a holiday.
Doing business finance in a simpler, better and more flexible way
From asset financing to bridging loans – business finance can get complicated and when your local bank can't offer you the personalized solution that you're after Oxford Finance is here to offer you an alternative solution. We offer fast approval loans with fixed interest rates that can be obtained online by virtually any type of business.
---
Interest Rate
From 0 %

To 0 % Per annum
---
---
In a Nutshell
Average processing time 24 hours
Online application
In-store application
Secured loan option
---
We go above and beyond to offer you only the best
To apply for a personal or business loan you must be at least 18 years of age and be a New Zealand resident.
You may need to provide us with your driver's licence, employment and income information, details of your expenses and existing debts and your mortgage or rental information. We will also require the details and supporting documents for the security you intend to provide.
24-hour loan approval with Oxford Finance
When it comes to business finance the application requirements and procedures will vary depending on the type of business, the type of financing and the loan amount and term. Regardless, we will generally be able to process your request and have the money in your business account within 24 hours.
Getting you the loan that you need in a few steps
We have designed a simple yet effective way for you to apply for a loan today all you have to do is click on apply. This will take you to the questionnaire that you will have to answer whether you are applying for a business loan you will have to be over the age of 18 to apply. You will need to give us your business statement reflecting your profits and losses for a year and also make sure that you complete the correct sections in the questionnaire.
We care about you that is why we offer you
We know that it can difficult applying for a loan maybe you are unsure about the wording in the question. We offer you the ability to contact us and we will get a broker to help you get through your application in no time at all.
Did you know
Oxford offers you the ability to come into our branch and apply with us all you have to do is bring your documents and come in and ask for assistance one of our brokers will help you complete your application and have it submitted for you. We offer you this so that you can have peace of mind knowing that your application will be processed
---
Eligibility & Requirements
---
Other Products & Services
Vehicle Finance
Personal Loans
Business Finance
---
Customer Reviews & Testimonials
Address
Physical Address
313 Oxford St

,

Levin

,

Horowhenua

,

5510

,

New Zealand
Postal Address
PO Box 429, Levin, 5510, New Zealand
Opening Hours
Monday 08:30 – 17:00
Tuesday 08:30 – 17:00
Wednesday 08:30 – 17:00
Thursday 08:30 – 17:00
Friday 08:30 – 17:00
Saturday Closed –
Sunday Closed –