Low-interest starting from 11.95%
Car loans up to $50,000
Repayment up to 48 months
In-page navigation
---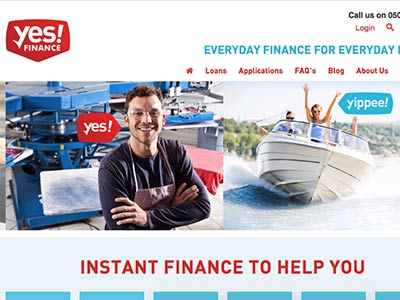 About Yes Finance
Say yes to vehicle finance with a difference. With Yes Finance your dream car is just a click away.
Not everyone is in a position to buy a car in cash. For most people, opting for vehicle finance is often a more manageable option. It is also the most accessible way to purchase that new set of wheels that you dream of.
These days having a vehicle is a necessity for everyone. Making use of public transport is inconvenient and many times expensive. Getting vehicle finance can help you acquire your ideal vehicle while repaying an affordable car loan.
Vehicle finance with a difference
Originally Yes Finance was founded to provide finance facilities to retail outlets. This was so that customers could buy their goods on credit. This was their main focus.
Since 1997 Yes Finance has grown from humble beginnings. They saw a need in the market and made it work. Mainstream lenders are often difficult to deal with and have strict conditions.
Yes Finance now also provides personal loans, business loans, vehicle finance as well as vendor finance. Since its establishment in 1997, Yes Finance has grown to become NZ's popular alternative lender.
Yes Finance is a lender that puts you first
Realizing that the people of NZ were hungry for an alternative lender, Yes Finance dished up the best there is to offer. They always put their customers first in every situation.
With the customer-focused solutions that Yes Finance has been able to provide their customers with, it is no wonder they are growing by the day. They strive to make all of their services and solutions easy and convenient.
When you, the customer, talk, Yes Finance listens. This applies to all their financial services and solutions, especially when it comes to their vehicle finance. They offer outstanding financial services all the time because they believe in a motto of consistent service delivery.
What Yes Finance can offer you
It has now been established that Yes Finance delivers outstanding service.
Keeping their customers happy is their priority. The growth that Yes Finance has shown over the years is a clear testament to their success.
This is no different when it comes to their vehicle finance. They strive to bring you the finance you need at the most affordable rate possible while offering you professional and friendly service, guaranteed.
The vehicle finance from Yes Finance is not limited to cars. This car finance option covers boats and trucks as well as caravans.
Find out what your borrowing power is
It is always exciting when you are about to take that step and buy a new car. Often you get carried away regarding what you want and what will be within your budget.
Yes Finance has thought of absolutely everything. When it comes to vehicle finance you should be certain that the vehicle you are planning on getting vehicle finance for is within reach. This makes your search for that dream car easier.
You can use the handy and easy-to-use vehicle finance calculator on their website and determine what you can borrow and what your repayments will be. This tool makes life easier knowing that it will fall within your budget.
Yes Finance is not limited to vehicle finance only
Since Yes Finance started in 1997, they have truly gone from strength to strength and have expanded their horizons to include more finance options.
They now also offer personal loans to people of NZ. These loans can be used for all kinds of expenses from an unplanned holiday to a planned wedding day. Some people also take personal loans to consolidate their debt, minimizing interest by only having one account to repay.
Yes Finance Product Details
Loan Type

Car loans

Interest Rate

from 11.95%

Loan Amount

up to $50,000

Repayment

12 months to 48 months

Decision

24 hours
Apply for a car loan online and get a YES!
With vehicle finance from Yes Finance, you can purchase your new vehicle from a dealership, a private seller, or even at an auction.
Yes Finance has made the vehicle finance application process as easy and convenient as possible. You can simply go online to their easy-to-navigate website and complete the online vehicle finance application.
What you will need to apply:
Your identification documents.
You will need a letter from your current employer stating your employment.
Proof of your current address.
Your NZ driver's license.
Bank statements showing your income and expenses.
Four super easy steps to obtaining vehicle finance
Step one:
The first step of your online car loan application will be about the loan itself. Easy questions like:
The type of loan you are looking for.
The details of the vehicle in question.
The amount you would like to borrow.
Step two:
This part of the vehicle finance application will be about you as the borrower. These are standard straightforward questions regarding things like:
Your full names and date of birth.
Your contact details.
Your current residential status.
Your employment details.
Your identification.
Step three:
This section of your vehicle finance application will be about your budget. Since you have made use of their handy vehicle finance calculator you already know what fits your pocket. Simply complete this section of the vehicle finance application fully and honestly.
The more information you can provide Yes Finance with, the quicker you will have an answer on your loan.
Step four:
Once you have completed the vehicle finance application you can submit it. This will give Yes Finance a clear indication of how they can assist you. They will then contact you to complete a more detailed vehicle finance application.
As soon as you have completed this you can have an answer on your vehicle finance in as little as one day. The more information you provide them with, the smoother and quicker the process.
Say yes to the vehicle finance you deserve today
In today's day and age, there is no reason to not own a car. When you don't have the finances to pay cash for your dream car, vehicle finance is just a click away. Everyone deserves to own their vehicle.
Making use of vehicle finance from Yes Finance today will change your life. You will be able to enjoy your car in no time. Take that chance today and opt for outstanding vehicle finance from NZ's most resilient lender.
Benefits of getting vehicle finance from Yes Finance
Yes Finance offers low-interest rates on vehicle finance.
They have made the vehicle finance application super easy.
They have online and telephonic options for you.
Customer Reviews & Testimonials
"
Yes Finance treats their customer's the way customers should be treated. I'm one very happy customer!
James T
— Auckland —
My application was processed so quickly I didn't have to wait forever to hear from Yes Finance, which also meant I didn't have to wait very long to get the money I needed to finance my car.
George H
— Dunedin —
Buying my first car was a very scary thought. I knew that I would not be able to afford to buy it in cash. Vehicle finance was my only option. I am so glad that I decided on Yes Finance. They del...
Cooper A
— Auckland —
Opting for vehicle finance from Yes Finance for the purchase of my car was a great decision. A friend told me about Yes Finance and I have never looked back. They have a very professional and fri...
Brown J
— Christchurch —
I am so pleased with the referral my friend gave me of Yes Finance. They have assisted me in buying my car as well as my boat. I will recommend them to everyone I know. Everyone in NZ needs to kn...
Williams O
— Dunedin —
Yes Finance Contact Details
Contact Number
E-Mail
Website
Physical Address
6F Sharkey Street

Auckland

Auckland

2016

New Zealand
---
Postal Address
PO Box 23008, Hunters Corner, Auckland, 2155, New Zealand
Opening Hours
Monday

09:00 – 17:00

Tuesday

09:00 – 17:00

Wednesday

09:00 – 17:00

Thursday

09:00 – 17:00

Friday

09:00 – 17:00

Saturday

09:00 – 13:00

Sunday

– Closed