Rating based on 1,620 reviews
---
AA Finance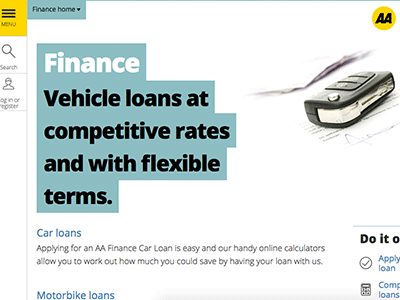 About AA Finance
While AA is well known for its top-class vehicle breakdown assistance the company has an entire variety of products and services such as vehicle repair services, vehicle loans, fuel cards and so much more.
Becoming a member allows you to access premium services at great rates.
A company you can trust
As a company with a rich 20-year history, we have amassed a loyal base of customers who rely on us for all their motor vehicle needs and trust us to be there for them in an emergency and it's no different when it comes to car financing for the purchase of a vehicle.
What AA Finance can offer you
AA Finance offers Kiwis a variety of vehicle financing options which allow customers to buy a new or used car, motorbike or boat.
Our car loans carry fixed interest rates that range from 9.95% to 15.95% and loan terms from 12 to 60 months.
Apply online in just minutes
With AA's convenient online loan application you can save both time and money by securing the finance you need from the comfort of your own home. In addition to the loan, all successful applicants will receive an AA Smartfuel card that offers 50 cents off each litre of fuel.
---
Interest Rate
From 0 %

To 0 % Per annum
---
---
In a Nutshell
Average processing time 1 hour
Online application
Secured loan option
Bad credit consideration
---
At the AA you will get quick and reliable car loans with low interest rates
Applying for vehicle finance from AA Finance can be done either online or telephonically. You can apply at any time of the day or night, however, we will only process online loan applications during business hours.
We are able to provide you with a response in as little as 60 minutes after receiving your completed loan application.
Eligibility and supporting documents
Although we strive to make quick finance available to all we are required by law to only approve those who meet certain basic eligibility requirements and these include being 18 or older with NZ residence, being employed full time and that you hold a valid full or restricted drivers licence.
Full disclosure about your loan
Get a full breakdown of all the fees and charges that apply to your car loan from the word go because we believe that you should always stay in control.
Calculate your repayments before you apply
Make things easier by using our online calculator tool to see how much your loan repayments could be. However, this tool only serves to give you an idea of what you can expect and the actual figures for your loan will be determined from your personal circumstances which will help us find a car loan solution best suited for you.
Repayment break
You have the option of taking a repayment break for 3 months, allowing you (and your budget) to get a bit of a breather as you take a break from making your repayments. Take note, however, that your ability to choose this option will be based on certain terms and conditions.
Switch to AA
If you already have a loan but would like to switch to AA Finance, you can conveniently do so without hassle. As long as your application fits our lending criteria, you're good to go. Switch today and see why so many Kiwis trust us for their car financing needs.
---
Eligibility & Requirements
Full or restricted drivers license
18 years or older
NZ resident
Employed full-time
Self-employed
Credit check
Can you provide security
30 day bank statements
Valid identity document
Security valuation appraisal (proof of insurance)
Utility bill or other (proof of address)
Bank statements or payslips (proof of income)
Personal reference
---
Other Products & Services
Personal Loans
Car Loans
Boat Loans
Motorbike Loans
---
Customer Reviews & Testimonials
I was pleasantly surprised at how quick and easy it was for me to get a car loan from AA Finance. The lady I spoke to was an absolute pleasure and made the process so much smoother.
Peter W
— Auckland —
I really liked how convenient it was for me to apply online and even when I got stuck, all I had to do was pick up the phone and I had someone to help me through it. Not to mention, I didn't even have to wait that long for a decision. All I can say is thank you for being a company that truly cares about its customers.
Rebecca T
— Gisborne —
Previous
Next
Address
Physical Address
Level 16, 99 Albert Street

,

Auckland

,

Auckland

,

1010

,

New Zealand
Postal Address
PO Box 5, Shortland Street, Auckland, 1140, New Zealand
Opening Hours
Monday 08:00 – 18:00
Tuesday 08:00 – 18:00
Wednesday 08:00 – 18:00
Thursday 08:00 – 18:00
Friday 08:00 – 18:00
Saturday Closed –
Sunday Closed –