Auto Finance Direct
Updated
Low-interest starting from 16.95%
Car loans up to $15,000
Repayment up to 4 years
In-page navigation
---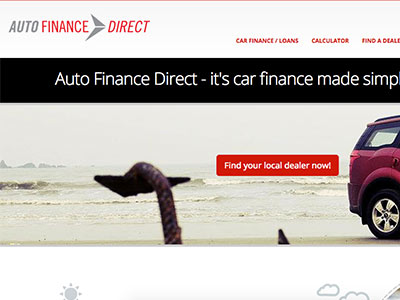 About Auto Finance Direct
At Auto Finance Direct they see you as an individual and will do everything they can to offer you the car loan you need to get back on the road quickly and effortlessly.
Flexible and transparent vehicle finance
As one of the leading vehicle financers in the country, they know that they have a duty to keep fees to a minimum and interest rates as low as possible. If you want to deal with a flexible, reliable, and transparent lender that is nothing like your local bank then Auto Finance Direct is it!
What Auto Finance Direct can offer you
While banks and traditional lenders have unreasonable expectations and lending requirements Auto Finance Direct offers you a wide range of vehicle finance options that are designed to work for you. Whether you have good credit or bad, are buying your first or third car - they can offer you the finance you deserve.
Vehicle finance with no paperwork
Not only do they remove the ever-frustrating task of having to go through piles and piles of paperwork when you're applying for a car loan, but they take it a step further by also taking care of the paperwork that comes when you are purchasing your vehicle.
So, they'll take the liberty to prepare the necessary paperwork as well as communicate directly with your dealer until your car is in your possession. This is just one of the many ways they try to simplify your car buying experience throughout the entire process.
What Auto Finance Direct can offer you
Although Auto Finance Direct offers vehicle finance from $8,000 to $15,000, alternative loan amounts may be considered depending on your individual financial status and needs.
Their loan terms range from 1 to 4 years and they offer a 24-hour fast loan turnaround time. You can apply for a loan online or through one of their nationwide dealers in just minutes.
Quick and easy vehicle finance deals for you
Auto Finance Direct is based in Auckland but offers a nationwide service through their website where customers can apply for a car loan in almost no time.
If you're looking for a lender that understands you and will work with your unique set of needs and circumstances, they're the car finance company for you.
Flexible loan terms and lending criteria
They have a highly flexible approach when it comes to altering their car loan terms to meet your needs. With them, you will be informed throughout the car loan application process. This flexibility and transparency are rare amongst their competitors and is certainly not something that people take for granted when they need good car finance.
A lender you can count on
Their professional and friendly service is something that they take a lot of pride in. Thousands of customers can vouch for this. Therefore, if you need any assistance with completing your application, their team is always ready to answer your questions and to get you the car loan you need for your dream car.
Auto Finance Direct Product Details
Loan Type

Car loans

Interest Rate

from 16.95%

Loan Amount

up to $15,000

Repayment

12 months to 4 years

Decision

24 hours
Auto Finance Direct has made it quick and easy for you to get your loan approved
In less than 20 minutes, you can complete your car loan application. The process is as straightforward as possible, ensuring that you can get through it in one sitting.
They might ask you to provide additional information, but this is so that they can have all the information they need, to give you a quick decision. You can also call them if you would like to apply over the phone.
The typical basic things they might ask you for:
Your ID
Residential address
Details of your income and expenses
Their convenient application process:
Step 1:
Complete your car loan application in a swift few minutes. Here you will need to confirm personal details as well as financial details.
Step 2:
They will provide you with an answer shortly after. This answer will also confirm the amount of loan they are willing to grant you as well as the interest rate you qualify for and is determined by your affordability.
Step 3:
Once approved, they will also go the extra mile of handling everything between you and one of their trusted car dealers to make things even smoother for you, meaning that you won't have to struggle, on your own with piles of paperwork.
The best car loan deal awaits you
With years of experience and strong relationships with their dealers, they know the industry inside out. This puts them in the position of getting you the very best deal in terms of amount, interest, and term. Apply with a lender that does everything for you, while they get you the best of the best.
Benefits of an Auto Finance Direct car loan
You can enjoy a super-fast online application process.
They will do all the hard work for you.
Simplicity and transparency.
A lender you can count on.
Obtain the best interest rates on your car loan deal with them.
Well-educated and informed staff with high levels of experience offering second-to-none customer service.
Customer Reviews & Testimonials
"
I was more than happy with the loan I got. I'll definitely be using AFD again if I need another car loan in the future.
Katie W
— Tauranga —
Honestly couldn't have asked for a better lending experience.
Mia T
— Auckland —
I literally only took minutes to complete my application. It was just so easy and not complicated at all!
Isla Y
— New Plymouth —
Convenience, convenience, convenience, it's all I want to say.
Jones W
— Hamilton —
They made everything so very easy and simple I had my car in less than 2 days.
King E
— Nelson —
Such a great company, they go more than just the extra mile for their clients.
Williams E
— Auckland —
Auto Finance Direct Contact Details
Contact Number
E-Mail
Website
Physical Address
Level 2, 4 Newton Rd

Auckland

Auckland

1010

New Zealand
Opening Hours
Monday

08:30 – 17:30

Tuesday

08:30 – 17:30

Wednesday

08:30 – 17:30

Thursday

08:30 – 17:30

Friday

08:30 – 17:30

Saturday

09:00 – 16:00

Sunday

09:00 – 16:00