Rating based on 1,056 reviews
---
MARAC Finance
MARAC Finance is a Registered Financial Service Provider / FSP53921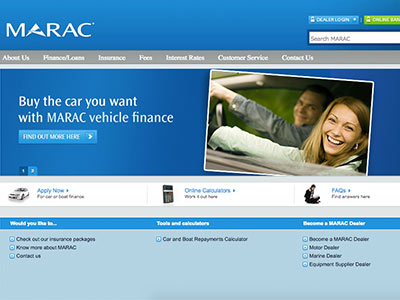 About MARAC Finance
At MARAC Finance we simply do car loans. We're a specialist vehicle finance company that help kiwis buy both new and used vehicle quickly and easily.
Whether you're a new or existing customer MARAC Finance will offer you the finance you need with no hassle stress or unobtainable requirements.
Affordable and flexible car finance
As one of New Zealand's most popular car finance companies we have a range of loan types to suit every kiwi, every budget and every need. From our lease options to our finance car loans - we offer you a better way to buy both a new and a used vehicle in an affordable and flexible way.
What MARAC Finance can offer you
There are a variety of different car loan types available out there from the finance type which is the most popular to leasing which is a car loan designed for people who are interested in exchanging and upgrading their vehicles more often.
We offer both loan types and can help you get the most suitable loan 100% online!
Get a car loan from as little as 11.95%
At MARAC Finance we offer both car finance and leasing as well as leisure, rural and marine and business finance. Whatever type of vehicle and loan you require - we offer the most flexible and diverse range of finance options from interest rates as low as 11.95%. We offer a minimum loan term of 6 months and a maximum term of 5 years.
---
Interest Rate
From 0 %

To 0 % Per annum
---
---
In a Nutshell
Average processing time 24 hours
Online application
In-store application
Unsecured loan option
Secured loan option
---
Its quick and easy to get a car loan through Marac, simply apply online
Our dedicated staff members are standing by to process your car loan application and transfer the funds to you as quickly as possible - ready when you are!
Apply for a loan 100% online with MARAC
As a modern lender, we now offer an online loan application. This means that you don't have to wait in a queue, fill in paperwork or attend the face-to-face meeting to make that car loan happen. You can apply in the comfort of your own home in just minutes!
Keeping you informed and updated
Although many online lenders will make you unrealistic promises in relation to the speed and efficacy of their service we remain honest and will always give you an accurate time indication and update on the progress made as often as necessary.
Simple and easy
We value your time and therefore strive to give you an outstanding service that is still very quick. As a result, we've designed our application process to be as simple as possible, saving you time and money.
We'll structure your payments to fit your situation
You have the freedom of choosing a payment structure that is the easiest for you to handle. This can be weekly, fortnightly, or monthly. We don't mind being flexible to your needs.
Work out the numbers before you apply
Use our calculator tool to help you get an idea of how much you could borrow and what your repayments could be. This is a quick and easy way to see what you can afford but it is in no way an actual quote. The only way to find out the exact amount of your repayments, as well as your interest rate, will be to apply for a loan. Following a complete evaluation of your situation, we will be able to let you know your actual amounts which may be higher or lower.
Increase the loan amount
If you would like to increase your loan amount after your car loan has been approved, you can do so by simply giving us a call. There is no need for you to fill out another application; everything will be handled over the phone.
---
Eligibility & Requirements
Full or restricted drivers license
18 years or older
NZ resident
Employed full-time
Self-employed
Credit check
30 day bank statements
Valid identity document
Utility bill or other (proof of address)
Bank statements or payslips (proof of income)
---
Other Products & Services
Insurance
Car Finance and Leasing
Business and Rural Finance
Marine and Leisure Finance
---
Customer Reviews & Testimonials
I thought I would've had to wait for a couple of days before I could get a decision on my loan application, but I was very pleased with how quickly I heard back from MARAC because it meant I could get things officially started with buying my new vehicle a lot quicker
Charlotte C
— Gisborne —
I'm very happy with how quick the application process was- i didn't have to deal with the usual paperwork. Wouldn't mind using them again
Lahi T
— Nelson —
Getting my car loan was so conveniently easy. I'd recommend MARAC any day
Tia H
— Hastings —
Undoubtedly one of the best companies I've gotten a loan from. I am super happy with the loan I got. It felt like it was made specifically for me, making it so much easier for me to get the car I needed without going outside of my means
Mark A
— Devonport —
Previous
Next
Address
Physical Address
35 Teed Street

,

Auckland

,

Auckland

,

1023

,

New Zealand
Postal Address
PO Box 9919, Newmarket, Auckland, 1149, New Zealand