Low-interest starting from 227%
Short-term loans up to $1,000
Repayment up to 45 days
In-page navigation
---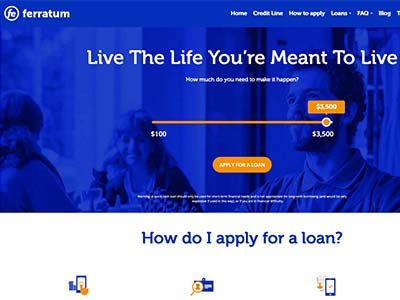 Ferratum - Quick short-term loans
Ferratum is a European-based company that was established in 2005 and forms part of the Ferratum Group in New Zealand. We are the first European-based firm and currently operate out of 23 countries.
If that's not all, we also pride ourselves on the client base, which we have accomplished over the years and have successfully served over 1.5 million clients. If the numbers are impressive, we'll go on to mention that our staff comprises over 200 experts in the industry.
A passion for innovation
At Ferratum we have a vision, and that vision is simple: We have an irrefutable passion for innovation and are driven by this in such a way that our growth strategy, though ambitious, is a major goal we wish to achieve. We hope to be the number one choice of microloan companies, globally. Our short-term loans have major benefits to consumers far and wide and we strive to serve them all successfully.
We strive for service excellence
With an undeniably huge database of loyal customers, we continue to impress with customer service nothing short of excellent! Our reputation continues to hold strong in the industry for our ongoing and never-failing ethical behavior.
Cash loans between $100 to $1000
If a short-term loan is a loan you're after, then Ferratum has you covered. You never quite know when the day will arrive that you need a loan for an unexpected cash emergency.
When that day arrives, having peace of mind that there are lenders out there that can look after your financial needs and assist you with loan approval that you can count on to be quick and simple, is crucial.
Short-term loans to suit your needs
No matter what the personal need is for the cash loan, the good news is that we are here to help you! Being a professional firm in the financial industry, our product of short-term loans is second to none. We are based in Auckland and have been providing these loan types to customers in need all across New Zealand for many, many years.
The turnaround time on my short-term loan
If you're after fast, how's this for a quick answer – online technology. Everything you need to do in order to get a loan approved by us is done so in the shortest time possible as a result of efficient and speedy online technology.
If you have all your paperwork handy and can provide whatever documents and information that we need, you could have access to your approved loan funds the very same day you apply.
Ferratum Product Details
Loan Type

Short-term loans

Interest Rate

from 227%

Loan Amount

up to $1,000

Repayment

7 days to 45 days

Decision

2 hours
Ferratum has short-term loans with quick payout times
Our policy on short-term loans sees cash loans of between $100 to $1000 being approved to good and bad credit customers.
Through the online process, one will encounter a seamless and quick turnaround on receiving these approved funds. Our loans are unsecured and therefore come with the strictest confidentiality. Privacy is one of our top priorities, so that you, our customer, have complete peace of mind when it comes to your details and the details of the loan.
You're in for a customer service treat
If you're a first-time borrower, Ferratum will approve an advance short-term loan NZ in the region of $100 to $400. This is all largely depending on the loan being repaid as per the agreement. If you meet the requirements of the first loan and settle the loan as agreed upon, then your second time will see the approval of anywhere between $100 and $1000.
You are rewarded for being a loyal and a good paying customer with Ferratum and should expect even easier approval the more you return for one of our products. Relationship building is important to us and we appreciate and understand the mutual benefit that comes with this.
A straightforward loan application process
Our application process is 100% confidential and we encourage the trust of our customers through our privacy policy that we put forward at the beginning of each and every loan contract. We would never entertain the idea of contacting an employer to disclose any loan seeking that you are doing through us.
Our loan repayment terms and straightforward, we have two options: First-time customers repay their loans over a period of 7 to 25 days or 7 to 45 days depending on the amount.
What I need in order to qualify
One would need to be a permanent resident or citizen of New Zealand or Australia. A driver's license in New Zealand is also crucial. If you don't have a driver's license then you would have to contact us prior to the loan application process in order to register. You can do so via telephone or email.
Need to reapply? Get your cash loan with a text message!
The moment your first loan is fully settled, you have access to an even quicker and easier platform to reapply for your next loan. Simply use the PIN that you are issued to easily apply for a loan for between $300 to $600. This loan can be repaid over a comfortable period of 7 to 45 days. You can even find a loan of between $700 and up to $1000 that sees you paying installments over a period of 15 to 45 days.
These mobile services on offer are unique in the industry because your customers are able to apply for a loan through a text message. You will find a variation in the fees based on the amount requested for the loan, and you will find these fees through the use of a loan calculator. We perform credit checks, so there's no need to fret over lending capabilities, we will deem whether you are financially fit for the loan in need.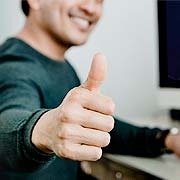 Ferratum is a trusted & reliable provider of short-term loans
In our review, Ferratum adheres to the compliance criteria in accordance with Credit Contracts and Consumer Finance Act (CCCFA), where the granting the loan will not cause financial distress to the consumer.
Ferratum is a registered credit provider in New Zealand: FSP70021
Customer Reviews & Testimonials
"
When it comes to handling finances you need someone you can trust. I would highly recommend Ferratum for their overall good service, efficiency and professionalism. Thank you so much!
Andrew M
— Christchurch —
This is my first time obtaining finance from Ferratum and I have no intention of looking elsewhere! With their ' first-time free loan' option I felt so welcomed into the family.
Joan S
— Barrytown —
No longer will I fear to apply for finance with a less-than-perfect credit record. Ferratum has provided me with the opportunity to improve my financial situation and my credit score. Thank you F...
Brandon G
— Thames —
Ferratum Contact Details
Contact Number
E-Mail
Website
Physical Address
132 Hurstmere Road

Auckland

Auckland

0622

New Zealand
---
Postal Address
PO Box 33-1009, Takapuna, 0745, New Zealand
Opening Hours
Monday

09:00 – 17:00

Tuesday

09:00 – 17:00

Wednesday

09:00 – 17:00

Thursday

09:00 – 17:00

Friday

09:00 – 17:00

Saturday

– Closed

Sunday

– Closed