Low-interest starting from 4.75%
Property finance up to $300,000
Repayment up to 30 years
In-page navigation
---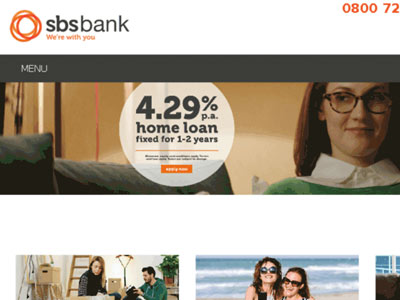 About SBS Bank
NZ home loans from a bank with years of experience in the mortgage industry.
SBS Bank was founded about 147 years ago with the vision to help members in a mutually beneficial way.
Unlike mainstream banks, every customer is also a member of SBS Bank and they operate solely for the benefit of their members. From everyday banking to home loans and savings accounts all of their products and services are designed to help members achieve their financial goals.
Better service, lower rates, and flexible terms
They have been operating for over 150 years and have grown year upon year with more and more people choosing to use their competitive services. With a variety of financial products and services, they are and will continue to be one of the best member-owned banks in the country - offering you better service, lower rates, and more flexible terms than anyone else!
Get your own piece of New Zealand
Since 1869 they have been passionate about making homeownership possible for thousands of Kiwis. With years of experience, they are still taking a great amount of pleasure in helping people to achieve their financial goals every day.
What SBS Bank can offer you
You can view their full list of products and services on their website and call them to speak to someone if you have any questions, concerns, or need help filling in your loan application form.
Besides home loans, they also offer a wide range of personal loans, investment, and savings accounts as well as affordable insurance products.
Ready to purchase your dream home
At SBS Bank they offer affordable property finance solutions to kiwis nationwide. If you need a mortgage that will work for your individual needs contact them to find out how they can help you. They offer an online home loan application and will assist you with every step of the home buying process.
Will this be your first home
The great news about buying your first home through SBS Bank is that they offer loans of up to 95%, meaning that you will only need a deposit of 5%.
You can enjoy vast flexibility with them as they offer a wide variety of different home loan options. They have terms of up to 30 years as well as early repayment and redraw options for you to choose from.
SBS Bank Product Details
Loan Type

Property finance

Interest Rate

4.75 – 5.54% p/a

Loan Amount

up to $300,000

Repayment

6 months to 30 years
From lower interest rates and flexible repayment terms, we offer it all
In order to access any of their fantastic products and services, you must first apply to become a member of SBS Bank.
This can be done by completing a simple inquiry form after which an agent will get back to you to guide you through the process step by step.
Here's how you can go about getting a loan for your new home:
Step 1:
If you are not yet an SBS Bank client, join them by signing up online.
Step 2:
You can complete their online loan application by simply providing them with your details as well as a breakdown of your financial situation. This will include all your sources of income, living expenses, assets as well as existing debts.
Step 3:
They will then process your application and confirm if you would be eligible by providing you with a loan pre-approval.
Step 4:
With such a mortgage pre-approval you can make an offer on the home of your choice while conveniently knowing what you qualify for.
Step 5:
Once your offer has been accepted, your loan can be finalised, the transfer process can take place and you can pick up the keys to your new home.
Years of property experience put to work for you
While buying your first home is certainly a new, complicated, and even scary prospect, SBS Bank has years of experience in the business and has the expert knowledge to get you up and running smoothly. You can call them, fill in an inquiry form or come out to see them and they will get you up to speed on all of their mortgage options and what they can do for you.
Benefits of being an SBS Bank client
Ample benefits and rewards when you are a loyal client.
Second to none customer service from a bank that gets a buzz out of making their clients happy.
A great list of options and flexibility you can choose from.
Affordability, safety, transparency, and professionalism.
Customer Reviews & Testimonials
"
The SBS Bank interest rates on my home loan are reasonable and actually payable.
Richards G
— Kaeo —
One business day was all it took for me to get feedback on my home loan application.
Lies Y
— Kaiapol —
Got everything I wanted and more from them in a very speedy and easy manner.
Harris N
— Hamilton —
They are so easy to deal with and straight to the point with the amazing products they offer. I have been a client for many years.
Clifton J
— Napier —
Once we became clients of SBS, the need has never arisen for us to move to a different service provider as they deliver simply the best in NZ.
Scott S
— Rotorua —
SBS Bank Contact Details
Contact Number
E-Mail
Website
Physical Address
36 Spring St

Tauranga

North Island

3110

New Zealand
---
Postal Address
SBS Bank, PO Box 835, Invercargill, 9840, New Zealand
Opening Hours
Monday

09:00 – 16:30

Tuesday

09:30 – 16:30

Wednesday

09:00 – 16:30

Thursday

09:00 – 16:30

Friday

09:00 – 16:30

Saturday

– Closed

Sunday

– Closed