Low-interest starting from 1.99%
Property finance up to $4,000,000
Repayment up to 30 years
In-page navigation
---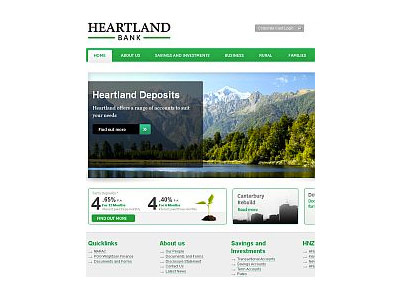 About Heartland Bank
At Heartland Bank, they believe that they can make the impossible possible.
So, when other banks and lenders say no, they will consider your loan application and look for a way to make things possible for you. When it comes to home loans no one is better positioned to offer you a competitive deal than Heartland!
Save for your Home loan deposit
They offer some of the best and highest interest savings and investment accounts in the country – so if you want to apply for a home loan and are looking to save up for your deposit then start with a Heartland savings account today to save more, faster! They offer home loans and business loans as well as senior finance solutions.
Why you should choose them
Heartland bank has been in business since 1875 assisting thousands of Kiwis to achieve greatness. They conduct business in a very professional, simple, and client-centric way. As a 100% NZ-owned bank its main goal is to improve the lives of New Zealanders and reach new heights on many levels.
With them, you can be sure that you will enjoy ample options and flexibility whatever your needs are.
What Heartland Bank can offer you
Heartland Bank offers a range of floating and fixed-rate mortgages with flexible loan terms of up to 30 years.
You can choose the repayment frequency you prefer, offer a deposit of 20% or 40%, make extra payments as and when you like, and save thousands over the course of your loan term.
Floating rate Home loans
Their floating rate home loans are one of their most popular choices for homebuyers because it offers you a great deal of flexibility that is not available with other options. With this option, you are free to make extra payments throughout the term of your loan and even change the setup of the loan when you feel necessary without incurring any penalty fees.
Owning your first home is easy
If you are looking to buy a home and cannot save up the required amount to pay a 20% deposit, Heartland Bank may be able to assist you via their Welcome Home Loans if you meet the income and living requirements.
This is ideal for people who want to buy their very first home and are struggling to do it.
Heartland Bank Product Details
Loan Type

Property finance

Interest Rate

1.99 – 8.55% p/a

Loan Amount

up to $4,000,000

Repayment

12 months to 30 years
Owning your first home is easy with our innovative first-time home loans
You can make a loan application online, in-branch, or by contacting them telephonically to discuss your options.
They offer a fully assisted mortgage application process so you know you'll be assisted every step of the way. So, with them, you can get things right from the word go. They also welcome new customers to apply for their home loans with them.
Applying with them is easy
Step 1:
After you have filled in their online loan application form, they will check your information. They will also let you know if there are any additional documents required from your side to process your application.
Step 2:
With the online application route, the great part is that you won't even have to deal with phone calls as everything is done online. In this step, you will receive confirmation of their decision online as well.
Step 3:
Finalise your loan with the help of your solicitor.
Step 4:
They will pay out the funds as instructed for you to easily become a happy homeowner.
Make sure that your loan is suitable for your budget
They always give their clients home loans that are designed to suit their conditions and financial lifestyles. They want to ensure that you are more than capable of paying your loan on time.
After your home loan has been approved, you have to ensure that you meet the monthly payments. Failure to do that will not only increase the chances of having your credit profile damaged, but you may also lose your home. It is imperative that you stick within your financial obligations so that you don't find yourself in a situation where you can no longer afford the credit plan you took. They always do everything they can to ensure that you are not financially overextended and expect you to do the same.
Benefits of choosing Heartland Bank
You can apply 100% online while also having the option of applying at one of their branches.
Lower rates than the majority.
A wide variety of solutions for almost every budget and situation.
Customer Reviews & Testimonials
"
Heartland Bank afforded me my dream loan with reasonable interest rate charges.
Brandon V
— Drury —
If you are looking for the best home loan deals, Heartland Bank is the bank to go and see.
Rich G
— Dunedin —
Their service is out of the ordinary as they care about the financial well-being of their clients while maintaining professionalism and speed.
Quinn S
— Nelson —
I am grateful that I chose them. They offered me something so suitable and affordable.
Wilson N
— Hamilton —
A great company that one can easily build a long-term relationship with.
Cliff J
— Queenstown —
Heartland Bank Contact Details
Contact Number
E-Mail
Website
Physical Address
35 Teed Street

Auckland

Auckland

1023

New Zealand
---
Postal Address
PO Box 9919, Newmarket, Auckland, 1149, New Zealand
Opening Hours
Monday

09:00 – 16:30

Tuesday

09:00 – 16:30

Wednesday

09:00 – 16:30

Thursday

09:00 – 16:30

Friday

09:00 – 16:30

Saturday

– Closed

Sunday

– Closed