Resimac Home Loans
Updated
Low-interest starting from 4.90%
Property finance up to $500,000
Repayment up to 30 years
In-page navigation
---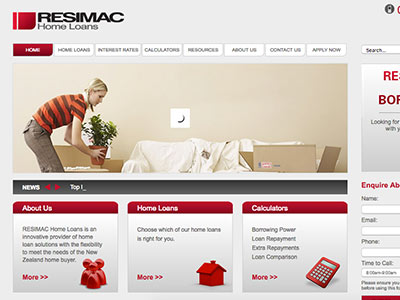 About Resimac Home Loans
Buy your home with ease and flexibility.
Resimac is one of New Zealand's leading mortgage providers with thousands of satisfied customers and a range of some of the most affordable and competitive home loans.
They offer flexible loans, terms, and low rates that are simply the best. When it comes to securing a competitive loan for your home, they are the ones to talk to!
More than just affordable Home loans
Resimac Home Loans also offer you access to expert advice and information that they believe is crucial to help you make the best and most fruitful financial decisions. Enjoy ongoing support from a group that really cares. As an independent lender, they are simply better positioned to offer the personalized service that each family deserves.
Settling my loan earlier than the required date
If you feel you have an excess of money available at your disposal, you can put it to good use by paying for your home loan sooner than the required date. This will mean you have one less credit to worry about. They also take such initiatives seriously because this gives them an indication of earnest dedication towards settling your loan.
What Resimac Home Loans can offer you
Resimac Home Loan specializes in property finance and offers you a range of great home loan features the high street banks simply can't.
They offer both fixed and variable home loan rates in NZ and can offer a solution for business owners with only 6 months operating history as well as for those who have irregular income.
Flexible online Mortgage solutions
While property finance was once reserved for high-income earners and large banks - things couldn't be more different today. They are an innovative lender that offers loans to individuals who are looking for a flexible lender and customised online loans that will work with their budget and lifestyle.
Work out your Mortgage
Prior to making an online loan application with Resimac Home Loans, they recommend that you make use of their online loan calculator which can give you a general idea of the cost and repayments a mortgage with them will incur. They have a variety of different loan solutions available and these options can be reviewed on their website.
Resimac Home Loans Product Details
Loan Type

Property finance

Interest Rate

4.90 – 6.19% p/a

Loan Amount

up to $500,000

Repayment

6 months to 30 years
Our home loans are designed with our clients in mind
You can visit their offices or make a loan inquiry over the phone.
They strive to help you identify your best options and will always evaluate your income and expenses as well as affordability on an individual basis. If you're not sure where to start, why not give them a call so they can point you in the right direction and get you off to a good start?
Here's how easy it is to apply with Resimac Home Loans:
Step 1:
Get in touch with them and provide them with all your financial and personal details.
Step 2:
They will confirm and verify if you are eligible and provide you with a pre-approval.
Step 3:
With your pre-approval in hand, you can make an offer on your desired home.
Step 4:
Once your offer has been accepted, a settlement date will be scheduled and the funds will be transferred to the vendor you are buying the house from.
Step 5:
After this occurs, you will be a happy new homeowner.
Once you have paid off your current property loan and would like to apply for another credit plan, you are more than welcome to do so.
When you never have any late payments and always settle your loan within the desired date or sometimes even earlier than scheduled, you have better and higher chances of having your advance plan approved when you apply for one in the future.
Maintaining a good and clear credit record
In essence, when your credit record is in good standing, you will be able to get the green light from them. They usually advise their customers to not take out a loan if they cannot afford the repayments.
Benefits of getting the funds from Resimac Home Loans
A team of experts that will go over and above for you.
A tailored loan with a range of features and benefits.
Low-cost long-term loans.
Friendliness and transparency.
Customer Reviews & Testimonials
"
Resimac Home Loans gave me one of the best credit deals. I am grateful to them that I now own a home.
Gregory J
— Jack's Point —
The home loan application was convenient and straight to the point. All the questions asked were relevant.
Lettie G
— Inglewood —
This company is great beyond measure. They gave me service that went over and above what I expected.
Scott A
— Hamilton —
The best lender to ask for a flexible loan. I recommend them to anyone that is planning on buying a home.
Henderson O
— Auckland —
A bunch of professional, friendly, and transparent specialists that know what they're doing. I am very pleased with them.
Brown C
— Queenstown —
Resimac Home Loans Contact Details
Contact Number
E-Mail
Website
Physical Address
Level 1, 280 Parnell Rise

Auckland

Auckland

1052

New Zealand
---
Postal Address
PO Box 91734, Victoria Street West, Auckland, 1142, New Zealand