Low-interest starting from 4.29%
Property finance up to $1,000,000
Repayment up to 30 years
In-page navigation
---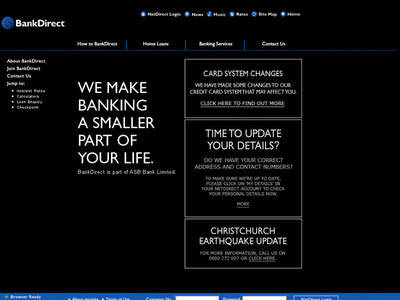 About BankDirect
BankDirect has no branches and lower running costs than any and all of the other banks in the country.
We, therefore, have minimal operating costs and are able to offer customers the lowest interest rates and the most competitive deals. We're also open when others aren't and you can apply for credit online at any time of the day or night.
Offering the best the financial world has to offer
As an international brand, we're certainly right at the top when it comes to providing customers with the best and most innovative range of lending products and services. So whether it's online or mobile banking or new ways to do things we're at the forefront leading the way for the rest!
What BankDirect can offer you
BankDirect offers financial services to individuals only - which means we're focused on you and your needs at all times.
We offer transactional and savings accounts, insurance products, foreign exchange and home loans online 24 hours a day, 7 days a week!
Our range of home loans
We offer a flexible home loans that allows you to make extra payments when it suits you so that you can pay off you loan faster, a variable interest rate home loan which offers you the option to restructure your loan in the future, a fixed rate home loans for those who want fixed, predictable payments and a home loan with a revolving line of credit that allows you to draw up to $50,000.
BankDirect Product Details
Loan Type

Property finance

Interest Rate

4.29 – 5.55% p/a

Loan Amount

up to $1,000,000

Repayment

4 weeks to 30 years
Bank Direct offers our clients the best deals on property loans in NZ
Applying for a home loan is a big deal and many customers need to speak to a manager before making an application.
BankDirect will send out one of our mobile lending managers to your place of work to discuss your options and get the process underway. If you already know what you want you can make an online loan application or fill in an enquiry form and we will contact you.
Get your pre-approval certificate
BankDirect can provide you with a pre-approval certificate which is valid for a period of 2 months after issue. This will provide you with strong bargaining power since sellers will know you have the finance in place to make the purchase while also giving you an exact figure to base your home purchase on. Visit our website to find out more about our flexible home loans or contact us today!
How are our mortgage deals better than the rest?
We are always looking for better and less complicated ways of ensuring that a client's financial status is well taken care of. This is the reason why we look into giving customers a home loan that won't be so expensive to pay off. The last thing we want is to give you more burden of financial credit. Instead, we want to make the weight a lot lighter to carry. We have a range of home loans that differ and are according to the affordability of a customer.
Can I get a home loan extension?
Granting a customer a home loan extension will depend on a number of factors. We need to find the reasons behind such a case. How a client has been paying their mortgage will also be taken into account. If you would like to apply for such an extension, please contact us.
How can I enhance my credit profile?
The best way of ensuring that your credit profile is always on the positive side is by trying to have as little credit as you can. Only apply for a loan if there is a serious need and nothing else.
Customer Reviews & Testimonials
"
What I liked about Bank Direct is the fact that there quite a few mortgage plans you can choose from. It is good to know that you are working with a credit provider that gives you a choice when i...
Mel J
— Dipton —
I was so delighted with the amount of money I would save on the interest rate charges.
Elizabeth R
— Dobson —
Thanks for making me feel at east Bank Direct. The consultants you have are exceptional people.
Brandon K
— Doyleston —
After applying for a home loan at ASB Bank, I didn't wait that long. In fact, within a day or two, I got a phone call from one of the consultants and they were already processing my mortgage plan...
Xavier L
— Dipton —
BankDirect Contact Details
Contact Number
E-Mail
Website
Physical Address
ASB North Wharf 12 Jellicoe Street Auckland 1010

New Zealand
---
Postal Address
PO Box 35, Shortland Street, Auckland, 1140, New Zealand
Opening Hours
Monday

8.30 – 20.00

Tuesday

8.30 – 20.00

Wednesday

8.30 – 20.00

Thursday

8.30 – 20.00

Friday

8.30 – 20.00

Saturday

8.30 – 17.00

Sunday

8.30 – 17.00