Co-operative Bank
Updated
Low-interest starting from 4.39%
Property finance up to $200,000
Repayment up to 30 years
In-page navigation
---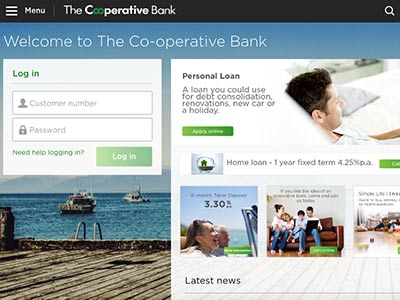 About Co-operative Bank
Access some of the best affordable and flexible NZ home loans in the market.
As one of the most advanced and popular banks in the country, their financial products and services are affordable and flexible and will help you reach your financial goals with a fraction of the effort.
If you're looking for an online home loan their competitive range of options will appeal to you and help you save thousands in the long run.
Helping you make your home
Owning your own home is an important financial milestone for any family. It offers you a level of security that can be compared to nothing else and gives you more flexibility when it comes to retirement. If you want to make your dream of owning your own home come true, reach out to them and speak to one of their experienced mortgage managers today!
An award-winning company
With them being 100% owned by customers, they are able to always do business from a client's point of view. As a result of them being such a client-centric lender, they've managed to reach number one for Canstar Gold's 2021 award for Most Satisfied Customers award.
What Co-operative Bank can offer you
They offer fixed and variable rates as well as loans that combine your everyday account with your mortgage while offering you a revolving line of credit you can draw from.
With loans for those who want to buy a residential property or to make an investment, they offer up to a maximum of $2 million.
Their range of Home loans
Fixed-rate home loans will ensure you can budget more effectively for a number of years to come.
A floating rate home loan that allows you to make extra payments when you wish to.
A line of credit home loan that allows you to withdraw funds when you require them at a very low-interest rate compared to other lines of credit.
A bank you can trust
They have been in business all the way since 1928 and have been operating under their current name since 2011. Thousands of Kiwis have relied on them for many years to reach their goals in terms of finance.
The Co-operative Bank offers so much more than just loans, they also provide affordable banking, investment, credit card as well as insurance options to the people of New Zealand.
Co-operative Bank Product Details
Loan Type

Property finance

Interest Rate

4.39 – 5.45% p/a

Loan Amount

up to $200,000

Repayment

6 months to 30 years
Quick & easy online home loan application; we like to make it convenient for our clients
At the Co-operative Bank, they offer both an online and in-store loan application.
If you're looking to buy your first home, they recommend that you come in and see them so that they can go through the process together and help you find the most suitable solution.
Those who are looking to refinance their home or are buying their second home can simply make an online loan application and one of their loan managers will assist you with all that you require to get things going.
Here's how you can go about applying:
Step 1:
Fill in their online contact form for one of their experts to contact you.
Step 2:
You'll need to fill in an application form and provide certain supporting documents regarding your identity and financials.
Step 3:
They will assess and verify your information to provide you with a pre-approval.
Step 4:
You can shop for your perfect home and make an offer.
Step 5:
Once your offer has been accepted your loan processing will start for you to become a new homeowner.
Resources and tools to make your life easier
One of the most important parts of applying for a home loan is doing your research. To aid in this important step they have made a range of tools and resources available on their website to ensure you're in the know.
They recommend you make use of their mortgage calculators, read through the informative articles on their website, and run through your income and expense details before talking to one of their loan managers.
Co-operative Bank benefits
Client-centric customer service.
More affordable than most.
An award-winning lender that has your future in mind.
Customer Reviews & Testimonials
"
Co-Operative Bank has such a user-friendly loan application system. After I completed my personal details, I went further to provide my employment and payment information. Everything was systemat...
Jonathan W
— Collingwood —
I applied for a home loan with Co-Operative Bank in the morning. Within the same day, I got feedback.
Valerie O
— Colville —
When I approached Co-Operative Bank, I was looking for a home loan that would make my financial life easier. I had been unable to get a loan that met my budget demands for quite some time.
Justin K
— Cust —
They were there for us through every step of the process. So professional and helpful.
Smith J
— Dunedin —
A lender that takes customer service to a next level. Very happy with them.
Samuel K
— Auckland —
Their prices are super competitive and they truly care about their clients.
Clarke J
— Nelson —
Co-operative Bank Contact Details
Contact Number
E-Mail
Website
Physical Address
109 Queen St

Auckland

Auckland

1010

New Zealand
Opening Hours
Monday

09:00 – 17:00

Tuesday

09:30 – 17:00

Wednesday

09:00 – 17:00

Thursday

09:00 – 17:00

Friday

09:00 – 17:00

Saturday

– Closed

Sunday

– Closed