Low-interest starting from 4.29%
Property finance up to $1,000,000
Repayment up to 30 years
In-page navigation
---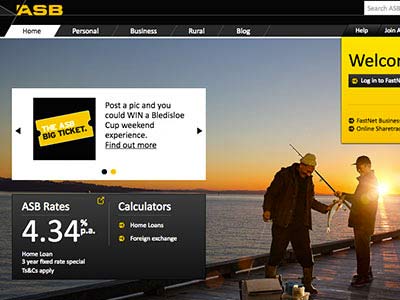 About ASB Bank
ASB Bank is one of New Zealand's oldest and most competitive banking corporations. Since our incorporation, we have not stopped growing and innovating - trying to find better ways to do banking and lending.
We offer a range of business and personal loans that help our customers and communities grow.
Developing long term relationships
At ASB Bank we strive to develop a long term relationship with the individuals, businesses and corporations that turn to us for their personal and business lending needs. Whether you're a start-up entrepreneur looking to expand on your newly found success or a newlywed couple looking to refurbish your home we can help you.
What ASB Bank can offer you
At ASB Bank we offer personal loans, business loans, savings and investment accounts as well as mortgages with some of the most competitive rates in the country.
You can view our list of products and services and find out more information on your options on our website or by visiting us in branch to speak to a bank manager.
Our affordable home loans
Whether you want to buy your first home or move house ASB Bank offer a range of flexible and affordable mortgages designed for kiwi families. With interest rates as low as 4.29% and fixed rate, floating rate and evolving line of credit home loans you can find the perfect option for your needs.
ASB Bank Product Details
Loan Type

Property finance

Interest Rate

4.29 – 6.55% p/a

Loan Amount

up to $1,000,000

Repayment

12 months to 30 years
Buying your dream home is just one online loan application away
Our fixed rate mortgage offers you a fixed interest rate for a period of between 6 months and 5 years after which the interest will revert to a floating or variable interest rate.
These loans are ideal for people who require predictable monthly repayments or are looking to secure a low rate for a given period of time.
Our floating rate mortgages
While a fixed rate mortgage will give you more in terms of predictability a floating rate mortgage will offer you flexible repayment options which means you can make extra payments on your mortgage without experiencing any penalties. To speak to a mortgage manager about which option would suit your circumstances come and see us or contact us today!
Can I settle my home loan sooner than the scheduled payment period?
Should you have more than enough money to settle the remainder of your home loan sooner than the scheduled date, you are welcome to do so. It gives us an impeccable impression about how you like to settle your debts. Seeing such financial dedication will make it easier for us to approve your loan should you meet all our credit requirements.
What are the implications of not paying my home loan?
There is a great possibility that you may lose your home if you don't pay your mortgage. We know that certain problems may arise that may make it difficult for you to pay but a constant late payment will not give you a good credit picture. The client may also be denied further credit in the future.
What is the best method of payment?
In order to make things convenient for both parties involved, payment should be in a debit order system. This way, everything will be systematic and automated and there won't be any reason to remind the client of their payment is due. The customer should ensure there is sufficient money on the day of the debit order.
Customer Reviews & Testimonials
"
ASB Bank has an impeccable loan application system. The system allows you to answer everything to the best of your truthful knowledge. Every question is relevant and it took me less than 15 minut...
Daniel C
— Darfield —
Being able to get an affordable home loan these days is a great deal of work. ASB Bank gave me great savings on the interest rates I would be saving and I couldn't resist. I am now a happy homeow...
Louise B
— Dargaville —
ASB Bank Contact Details
Contact Number
E-Mail
Website
Physical Address
Ground Floor, 166 Burnett Street

Ashburton

Canterbury

7700

New Zealand
---
Postal Address
PO Box 35, Shortland Street, Auckland, 1140, New Zealand
Opening Hours
Monday

09:00 – 16:30

Tuesday

09:00 – 16:30

Wednesday

09:00 – 16:30

Thursday

09:00 – 16:30

Friday

09:00 – 16:30

Saturday

09:00 – 16:30

Sunday

10:00 – 16:00