Low-interest starting from 12.95%
Personal loans up to $20,000
Repayment up to 5 years
In-page navigation
---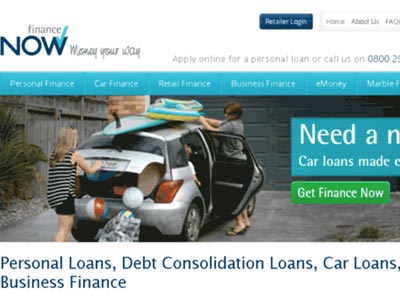 About Finance Now
If you need financial assistance, with a personal loan from Finance Now it is possible.
Finance Now was founded in 2000 and since then they have been providing people with hassle-free personal loans. A wide range of finance products is offered to suit your needs and to make sure you have a good experience.
They are an online lender that offers personal loans in New Zealand. Over 530,000 people have been helped to get the loan they need to make improvements in their lives.
A technology advanced personal loan lender
Embraced modern technology is used to make sure you have an effortless experience during the personal loan process. The online lending system allows you to obtain personal loan approval and complete an application in just a few minutes.
Their online site is safe and secure and all activity on your personal loan will be verified. You can be assured that your details will not be shared with any third parties.
Get quick approval for your personal loan
Finance Now is one of New Zealand's only personal loan lenders that offers quick approval. People with poor credit histories also get assistance with the personal loan they need, and they don't need to worry about long-term debt that piles up. Their personal loans are highly flexible and can offer you a large amount of money that can be repaid over a long or short period of time.
Retailers nationwide make use of Finance Now
Over 1500 retail stores use Finance Now's Credit Sales facility offering you a variety of options. They have a team of area managers nationwide as well as a dedicated Retailer Support centre that provides assistance 7 days per week. They are proud of their vision and mission statement and always aim to deliver.
What Finance Now can offer you
Finance Now is a specialist when it comes to personal loans, and they deliver outstanding service.
If you have been denied a loan by a bank or other online lender, they might still be able to provide you with a personal loan. Once approved it will not be long till the cash is deposited into your account.
Outstanding customer service
Solid relationships are built with every client, to make sure they have good communication. The best part is that they will make sure you find a personal loan that will suit your requirements.
They promise to support you in the process to find your personal loan and to make it a pleasant experience. If you find yourself struggling during the online loan application process, you can contact them anytime and they will be happy to assist.
The loan calculator tool
The personal loan calculator will help you to determine the amount of personal loan that you qualify for. Use the sliders below to see what your repayments and interest rates will be and slide them according to your needs. You will be able to adjust the interest and see the amount that you will be paying back with this helpful tool.
Personal loans with attractive rates
Their flexible personal loans with terms ranging from 6 to 60 months will be an ideal option for you. You have the option to choose between two types of personal loans.
The secured loan is where you grant them security over an asset like a car or property, this loan option can help you borrow a larger amount and reduce the interest rate. An unsecured loan is when there is no need for you to provide any security for a loan.
Finance Now Product Details
Loan Type

Personal loans

Interest Rate

12.95 – 29.95% p/a

Loan Amount

up to $20,000

Repayment

6 months to 5 years

Decision

48 hours
Getting a personal loan with Finance Now has never been easier
The application process for a personal loan is simple, stress-free and the great part is there is no filling in of endless paperwork.
Financial solutions are offered to Kiwis with the help of a personal loan, knowing that people who turn to them for assistance suffer from financial stress, so they have made the application process stress-free.
Criteria to apply
You must be a New Zealand Citizen or Permanent Resident.
Over the age of 18.
Proof of income after tax.
Your employment details.
Proof of identity, Passport, or driver's license.
Follow these easy steps to apply:
Step 1:
Make sure you meet the personal loan application criteria. On their website, you can fill in all your personal details, the loan amount you need, your monthly income, expenses, and employment status.
Step 2:
The personal loan consultant will go through your application with you to confirm all your details. Once confirmed you will receive pre-approved confirmation.
Step 3:
Once you are approved, your personal loan will be deposited into your bank account.
The personal loan that you deserve
Get in touch today to support you during your financial hiccup. Discuss the type that you need with one of their friendly helpful consultants and let them do the work to find a perfect match. Everyone needs a little assistance when it gets tough financially.
Benefits for partnering up with Finance Now for a personal loan
Quick, easy, and fast to apply.
Seamless online application.
The loan calculator will help you to work out the interest rate on the personal loan that you apply for.
Safe and secure website, your personal information will not be shared with third parties.
Outstanding customer service.
Customer Reviews & Testimonials
"
This company was excellent to deal with. Very fast at approving and getting you the money. Interest rates and repayment terms are excellent. I would highly recommend this company to others.
Brown L
— Auckland —
After having a bit of a hiccup with digital documentation and the virtual ID processes I raised the issue with Finance now. My concerns were acted on promptly and efficiently, thank you for your ...
Smith W
— Dunedin —
When I applied for my personal loan online, I did get a quick response to let me know that I had been accepted and my loan was paid out in an instant. Great and friendly customer service during t...
Grieve A
— Dunedin —
Finance Now Contact Details
Contact Number
E-Mail
Website
Physical Address
---
Postal Address
PO Box 1204, Invercargill, 9840, New Zealand
Opening Hours
Monday

08:30 – 18:00

Tuesday

08:30 – 18:00

Wednesday

08:30 – 18:00

Thursday

08:30 – 18:00

Friday

08:30 – 18:00

Saturday

09:00 – 16:00

Sunday

– Closed