Low-interest starting from 17.85%
Personal loans up to $30,000
Repayment up to 5 years
In-page navigation
---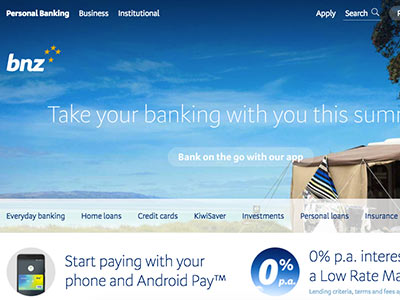 About BNZ Bank
If you are looking for an online personal loan that can help you make a large one-off purchase, BNZ has your back.
Do you need a personal loan to help you manage your existing debt responsibilities? BNZ has the perfect online personal loan for you.
BNZ providing financial services since 1861
The BNZ bank is one of the country's big four banks, having opened its first office in Auckland in October 1861, followed by a branch in Dunedin in December 1861.
BNZ all in one banking and personal loans
Savings and current accounts, investment counseling, online banking, mortgage and non-mortgage loan facilities including personal loans, credit cards, and other financial services are all available through BNZ.
Secure banking and personal loan options
For your security, both internet banking and the BNZ app use encryption technology, automated log-out, and two-step authentication.
Canstar's Bank of the Year Award
For the fourth year in a row, they have been named Canstar's bank of the year in the online banking category. This award honours the innovative digital tools and online experiences that they provide for their clients.
What BNZ Bank can offer you
Using an advanced personal loan from BNZ, you can borrow between $1,000 and $30,000, and you'll have fast access to your money after your application has been approved by them.
You can pay back your personal loan over a period between 3 months and 5 years.
BNZ Advanced Personal Loan
BNZ offers advanced personal loans to you to help you with the finances you need. In order to obtain money for a large-ticket item you've been planning to buy or to consolidate your debt, you'll need to apply for an advanced personal loan at BNZ.
Personal Loans for one-off purchases
Pay for one-time purchases with your personal loan and choose from a variety of flexible repayment options to suit your needs. Make those big purchases and take care of the payments on a monthly basis.
Debt consolidation using a personal loan
Consolidate various sources of debt into one personal loan with a lower monthly payment overall to make managing multiple sources of debt easier to pay off. This will enable you to get out of debt faster and easier.
A special rate for students and graduates
If you're a student, apprentice, or recent graduate, you may be eligible for a low-interest rate on their advanced personal loans. In addition, they will not charge you a loan facility fee.
BNZ Bank Product Details
Loan Type

Personal loans

Interest Rate

from 17.85%

Loan Amount

up to $30,000

Repayment

6 months to 5 years

Decision

72 hours
At BNZ our loans are affordable and easy to get, apply online today
Apply for a personal loan from BNZ in an easy process.
The application process:
To apply for an online personal loan you need to call BNZ or alternatively, you can visit a branch near you.
The consultant will go through the personal loan application process with you and provide you with all of the documentation you need to fill out.
Once your personal loan is approved they will communicate to you when your money will be available for your use.
The lending criteria
You must be at least 18 years old.
Have a steady source of revenue.
After all of your bills are paid, you should have enough money left over at the end of the month to cover your personal loan
To be a New Zealand citizen, permanent resident, or have more than one year left on your work visa if you're a non-resident.
Whether you need a personal loan to make a purchase, cover a bill or take care of your debts, BNZ can provide you with the finances you need. If you meet the lending criteria and you are ready to take the next step to access your funds, contact BNZ today. A consultant is ready to assist you in securing your personal loan NZ.
Benefits of a BNZ personal loan
You can pay off your personal loan in monthly installments over a length of time that suits you, ranging from three months to five years.
Pay more on your loan or pay it off completely without incurring any early repayment or additional payment costs.
With Internet Banking, you may check your personal loan balance and make payments whenever you want.
There are no monthly fees and only one little setup charge to pay upfront.
You have 8 working days to phone or write to them to cancel your contract for any reason.
Convenient Banking and managing of personal loans
You can securely get account balances and review account transactions using a touch-tone phone and your nine-digit customer access number; transfer funds between your accounts; pay people or companies; set up automatic payments, and set up instance balance accounts using your nine-digit customer access number.
Simply walk into a branch to speak with them in person, or use a smart ATM located outside the branch to make cash, card, or coin deposits and withdraw cash at any time of day or night. Alternatively, you can use their online banking and mobile banking options to manage your finances and personal loans.
Personal loans for financial hardships
If you have a personal banking account with them and are having financial difficulties, they may be able to assist you with a personal loan. This could be due to a sickness, an injury, the loss of a job or money, or the end of a relationship. Talk to them to find out how they can assist you in your hardships.
Customer Reviews & Testimonials
"
When I required assistance I phoned BNZ Bank. They were friendly and assisted me in absolute excellence. I am well pleased with their services.
Barnette B
— Welligton —
After I received my personal loan I was able to pay for the repairs needed for my car. I am so thankful for your help and assistance BNZ.
Newman A
— Hamilton —
The friendly consultant helped me acquire my personal loan with minimum effort from my side. I was so relieved when I received the money. I would definitely recommend their services.
Pollard D
— Napier —
BNZ Bank Contact Details
Contact Number
E-Mail
Website
Physical Address
262 Queen St

Auckland

Auckland

1010

New Zealand
---
Postal Address
Private Bag 39806, Wellington Mail Centre, Lower Hutt, 5045, New Zealand
Opening Hours
Monday

09:00 – 16:30

Tuesday

09:00 – 16:30

Wednesday

09:00 – 16:30

Thursday

09:00 – 16:30

Friday

09:00 – 16:30

Saturday

– Closed

Sunday

– Closed