Rating based on 969 reviews
---
ANZ Bank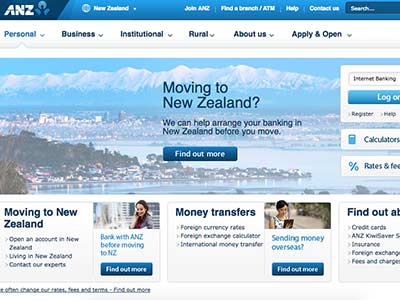 About ANZ Bank
As one of the leading banking institutions in the country, ANZ Bank offers New Zealanders more than just banking services - we offer you a better way of life.
Our products and services are designed to make life simple and more affordable whether you're looking for a home loan or a bank account.
New Zealand's most competitive products
If you're looking for a personal loan that will enable you to finally take that family holiday or consolidate your debt to free up some of your monthly income ANZ Bank offer you the country's most competitive products to do just that.
What ANZ Bank can offer you
In addition to the above services we also offer home loans, vehicle finance and a range of competitive credit cards.
Whether you're looking for a specific product or are looking to change banks for the long term - ANZ Bank will offer you the best in the country.
Our personal loans
We offer affordable and flexible personal loans that range from $3,000 to $40,000 that you can use to buy a car, renovate your home or pay for a wedding. Our interest rates vary from 17.95% per annum to 18.95% per annum and we offer flexible loan terms to suit any budget.
---
Interest Rate
From 0 %

To 0 % Per annum
---
---
In a Nutshell
Average processing time 48 hours
Online application
In-store application
Unsecured loan option
Secured loan option
Early repayment
---
Get an affordable personal loan with the bank that cares
We like to keep people informed about the status of their personal loan applications from the very start but, without getting too technical.
We will therefore always interact and speak to you in a simple and direct manner which will leave no room for misunderstanding or confusion.
Implications of non-payment
Many customers ask us about non-repayment procedures. While it's best to avoid taking out a fast loan if you can anticipate difficulty in repayment - we will always try to discuss an alternative arrangement with the client to collect payment in the most convenient way for both parties.
Using our calculator
You can use the calculator to get your perfect loan. You can put amounts that you would like to loan and the time period that you would like to loan it for and then see how much you will be paying back on your loan and how much you will be paying back at the end of the loan period.
Coming to our offices
Yes you can apply for your loan at our offices we want you to feel that you can trust us and if you would prefer to answer the application at our offices you can and we will be there to help you if you need help with your application.
When you answer your online app
When you answer your application please make sure to answer all your questions correctly if you are unsure please contact our customer service. When you answer make sure that your answers are honest our company will still lend to you even if your credit score is low.
Using our app
You can control your loan and your account from our app, we have designed an app for your phone or your tablet that you can use any time of the day to check on your finances and even see how much you will need to pay back on your loan.
---
Eligibility & Requirements
Stable address history
18 years or older
NZ resident
Employed full-time
Self-employed
Earning a stable income
Credit check
Good credit history
Recent pay slips
Bank statements
Proof of address
---
Other Products & Services
Credit Cards
Insurance
Bank Accounts
Personal Loans
Mortgages
Private Bank
---
Customer Reviews & Testimonials
I needed assistance applying for my first loan and I had the help of ANZ Bank to get my loan approved quickly
John M
— Christchurch —
When I applied for my loan I was greeted with the fasted service I have ever received, thank you ANZ Bank for the quick service
Mel W
— Auckland —
Previous
Next
---
Here's a short video about ANZ Bank
---
Address
Physical Address
59 Victoria St, Leamington

,

Cambridge

,

Waikato

,

3434

,

New Zealand
Postal Address
Private Bag 92210, Victoria St, West Auckland, 1142, New Zealand
Opening Hours
Monday 09:00 – 16:30
Tuesday 09:00 – 16:30
Wednesday 09:00 – 16:30
Thursday 09:00 – 16:30
Friday 09:00 – 16:30
Saturday Closed –
Sunday Closed –