Low-interest up to 12.90%
Personal loans up to $50,000
Repayment up to 7 years
In-page navigation
---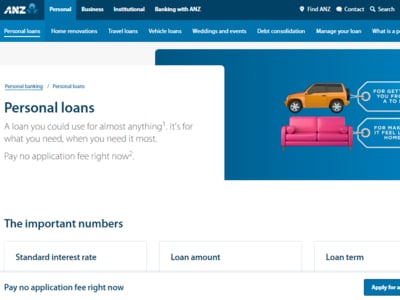 ANZ Personal Loan
Offering more than just a personal loan service, ANZ Bank offers you a completely new portal in life.
The Australian and New Zealand banking group, based in Melbourne Australia, was founded in 1970. ANZ Bank aims to provide you with great customer service, competitive personal loan rates, and other phenomenal financial options.
ANZ Bank is the largest banking group in New Zealand based on profit and assets. They deal with big companies, smaller businesses, farms, individuals and families, making them a completely all-rounded and versatile financial provider. Being well-known for their reputable financial expertise, banking with ANZ can only put you a step in the right direction.
Online personal loans in the blink of an eye
The online banking platform that ANZ Bank provides to you, is made to be easily navigated and makes it easier to access your finances. You also have access to the ANZ banking App that you can download onto your phone. They have done this to make your banking experience with them even more convenient than ever before.
Personal loans with no limit
A personal loan can be used for many different purposes. Some of the reasons why someone would apply for a personal loan are:
Household expenses
Unexpected expenses
School expenses
Car maintenance
Home renovations
The list goes on…
What ANZ Bank can offer you
With ANZ Bank, you are promised fast and reliable banking services from people that you can trust and rely on to understand your every need.
Flexible repayment options and competitive rates are some of the many benefits when using ANZ Bank for your personal loan. Once you have applied for your personal loan with ANZ Bank, they promise to give you quick and hassle-free service.
You will receive a response to your personal loan application within 2-3 working days, which is absolutely incredible considering the population of finances they work with daily.
ANZ Bank rates and fees at a glance
The interest rate is 12,90% per annum
The standard application fee is $115 but is currently being waived for you.
To change your repayment amount or to put down a lump sum does not mean that you have to pay anything extra, ANZ Bank is here to help you and not make you more broke. The fee for these is $0.
Personal loans with no hidden agendas
At ANZ Bank they believe in full transparency with their customers. You can take out a loan starting from $3 000. The biggest amount that you can ask for is $40 000, leaving you with quite a sum of money to work with.
Your personal loan term ranges from 6 months - to 7 years and you can decide whether you would like to make your repayment term weekly, fortnightly or monthly. As said before, ANZ Bank has a reputable image and it's purely because they put you first, allowing you to have control of your repayments.
ANZ Bank Product Details
Loan Type

Personal loans

Interest Rate

12.90%

Loan Amount

up to $50,000

Repayment

6 months to 7 years

Decision

48 hours
Get an affordable personal loan with the bank that cares
You can check whether or not you can afford a personal loan with ANZ Bank by using the ANZ online loan calculator.
When you use the ANZ loan calculator, you can enter the amounts that you would like to borrow, enter the repayment period, and watch the calculator do the work for you.
The ANZ loan calculator works out the full amount that you will be paying back on your personal loan and the installment amount due fortnightly, weekly or monthly-all depending on the option you take.
You need to be 18 years and older
You need to receive a steady income
Your monthly expenses need to be able to accommodate your personal loan, e. you need to have enough left in your bank account at the end of the month.
You need to be able to prove your identity and earnings, i.e. proof of income and proof of address, identity document.
ANZ personal loans New Zealand
It is always a daunting thought when taking out personal finance. Is it going to be enough? Am I going to apply for a big enough personal loan? With ANZ Bank, you can apply for a personal loan of up to $40 000, $3 000 is the minimum amount that you can ask for.
What you need to have when applying
Your personal tax details.
A detailed income and expenses sheet of your finances for the month, including your assets and existing debts.
You need to provide your ANZ account number or customer number if you have one.
Apply for a personal loan
Under the personal loan tab, you will see a button that says apply for a personal loan now. Click on that button to be taken through to the application process for your ANZ personal loan NZ.
Step one
Click on the option that best suits you. Your options are Apply online or Apply via Internet Banking,
Step two
(A: Apply online, B: Apply via internet banking)
A: If you are applying online, complete the questionnaire provided to proceed with your 4-step online application process.
B: If you have decided to apply through internet banking you will be taken through to the internet banking site where you will need to fill out your customer number and ANZ banking details to proceed with your application.
Step three
Once you have reviewed and agreed, and finalized your personal loan application, ANZ Bank will respond to you within 2-3 working days. Sometimes your money is received by the next working day, it all depends on how quickly they can get to your application so that they can approve it and send you your cash.
As you can see by the super easy and completely straightforward and hassle-free process, banking with ANZ Bank in New Zealand when considering a personal loan is definitely high up on the list of A-Okays.
Benefits of a personal loan from ANZ
Fast and reliable application process.
Friendly customer service.
You can choose your repayment term.
You can choose your repayment period i.e. 6months or 4 years.
The interest rate per annum is incredible, at a low rate of 12,90% per annum - it will be difficult to beat.
You can loan up to $40 000.
Two people can have the option of a joint loan.
You have the option to apply online or via your internet banking.
You can bank on the go with your iPhone or Android device.
You can talk to a personal banker if ever you feel stuck.
Customer Reviews & Testimonials
"
Banking with a bank that is so well-known is definitely always a good option. Every service that came from ANZ was just impeccable.
John M
— Christchurch —
I have never been this happy before! I needed a small loan for my house and ANZ made that dream come true.
Relusso A
— Hampden —
Look, taking out personal loans is always a scary thing for me but banking with ANZ Bank made me feel so at ease and I am so grateful for the experience. I recommend ANZ over and over again.
Yuss A
— Queenstown —
ANZ Bank Contact Details
Contact Number
E-Mail
Website
Physical Address
59 Victoria St, Leamington

Cambridge

Waikato

3434

New Zealand
---
Postal Address
Private Bag 92210, Victoria St, West Auckland, 1142, New Zealand
Opening Hours
Monday

09:00 – 16:30

Tuesday

09:00 – 16:30

Wednesday

09:00 – 16:30

Thursday

09:00 – 16:30

Friday

09:00 – 16:30

Saturday

– Closed

Sunday

– Closed