Low-interest starting from 39%
Debt consolidation loans up to $10,000
Repayment up to 2 years
In-page navigation
---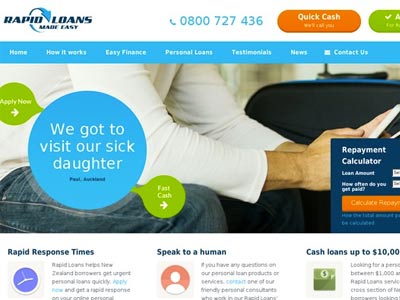 About Rapid Loans
Rapid Loans strive to be the most technologically advanced online lender in the country and to pave the way for faster and simpler credit services.
They offer online personal loans that are easy to apply for while also remaining flexible enough to meet your needs.
Making an effort to understand your needs
Rapid Loans will make an effort to get to know you and understand your personal circumstances. Even if you have less than perfect credit and need a consolidation loan – they may be able to offer you a solution that you might not be able to get at a traditional bank.
What Rapid Loans can offer you
Rapid Loans offer loans from $1,000 to $10,000 that can be used for a wide range of purposes including consolidating debts.
Rapid Loans offers a fixed rate, for a fixed amount, over a fixed term, making it simple to fit into your budget with no surprises. Your repayments can be tailored to suit your situation, and standard loan terms range from 6 to 24 months.
Easy to apply for, easy to deal with
While online loans may be slightly more expensive than traditional personal loans offered by the major banking institutions in the country they are much easier to apply for, faster to get and more convenient. Rapid Loans offers customers an easy to apply for loan online – all with great customer service.
Rapid Loans Product Details
Loan Type

Debt consolidation loans

Interest Rate

from 39%

Loan Amount

up to $10,000

Repayment

6 months to 2 years

Decision

within 24 hours
We tailor our service to be simple, affordable and helpful
When it comes to applying for a loan, Rapid Loans offers customers one of the simplest online application forms on the market.
They don't ask you too many questions, just what is required to allow their staff to process your request and begin an affordability check. Once you submit your application online, you will receive a call from one of their friendly agents during business hours to discuss any further requirements.
Efficient and passionate staff
Rapid Loans has some of the most efficient and passionate staff members in the market – they're always serving customers in a professional manner that manages to still remain personal and friendly. We understand that applying for a loan online doesn't mean that you miss out on the support of a real person – if you're approved with Rapid Loans, you'll deal with the same dedicated consultant throughout the life of your loan.
Allow the loan calculator to help you
The loan calculator will give you an estimate of the amount you have to pay as well the interests charged. There is not much of a difference compared to the actual amount you will be given in reality.
We usually advise our customers to take the figures given and drafted in the loan calculator as accurate and factual. Should you change your mind after seeing the figures on the loan calculator, nobody will judge you. At the end of the day, nobody knows your expenditure trends and budget more than the actual customer.
Contact us immediately if you encounter payment issues
We know that problems often arise when you least expect them. Should you be unable to pay for your credit plan, please inform us as soon as possible. Don't wait until your payment date to notify us.
Ultimately, there will be extra charges incurred for this and if it persists, it will end up ruining your credit profile. There is unfortunately not much that can be done about the interest charges that you will be indebted to pay, these are inevitable. If you are not sure that you will always have money to pay for your loan, rather don't apply for a debt consolidation loan, to begin with.
Customer Reviews & Testimonials
"
After looking all over New Zealand for an affordable debt consolidation loan, I was pleased to find that Rapid Loans meets my financial expectations. The terms and conditions are practical and at...
Mellissa P
— Clarksville —
The interest rates offered at Rapid Loans were worth my while. I wasn't looking for a credit plan that would be too difficult to pay up. I found a loan that didn't charge costly interest rates. R...
Brandon T
— Clevedon —
Rapid Loans Contact Details
Contact Number
E-Mail
Website
Physical Address
Level 31, Vero Ctr, 48 Shortland Street

Auckland

Auckland

1010

New Zealand