Low-interest starting from 14.95%
Debt consolidation loans up to $100,000
Repayment up to 7 years
In-page navigation
---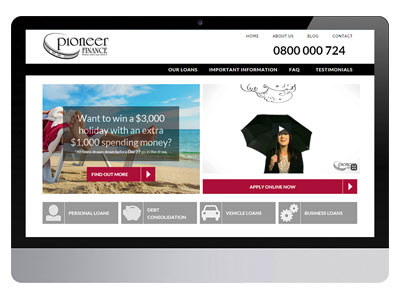 About Pioneer Finance
The New Zealand lending market is rapidly transforming and becoming more and more advanced as time passes.
At Pioneer Finance we strive to keep up with this growth and offer kiwis an alternative way to access credit. We offer online personal loans - quickly and effortlessly.
Getting to know our customers
We have made every effort to get to know our customers and identify their specific loan needs. This has allowed us to develop a range of products and services that fit into the lives of our customers and meet all their needs from car loans to debt consolidation we have it covered. When you use us you will get what you want and need.
What Pioneer Finance can offer you
Without compromising on affordability - we are able to offer our customers online fast loans at incredibly fast speeds.
This means that you can get a competitive interest rate and you don't have to leave your home or fill in paperwork to do it - we offer interest rates of 14.95 to 27.95% per annum.
Is consolidation the right move for you?
If you have more than 3 unsecured forms of credit that you're paying off and they are incurring a high-interest debt consolidation may certainly give you some breathing room and help you get out of debt with less sweat. We offer secured loans of up to $100,000 with a loan term from 1 to 7 years.
Pioneer Finance Product Details
Loan Type

Debt consolidation loans

Interest Rate

14.95 – 27.95% p/a

Loan Amount

up to $100,000

Repayment

12 months to 7 years

Decision

24 hours
We offer online personal loans - quickly and effortlessly
Some people use a personal loan to refurbish their homes or buy furniture. Others use it to consolidate debt or pay bills that they haven't been able to catch up on.
This clearly demonstrates the versatility of our loans and proves that our loans are better priced than those of our competitors - and you can apply for our loans online!
Our turnaround times
Our loan processing time will vary depending on what type of security you're using for your personal cash loan. Our secured loan will generally take up to 2 working days since there are more variables to take into account and more information but we will keep you updated throughout the process.
Why do you need to use my credit report?
The credit report is done so that we can check whether you meet the credit criteria we are looking for or not. The personal details that are stipulated on your credit report will not be shared with any third parties. This is mainly so that we can see the number of debts that you have and the payment pattern that you have with them.
There are some credit providers that provide us with the information but mainly because they want to also see whether they can assist you with a financial plan.
Adhering to the privacy policy
Every consultant that is employed at Pioneer Finance has an obligation of the Private Policy to adhere to. This means that every information that is shared with the agent should not be used for any other purpose other than that of a personal bad credit loan.
It is understandable why customers don't want their confidential information being shared with anybody and we respect that and abide by it too. Failure to do so will result in the immediate dismissal of a consultant. We are a company that takes privacy and quite seriously and if we find that our own employees are not following the procedure, disciplinary measures will be taken into careful account.
Customer Reviews & Testimonials
"
Pioneer Finance afforded me a debt consolidation loan that changed my life for the better. I was able to settle all my debts and end up paying for one settlement on a monthly basis. A great finan...
Richard O
— Carterton —
After applying for the debt consolidation loan, the wonderful staff at Pioneer Finance wanted to make sure that I was informed of all the terms and conditions pertaining to my credit agreement. I...
Bradley C
— Cheviot —
The loan application process on Pioneer Finance is easy to understand. Everything is self-explanatory and is systematic. There aren't too many questions that are asked which meant that I was able...
Gilbert W
— Christchurch —
Pioneer Finance Contact Details
Contact Number
E-Mail
Website
Physical Address
22A Kaiwharawhara Rd

Wellington

Kaiwharawhara

6035

New Zealand
---
Postal Address
PO Box 9607, Wellington, 6141, New Zealand