Low-interest starting from 13.95%
Debt consolidation loans up to $1,000,000
Repayment up to 5 years
In-page navigation
---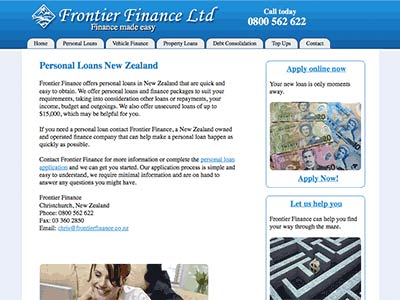 About Frontier Finance
Frontier Finance is New Zealand's favorite alternative credit provider with more flexibility, understanding and professionalism than any of our competitors.
We offer more than just quick loans online – we offer an alternative solution to your financial needs with a difference. If you're ready to take on debt with a debt consolidation loan – you've come to the right place.
Why frontier is just that much better
Although we require security for the majority of our loans we allow people with good credit to apply for unsecured debt consolidation loans of up to $5,000- something that is non-existent among banks and other lenders like ourselves who operate primarily online.
What Frontier Finance can offer you
Frontier Finance provides a wide range of credit solutions.
It provides personal loans at fantastic rates, to car loans, property loans and debt consolidation loans – whatever you current credit needs we will likely have a solution for you whether it's a secured or unsecured loan that you're looking for.
Our debt consolidation loans are better
Frontier Finance offers secured and unsecured debt consolidation loans from $1,000 to $1 million. We will combine all your debts into one – more affordable loan with lower interest so that you can better manage your finances while having a little extra cash every week to do the things you love.
Frontier Finance Product Details
Loan Type

Debt consolidation loans

Interest Rate

13.95 – 25.95% p/a

Loan Amount

up to $1,000,000

Repayment

6 months to 5 years

Decision

24 to 72 hours
You can regain financial control & improve your budgeting skills with effective debt consolidation
A debt consolidation loan with Frontier Finance will allow you to free up some of your weekly wages, make it easier to manage your debt and help you save on interest.
Ideally, only unsecured debts such as credit cards and personal loans should be consolidated to ensure you don't end up paying more than you should.
Applying online in just minutes
With Frontier Finance you can apply for a loan online in just a few minutes and the process can be completed by email or fax. We've worked hard to ensure our online application is seamless and quick and our customers are always pleased with the speed at which they can complete our application and at our fantastic processing times.
Why you need my personal details
We need to verify that the information you have provided on your debt consolidation loan application corresponds with the details you have given us. This is why we might need a recent salary invoice. This will also give us an indication of how much money you make and whether you will be able to pay the loan you are applying for. It is important to remember that the amount you are usually asking for will be determined by the amount you make on a frequent basis from your salary invoice and the status of your credit score.
Apply for a bigger amount
Seeing that there is no telling when you might need a loan again, there is no need to apply for a bigger loan amount that you don't actually need. It is best to stick to the amount you had initially agreed on. In fact, it will make it easier and better to pay off if you do this. We always advise our customers to try their level best to borrow money as steadily as possible, and don't make a habit of always asking for a debt consolidation loan. This will not give you any brownie points.
Customer Reviews & Testimonials
"
Frontier Finance was able to assist me with getting a debt consolidation loan. They also went above and beyond to ensure that I was given the necessary tips I needed to manage my finances better....
James K
— Beachlands —
Getting a debt consolidation loan with Frontier Finance was one of the best decisions I made. I was able to settle all my credit plans and still had money to save on a monthly basis. The agents a...
Kurt R
— Beaumont —
Frontier Finance Contact Details
Contact Number
E-Mail
Website