Alternate Finance
Updated
Low-interest starting from 13.95%
Debt consolidation loans up to $1,500
Repayment up to 3 years
In-page navigation
---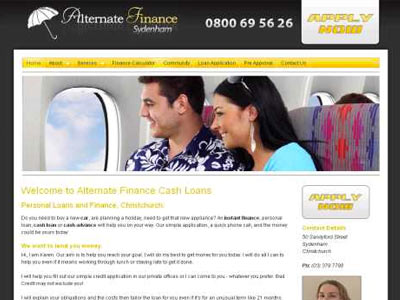 About Alternate Finance
Based in Christchurch, Alternate Finance has been providing loan services to New Zealand residents since 1983.
We understand the various different situations our clients find themselves in and we tailor our service to be simple, affordable and helpful. With a number of different loan types, there is an option to suit you.
Our corporate responsibility
Besides offering valuable loans to our clients, we take corporate responsibility seriously and therefore we are involved in a number of community projects and charities.
No matter what financial strain you are under, at Alternate Finance, we are here to help you! You could have a loan finalised with 24 hours at Alternate Finance, just another way we aim to assist our clients.
What Alternate Finance can offer you
The aim of our loan services are to offer our clients financial freedom to take care of the things that matter the most.
We deliver with professional, speedy and reliable service to ensure you have the best experience when dealing with us. At Alternate Loans you will not only find debt consolidation loans but also fast cash loans, holiday loans, emergency loans and funeral loans.
Consolidate your debt
Should you be a position, in which you cannot afford all your debt bills, we will consolidate it into one affordable, monthly payment. More than 80% of our clients return to us for loans, which proves our commitment to our clients.
Alternate Finance Product Details
Loan Type

Debt consolidation loans

Interest Rate

13.95 – 26.98% p/a

Loan Amount

up to $1,500

Repayment

6 months to 3 years

Decision

24 hours
You could have a loan finalized within 24 hours at Alternate Finance
Apply online, download the application forms or you can contact our friendly staff that is ready to assist you.
Choose your payment option
Customers have the option of paying smaller weekly payments on debt consolidation loans or you have the option of a larger monthly payment. Once you have submitted your loan application a consultant will contact you within one hour and loan amount are paid to you within 24 hours.
We cater for all
At Alternate Finance we look beyond your credit rating to ensure that we are able to assist people in different financial situations. Lower interest rates help you pay back your cash loan amount quicker, which also reliefs your financial situation. Although based in Christchurch, we accept loan applications from anyone residing in New Zealand.
Our interest rates range from 13.95% to 26.98% per annum. This is dependant on a number of things such as the loan amount, your credit history with us and the security that you are able to provide for the loan. Once the interest rate has been determined, it is fixed for your loan term.
Only apply for the exact amount you need
If you would like to apply for a personal bad credit loan, you need to apply only for the amount that you need. Should it be a case that you qualify for a larger amount of money, don't take it because you don't want to find yourself in a situation where you are now paying for a loan that you didn't really need at the time.
Financial maturity is important when it comes to a loan application. One can never be sure when they might need money so there is no need to apply now if there are other alternatives you can make use of or you don't need the money. Once your credit profile is ruined, it takes a number of years to have fixed again.
How can I pay my debt consolidation loan?
Once your loan has been approved, you need to always ensure that you have sufficient money on the day of your payment. This is the reason why the customer needs to ensure that he agrees on a date where he will be certain that the lender will find the money.
Should there be a case where the lender doesn't find the money; the customer will be liable for extra charges. If you are going through financial difficulty that is making it difficult for you to pay your loan on time, please inform us immediately
Customer Reviews & Testimonials
"
Alternate Finance has such a user-friendly loan application system. After I completed my personal details, I went further to provide my employment and payment information. Everything was systemat...
Jonathan W
— Collingwood —
I applied for a debt consolidation loan with Alternate Finance in the morning. Within the same day, I got feedback. Quick and fast turnaround time is what customers look for and that is exactly w...
Steve K
— Colville —
Alternate Finance Contact Details
Contact Number
E-Mail
Website
Physical Address
50 Sandyford Street

Sydenham

Christchurch

8023

New Zealand
---
Postal Address
PO Box 7130, Sydenham, Christchurch, 8240, New Zealand
Opening Hours
Monday

9.00 – 17.00

Tuesday

9.00 – 17.00

Wednesday

9.00 – 17.00

Thursday

9.00 – 17.00

Friday

9.00 – 17.00

Saturday

– CLOSED

Sunday

– CLOSED