Low-interest starting from 17.95%
Debt consolidation loans up to $100,000
Repayment up to 5 years
In-page navigation
---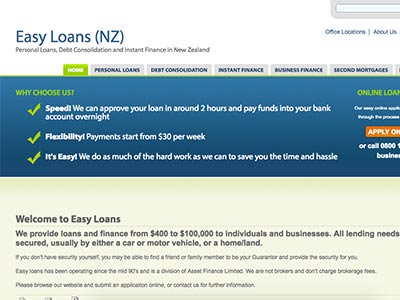 About Easy Loans (NZ)
Easy Loans (NZ) is a New Zealand lender that offers a range of secured loans designed to help you get ahead regardless of what your financial circumstances and credit history may look like.
We tailor products to meet the needs of applicants in a way that is unprecedented in the current financial market.
People that care about you
The last thing that you need is to have to deal with a lender that treats you just like your bank does. When you apply for a loan through Easy Loans (NZ) you can rest assured that you will be dealt with in the most professional manner – quickly and with a smile!
What Easy Loans (NZ) can offer you
Easy Loans (NZ) offer secured loans for both individuals and businesses.
We offer debt consolidation loans, personal loans, second mortgages, asset and business finance and factoring finance. If you want a quick loan and a decent interest rate then look no further than Easy Loans (NZ)!
Consolidating your little debts with us
We offer personal loans that are ideal for use to consolidate debt. If you have outstanding credit card balances, hire purchases and other small, unsecured debts than you can consolidate with us and save on interest while making your debts that much easier to manage.
Easy Loans (NZ) Product Details
Loan Type

Debt consolidation loans

Interest Rate

from 17.95%

Loan Amount

up to $100,000

Repayment

6 months to 5 years

Decision

48 hours
Turn to Easy Loans for expert debt consolidation services
Our loans range from as little as $400 to as much as $100,000 which means that you can consolidate a range of smaller debts without worry.
Our loans terms stretch from 6 months to 5 years and we are experts in assisting you in determining the best loan amount and loan term for your specific needs.
Applying online in a few easy steps
In order to apply for a loan online you must prepare the necessary supporting documents which include your ID, proof of address, bank statements and payslips. You will also need to provide us with all the details of your outstanding debts so that we can ensure consolidation is the right choice for you.
Why was my debt consolidation loan application turned down?
There could be a number of reasons why your loan application was rejected. Our mission is to afford every client the opportunity of changing their lives for the better. If we see that you are already for more than enough credit, we will not add a further financial burden to your budget. The only time we might be able to approve your loan is when we can see that you have an excess amount in your budget.
What do you need from my payslip?
Without your payslip, we will not be able to see how much you earn. We also need your bank statements so that we can see the financial obligations you have and how you are managing them. We will not use your personal information for any other purpose either than ensuring that your loan application gets positive feedback. If you are not approved, you can always try again when you have settled all your loans.
Easy Loans (NZ) will never give you insufficient information
All the information that we tell you will be transparent and by the book, everything will be properly explained in your credit contract. There are no hidden fees on our debt consolidation loans.
Customer Reviews & Testimonials
"
I had car problems and needed to get an advance in the shortest time possible. Fortunately for me, Easy Loans (NZ) was able to assist with a debt consolidation loan that afforded me the opportuni...
Jackie G
— Anakiwa —
The staff that works at Easy Loans (NZ) are people that clearly know how to deal with customers. I was impressed by the manner in which they presented their credit plans and how well I was treate...
Michael R
— Aramoana —
The loan application that Easy Loans (NZ) is one of the most convenient ways of applying for credit. Each step is easy to understand and there are no hidden fees or misjudgements about the terms ...
Nathan J
— Balclutha —
Easy Loans (NZ) Contact Details
Contact Number
E-Mail
Website
Physical Address
---
Postal Address
38 Richardson St, PO Box 497, Whakatane, 1320, New Zealand
Opening Hours
Monday

08:30 – 17:00

Tuesday

08:30 – 17:00

Wednesday

08:30 – 17:00

Thursday

08:30 – 17:00

Friday

08:30 – 17:00

Saturday

Closed –

Sunday

Closed –