Low-interest starting from 13.95%
Personal loans up to $50,000
Repayment up to 5 years
In-page navigation
---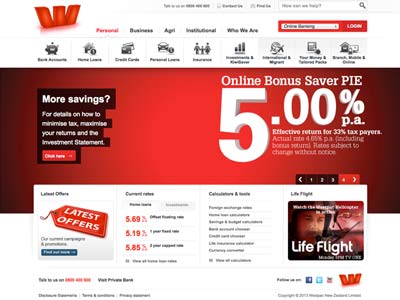 Westpac Personal Loan
If you need a personal loan, Westpac takes pride in tailoring loans to your needs.
They will go above and beyond to ensure that the option you have accepted is suitable for you and that you will be able to repay it promptly.
Westpac bank is a personal loan provider
In 1861, their first customer arrived from the Otago goldfields. As their country grew, so did they. More than 1.3 million New Zealanders already bank with them. It is their job to assist in any way they can including providing personal loans. Their goal is to assist their customers in achieving financial stability.
They invest in and care for the areas they live in via sustainable business practices, ensuring that their people and communities thrive.
Personal loans from a lender that cares
Today, they're taking steps to improve the lives of those who bank with them, work with them, invest in them, have personal loans with them, or are a part of their greater communities.
Enjoy affordable personal loans from Westpac
When you choose Westpac, you're not simply selecting a bank; you're selecting a financial partner for life. They are one of New Zealand's largest banks, and they provide financial products and services that are extremely competitive in terms of rates, flexibility, and innovation.
What Westpac can offer you
With a personal loan from Westpac, you can borrow money to pay for whatever you need or want, which could be practically anything.
They will charge interest on the amount borrowed during the lifetime of the loan, as well as a one-time startup fee.
You also can choose to pay it off sooner if you prefer. There are no early repayment penalties, so you can make extra payments to help you pay off your loan faster and save money on interest whilst doing it.
How much I can borrow
You can apply for an unsecured personal loan of up to $50,000 or possibly more, depending on your unique circumstances. Their typical loan periods range from six months to five years.
Calculate to see what you would qualify for
On their website, they provide a personal loan calculator that will help you determine the amount and term that is right for you depending on your monthly disposable income. They recommend that you keep your term as short as possible to save money on interest and repay your loan as fast as possible.
Enjoy 0% interest for the first 6 months
A credit card provides you with credit up to a predetermined limit, allowing you to pay for products and services anywhere Mastercards are accepted. To prevent incurring interest on your purchases, you should try to pay off your credit card balance in full each month.
Westpac Product Details
Loan Type

Personal loans

Interest Rate

13.95 – 20% p/a

Loan Amount

up to $50,000

Repayment

12 months to 5 years

Decision

48 hours
At Westpac our loans are affordable and reliable
If you are seeking a way to pay your unexpected bills.
Westpac can satisfy all of your needs by tailoring a personal loan to your current as well as your long-term requirements. You can now take a loan out with the confidence that you will be able to repay it in small monthly payments, without the hassle.
Steps to apply for a personal loan
Decide how much you need to apply for.
Verification of income and employment.
Verification of your identity and residential address.
Submit your personal loan application.
Criteria that need to be met when considering a personal loan
Ensure that you're at least 18 years old when applying for a personal loan.
You have permanent residency in Australia or New Zealand or you are a non-resident or migrant with an approved visa that expires in less than a year.
You have a consistent and verifiable taxable income in Australia or New Zealand.
You live in Australia or New Zealand and have a fixed, verifiable address.
Get your personal loan from a responsible lender
They take pride in locating the funds you require. They will go to great lengths to ensure that the personal loan you have accepted is suitable for you and that you will be able to repay it without any hassles. Apply for your online personal loan today and reap all of the benefits that come along with it!
Benefits of a Westpac personal loan
When you apply for a personal loan online, you'll get an answer in 60 seconds.
Borrow between $4,000 and $50,000 without having to put up a car as collateral.
The fixed interest rate of 8.99% p.a. for 1-7 years.
Set up a direct debit so you don't have to worry about missing a payment.
Overdraft options is another alternative
An overdraft can help cover unexpected costs or gaps between paydays by giving extra money within your permissible amount when needed. When you need immediate or extra finances, this can be a great alternative for a personal loan.
Customer Reviews & Testimonials
"
Westpac has an excellent loan service. Friendly and reliable loan service is just what I needed.
Thomas R
— Auckland —
I applied online and within a few minutes, my loan was approved. I would recommend Westpac to anyone who needs a quick personal loan
Mel J
— Dunedin —
I could not believe how fast my loan was approved. It was incredible. I am very well pleased with this great service. I will be recommending this bank in the future.
Mckenzie A
— Auckland —
I was unsure what option I needed to take. The lady at the bank explained all of the options to me and after listening to my story she advised me which option would work for me. She was so unders...
Cotze D
— Greymouth —
This was the easiest loan application form that I have ever filled out. It was simple and after submitting I received my approval instantly. I was so excited. You truly deliver an amazing service...
Botes J
— Gisborne —
Westpac Contact Details
Contact Number
E-Mail
Website
Physical Address
13/15 Ashley St

Waimakariri

Rangiora

7400

New Zealand
---
Postal Address
P.O. Box 934, Shortland St, Auckland, 1140, New Zealand
Opening Hours
Monday

09:00 – 16:30

Tuesday

09:00 – 16:30

Wednesday

09:00 – 16:30

Thursday

09:00 – 16:30

Friday

09:00 – 16:30

Saturday

09:30 – 13:00

Sunday

– Closed