Kiwi Bank Personal Loan
Updated
Low-interest starting from 13.95%
Personal loans up to $6,000
Repayment up to 4 years
In-page navigation
---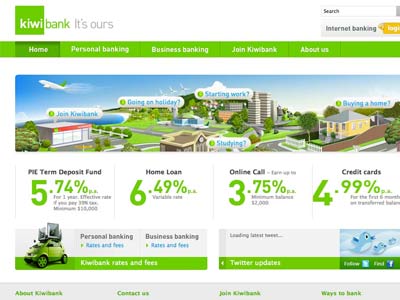 About Kiwi Bank Personal Loan
If you don't have the funds on hand to make a large purchase or if you want to consolidate several lesser obligations into a single loan, a personal loan may be able to assist you.
Personal loans at Kiwibank
New Zealand Post, New Zealand Superannuation, and Accident Compensation Corporation are all subsidiaries of Kiwibank. They have a retail network that includes certain post shops, franchised stores, and branches that provide personal loans.
B Corporation certified personal loans
They are ecstatic to have received the B Corp Certification because running a business that is both ethical and sustainable is one of their top priorities.
Personal loans accredited with the Rainbow Tick
Their employees must bring their complete selves to work, which is why they're proud to provide a safe and friendly environment for Rainbow staff.
Partnership with Banqer
They want to increase their tamariki's financial literacy, so they send Banqer into schools to prepare them for the financial future ahead.
What Kiwi Bank Personal Loan can offer you
If you're planning a large purchase, look at your budget and savings.
If that's not possible, think about taking out a personal loan. Carefully consider how much you're borrowing and ensure that you can comfortably pay it back.
Personal loans that fit your needs
A personal loan may be right for you if you need to borrow $2,000 or more and want a fixed rate and repayment schedule. Once accepted, you can obtain your money the next working day.
If you know how much you want to borrow, their personal loan calculator can estimate your monthly payments, loan term, and total interest.
Credit cards as an alternative to personal loans
A zero visa credit card could be a smart alternative for making a large purchase, depending on your budget and repayment speed. If you value rewards as well as low interest, check out their Air New Zealand Airpoints credit cards.
Compare their credit cards' interest rates and fees to find the best fit. Whatever card you use, you must be able to make the minimum monthly payments to avoid additional interest and fees. The minimum monthly payment at Kiwibank is 5% of your closing balance or $10, whichever is greater.
Kiwi Bank Personal Loan Product Details
Loan Type

Personal loans

Interest Rate

13.95 – 18.95% p/a

Loan Amount

up to $6,000

Repayment

6 months to 4 years

Decision

48 hours
With our low rate personal loans, getting a loan with us is affordable
Apply for a loan at Kiwi Bank in a quick and easy process.
Steps to apply
Choose the amount you wish to borrow as well as a reason why you are applying for a personal loan.
Select the period over which you would like to repay your loan.
Fill out the personal loan application and privacy form.
Fill out your personal information.
Provide them with the required documentation.
Submit your personal loan application.
Criteria that you should meet when applying for a personal loan
You must be at least 18 years old to apply for a personal loan.
You need to be a permanent resident of New Zealand.
You should have a steady source of income.
You need to have an email address.
A personal loan may be able to help you if you don't have the finances on hand to make a significant purchase or if you wish to consolidate a lot of smaller debts into a single loan.
Their personal loan calculator will estimate your monthly payments, the length of time it will take to repay the personal loan, and the total interest you will pay. They will respond to your application within 24 hours if you apply online. Apply for a personal loan online today.
The Kiwibank creed
They believe New Zealand should be a country where everyone believes they can achieve and have a good life without having to move elsewhere. They aim high for New Zealand. People envision their potential and corporations invest in Kiwibank as they progress.
Personal loans vs. overdraft
Consider an overdraft for extra flexibility compared to a personal loan. An overdraft is a line of credit that you can use anytime you need to. With an overdraft limit of $5,000 but only using $2,000 per month, you will only pay interest on $2,000. There are no minimum monthly payments, however, paying it back as promptly as possible reduces interest.
Benefits of a Kiwibank personal loan
Borrow up to $2,000.
You'll know exactly how much you have to return and when you have to repay it thanks to a fixed interest rate and defined payback amounts.
To pay off your debt faster, you can make additional payments at any time.
If your personal loan application is approved, you could get funds the next working day.
Personal loans with a purpose
They were formed in 2002 and have grown up quickly, leaving the New Zealand Post home and venturing out into the world. They are committed to ensuring a more sustainable future for tamariki, Kiwis, and Aotearoa.
Customer Reviews & Testimonials
"
The friendly consultant walked me through all the options that were available to me and helped me choose the option that was right for me. I went with the personal loan option and it was exactly ...
Hathaway B
— Napier-Hastings —
I am astonished at how easy this process was. There were no delays or hassles. Everything was quick and to the point. I would recommend your services.
Pollard V
— Dunedin —
When I contacted them they helped me right away the call was finalized within 10 min and my loan was approved within hours of our conversation. I was pleasantly surprised at how good my experienc...
Pelser R
— Tauranga —
Kiwi Bank Personal Loan Contact Details
Contact Number
E-Mail
Website
Physical Address
969 Dominion Road

Auckland

Auckland

1041

New Zealand
---
Postal Address
Private Bag 39888, Wellington mail Centre, Lower Hutt, 5045, New Zealand
Opening Hours
Monday

09:00 – 17:00

Tuesday

09:00 – 17:00

Wednesday

09:00 – 17:00

Thursday

09:00 – 17:00

Friday

09:00 – 17:00

Saturday

09:00 – 12:00

Sunday

– Closed