Low-interest starting from 12.95%
Personal loans up to $40,000
Repayment up to 7 years
In-page navigation
---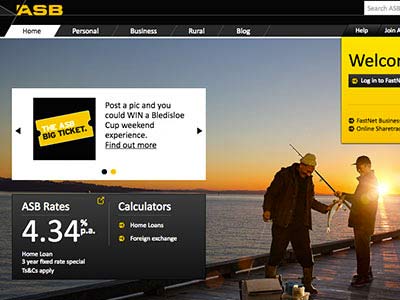 ASB Personal Loan
If you are looking for an affordable and convenient personal loan, then ASB Bank is the solution for you.
ASB Bank will help you to get a personal loan easily when you find yourself in an unforeseen situation. They will support you during difficult times and give you the advice you need. This is the reason why customers choose them for a loan.
ABS Bank's secured and unsecured loans
With ASB Bank you can get a personal loan that is tailored to suit your budget. They offer both secured and unsecured personal loans up to $40,000 that you can use for anything from debt consolidation to buying a new car. Their interest rates start from as low as 12.95% and you will have up to 5 years to pay back your personal loan.
A successful bank with the best personal loans
Their goal is to make sure that they reach every customer's expectations and this keeps them motivated.
Over 5500 staff members of ASB Bank across the country help create unbeatable personal loan experiences every day. Internationally recognized they are a provider of personal loans and they have introduced internet banking to New Zealand. They are the first bank to enable you to pay with your mobile and launched the world's first digital money box for kids.
What ASB Bank can offer you
While you believe that personal loans are complicated, they are slowly changing this misconception by providing customers with quick personal loans online.
No more endless paperwork that takes a lot of time to fill in or long queues at the bank.
The loan app makes your life easy
Download the app and use it to monitor your personal loan, credit cards, and you can also control the money that comes in and out of your bank account.
You will be able to download the app after your application is done. They will send the link to your smartphone directly to make sure it is an effortless process for you.
Enjoy their helpful personal loan tools
They have a personal loan calculator that will help you to determine the amount of personal loan that you qualify for. Use their easy-to-use sliders to see what your repayments and interest rates will be and slide them according to your needs. This will enable you to create and select a perfect personal loan that can easily fit into your budget.
ASB Bank Product Details
Loan Type

Personal loans

Interest Rate

12.95 – 17.95% p/a

Loan Amount

up to $40,000

Repayment

6 months to 7 years

Decision

24 hours
At ASB Bank we make it easy for you to get a personal loan
You deserve a lender that will treat you well and offer you a seamless online loan application.
ASB Bank understands that you need your personal loan rapidly so you will have your answer within 24 hours. All the information that you supply during your personal loan application will be safe and secure.
What you will need to apply for your personal loan
Your personal details (Name, surname, ID, address, email, and cell phone number)
Proof of income.
The loan amount you want to apply for.
Other required information.
All information provided will be safe and secure.
Follow these easy steps to apply:
Step one:
Decide on a personal loan amount and calculate what your repayment will be.
Step two:
Fill in your personal details on the application. It will only take a few minutes to fill out their application form for a personal loan.
Step three:
They will process your information and find you the best personal loan for your specific requirements.
Step four:
The funds will be in your account the same day you sign the documents.
Let ASB Bank help you to find a way out of your struggle, with one of their amazing personal loans. When money is a problem, they will help you with a solution.
Apply today and you will be on your way to financial freedom.
Benefits of applying for a personal loan with ASB Bank
Amazing customer service that will meet your needs.
Personal loans for Kiwis in need.
Competitive rates, terms, and fees.
You will have an answer in 24 hours.
Enjoy a safe and secure personal loan online
They also offer streamlined packages
These packages will allow you to enjoy no transaction fees and a Visa Debit card with no card fee for six months. The greatest news is you will not have to pay any fees for setting up your account or for paying your bills.
Customer Reviews & Testimonials
"
When I was applying for my first loan I had the help of ASB they explained all the steps and I applied and got my loan instantly
Paul S
— Auckland —
I applied for a personal loan with ASB Bank, I got approved right away!
Sam P
— Christchurch —
When I applied for my loan I got my reply instantly and the loan was deposited into my bank account, what quick service thank you ASB
Michael C
— Dunedin —
I applied for my first personal loan and I had the help of ASB Bank, they explained all the steps and I got my loan in an instant, the best service ever.
Hugh O
— Bay of Islands —
When I applied for my loan, I got my reply instantly and the loan was deposited into my bank account. What quick service I had received from ASB Bank, I would recommend them any day.
Solomon A
— Dunedin —
A personal loan in just a day is what I call outstanding service. Thank you for helping me in times of need ASB Bank.
Grant P
— Christchurch —
ASB Bank Contact Details
Contact Number
E-Mail
Website
Physical Address
12 Jellicoe St

Auckland

Auckland

1010

New Zealand
---
Postal Address
P.O. Box 35, Shortland Street, Auckland, 1140, New Zealand
Opening Hours
Monday

09:00 – 16:30

Tuesday

09:00 – 16:30

Wednesday

09:00 – 16:30

Thursday

09:00 – 19:00

Friday

09:00 – 16:30

Saturday

09:00 – 16:30

Sunday

10:00 – 16:00