Rating based on 618 reviews
---
Future Finance
Future Finance is a Registered Financial Service Provider / FSP4261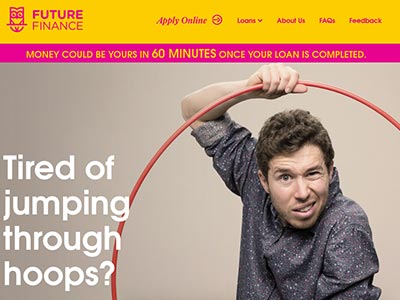 About Future Finance
With us you can apply for a cash loan 24 hours a day - 7 days a week.
Whether you're using a mobile phone, tablet or PC - you can apply online in a matter of minutes and have your application processed in hours. Don't waste time trying to convince your bank manager to give you a loan - apply for a loan with us.
Assisting you with professionalism, respect and expertise
Our staff are well-trained and will assist each and every customer with professionalism, respect and expertise. Whether you contact us by phone, send us an email or complete our online loan application you will be dealt with in a friendly manner that's bound to stick with you long after you've repaid your personal loan.
What Future Finance can offer you
Applying for a loan is quick, easy and you can rest assured that you'll get your fast loan credited to your account quickly and flawlessly.
Our same day approval is the very reason that customers choose to use our credit services as opposed to that of their local bank. It's simple, quick and easy!
Our personal loans from $2,000
We offer personal loans that range from $2,000 to $80,000 with loan terms of between 6 months and 5 years. The interest rate offered is tailored to the customers loan details and credit history but ranges from 10.93% to 100.67% per annum.
---
Interest Rate
From 0 %

To 0 % Per annum
---
---
In a Nutshell
Average processing time 60 minutes
Online application
Secured loan option
Bad credit consideration
Early repayment
---
Apply for a personal loan with Future Finance and get approved today
As an experienced, well-established and reliable lender when you deal with us you know that you are dealing with the best that New Zealand has to offer!
We offer short term loans from $2,000 all the way up to $80,000 and, we make selecting your loan amount easy with our accurate loan calculators, which will tell you how much you will pay each month for your desired loan amount and term.
Select, adjust and apply today!
What do you need to apply? Well, we've made this quite simple. All you need to apply for a fast micro-loan with Future Finance is certified a copy of your identity document, a 3-month bank statement, a payslip from your employer and a utility bill to serve as proof of address.
Apply for your loan today
Our loan will shock you with the amount of time that it takes to complete. Could you imagine completing a loan that could take less than 5 minutes well ours only takes 2 minutes. We offer you the ability to contact us and apply for your loan over the phone. Once you have submitted your application we will contact you to just verify all your information that has been given. If all your information is correct you may have to wait an hour and you will have your loan. Yes in 60 minutes you can have your loan approved.
Our interest rates and application fees
Our application fees are $465 dollars that you will have to pay for your application and this will help us find you're the best loan possible and also go towards your administration that will need to be done for your loan. The best part of your fee is that it is included in your loan amount meaning you would only pay back one amount per month. Our interest rate is depending on your loan type.
You can contact us
If you have a query we will be here for you and we will help you get the answers that you require all you have to do is send us an email or phone us and we will help you.
---
Eligibility & Requirements
18 years or older
NZ resident
Employed full-time
Active NZ bank account
Can you provide security
Bank statements
---
Other Products & Services
Personal Loans
Business Loans
Debt Consolidation Loans
---
Customer Reviews & Testimonials