Low-interest starting from 18.95%
Personal loans up to $15,000
Repayment up to 48 months
In-page navigation
---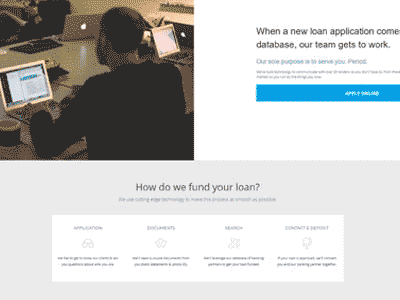 About Finance District
Finding you the best loan to suit your needs is what Financial District specializes in.
Whether you need a small, medium, or large loan amount, we have the financial solution to suit your budget.
Our unique service uses the latest technology to connect you to our network of over 20 leading lenders this allows you to compare your options and chose the solution that suits you best. This gives your loan application the best chance of being approved and helps you save on the interest rate and other charges.
So much better than your average bank
Have you ever heard of someone who likes going to the bank? The queues are always far too long and even if you make an appointment you can still end up waiting hours to see a consultant.
Personal loans that are tailor-made
If you are applying for a personal loan the loan consultant will ask you embarrassing financial questions and subject your application to very strict lending criteria. Banks will require you to jump through all sorts of hoops to prove your affordability and can take ages to give you an outcome.
If the bank eventually gave your application the green light, the repayments terms can't be easily changed and there are sometimes restrictions on what the loan can be used for.
Leave the past behind, and get financed today
The future is much brighter thanks to amazing technology and visiting banks to apply for personal loans is a thing of the past. We understand that you want to get a loan as quickly and easily as possible that is why we have made the application process as simple as possible.
What Finance District can offer you
Our network consists of over 20 leading lenders that are experts in the financing industry.
One simple application for loan approval
With just one application form you will have access to all these lenders. Not to mention that this will give your loan application a better chance of being approved. The latest technology allows us to quickly find the financial option that best suits your requirements.
Applying for a personal loan is easy
If you have an internet connection you can apply for a personal loan from the comfort of your own home. In only a few easy steps:
Complete the generated application form with your personal details
You will need to upload a copy of your latest bank statement and a copy of your photo ID
Our system will work its magic and find you the best solutions. Compare loans and choose your preferred lender
Upon loan approval, the money will be paid into your bank account
Easy, simple financing in NZ
To keep things as simple as possible we will set up a direct debit on your account to automatically deduct the repayment amount on the date that your salary gets paid into your bank account. Your loan repayment plan will be customized to suit your needs.
A personal touch to financing
Our clients are very important to us. We strive to always provide you with the best customer experience. Our staff is highly educated and trained to assist you through the application process.
We will assign you a personal consultant that is only a phone call away. The consultant is there to assist you should you have any questions or need advice or assistance.
Finance District Product Details
Loan Type

Personal loans

Interest Rate

18.95 – 26.95% p/a

Loan Amount

up to $15,000

Repayment

3 months to 48 months
Finance District should be your go-to lender for competitive personal loans
We understand how important financing can be and it is our aim to ensure the process of getting approved for financing is made easy enough for New Zealand consumers.
By completing only one loan application you will have access to multiple lenders at the same time. If you had to apply to each lender individually this would reflect on your credit report and negatively affect your credit score. When using our service your credit report will only list one loan inquiry with us instead of with multiple lenders.
Other advantages of using our loan finding service include:
Apply with multiple lenders at the same time without affecting your credit score
Applying to multiple lenders gives your application a better chance of being approved
Compare loan providers to save money and choose the lowest interest rate
Bad credit loans do not require credit checks
Arrange your payment schedule to suit your pay frequency and your budget
Applying online is fast and simple
If you have a bad credit score you may still apply for a secured personal loan
Personal loans for those with bad credit
We aim to fill the gap in the market and cater to those with bad credit by offering secured bad credit loans. If you have bad credit, we could help you find a loan to suit your needs.
Complete the online application and we will apply to our network of over 20 lenders on your behalf and find you the best deal. You only need to complete one application form and we will do the finding for you. Once we have sourced your best options, you can compare them and chose the one that you prefer. Compare fees and interest rates side by side and select the option that best suits your needs and budget.
We offer you a customized loan to suit your needs
We listen to you and we understand that not everyone can afford the higher loans. We also know that the amount that you would like is not a loan that we offer we only offer set amounts however we do make exceptions when it is needed. We will help you design a loan that will suit your needs and you will be able to pay it back without worry and stress.
We will make sure you get the best
We will make sure that we get a comparison of all the lenders for loans and make sure that we find you the best of the best. Making sure that you have less stress and more freedom we will find the loan for you.
Customer Reviews & Testimonials
"
I would recommend Finance District to anyone who needs a hassle-free affordable personal loan
Charles L
— New Zealand —
I was pleasantly surprised about how quick I got my loan from Finance District. Another bonus is easy to navigate the website and quick responses
Alan G
— Nelson —
Finance District Contact Details
Contact Number
E-Mail
Website
Physical Address
Grey Lynn

Auckland

Auckland Region

1021

New Zealand
Opening Hours
Monday

06:30 – 21:30

Tuesday

06:30 – 21:30

Wednesday

06:30 – 21:30

Thursday

06:30 – 21:30

Friday

06:30 – 21:30

Saturday

06:30 – 21:30

Sunday

06:30 – 21:30