Central Finance & Loans
Updated
Low-interest starting from 12.95%
Personal loans up to $500,000
Repayment up to 5 years
In-page navigation
---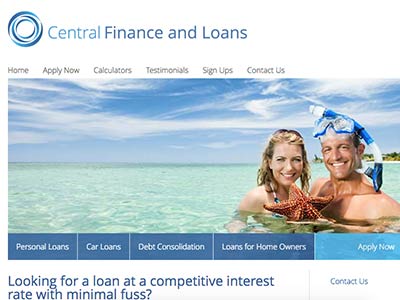 About Central Finance & Loans
Most kiwis will agree that their local bank seems to be interested in them only when the money is flowing in but when they need a helping hand there flat our refuse.
If you need a personal loan and have been refused by your bank - we can help you! We're here for you when things are good and when things are not so good.
Finance that meets your needs
When you take out a loan at a bank you're likely going to be offered a loan that simply doesn't meet your needs. Why make unnecessary compromises when taking out a personal cash loan when you don't have to? At Central Finance and Loans we offer small loans online that meet the needs of our customers and are affordable.
What Central Finance & Loans can offer you
If you need money right now, Central Money will assist you.
If you're pressed for both time and cash we can offer you a convenient solution - a quick loan that you can apply for from home and have credited to your everyday bank account instantly. We're efficient, fast, and affordable - a mix that's quite hard to find!
Borrow up to $500,000
At Central Finance and Loans we offer affordable rates from 12.95% and both secured and unsecured personal loans. Our loans range from $1,000 to $500,000 and we have loan terms from 6 to 50 months so our loans meet just about any need - at the best rates in the country.
Central Finance & Loans Product Details
Loan Type

Personal loans

Interest Rate

from 12.95%

Loan Amount

up to $500,000

Repayment

6 months to 5 years

Decision

24 hours
Apply online today and get your loan instantly
We know that many customers feel like applying for a loan is simply something that will take too long and will cause stress but with Central Finance and Loans it's exactly the opposite.
Our quick loans are flexible enough to allow you to choose a loan term and loan amount that meets your exact needs - apply today and find out for yourself.
How to apply for a loan
Simply fill in our online personal loan application by providing us with your personal, contact, and employment details. Once you're done you will need to send us the necessary supporting documentation after which we will conduct our affordability check before transferring the money to your account.
Please make sure of the following
When answering your loan please ensure that all of your questions are answered correctly and honestly. Please keep in mind that your online application will be sent through processing. We will need an application that has been completed correctly for it to be accepted.
Is it possible to apply for a loan if you are not a citizen of New Zealand
Yes, you can apply for a loan here in New Zealand if you are not a citizen. All you will have to do is the following you will need to be living here in New Zealand for more than three years and have proof if we ask you for the documents. You can also use your Visa as proof if you are here working and you need a loan supply us with your visa and we will help you.
We will contact you
As soon as your application has been sent through processing and you have been accepted. We will contact you to let you know that your loan has been accepted and find out from you which account you would like your loan to be sent too.
Customer Reviews & Testimonials
"
I applied for my loan online it didn't take long at all and I got a reply within minutes.
Paige C
— Dunedin —
Getting a personal loan from Central Finance is quick and easy. The online applications are convenient and I received the outcome of my loan within minutes
Claire C
— Christchurch —
Central Finance & Loans Contact Details
Contact Number
E-Mail
Website
Physical Address
1 Magnolia Place

Richmond

Nelson

7020

New Zealand