Low-interest up to 9.95%
Personal loans up to $50,000
Repayment up to 5 years
In-page navigation
---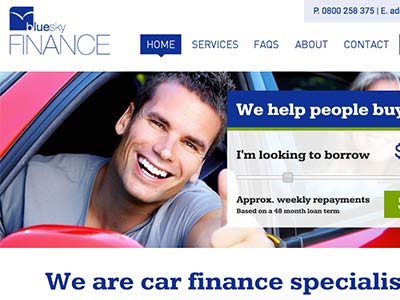 About Bluesky Finance
Our experience speaks for itself - with hard work, dedication, and an ever-evolving range of products and services we've managed to establish ourselves as a leader in the financial industry.
We serve Kiwis with quick, flexible, and affordable financial products year-round.
A top NZ lender
As one of New Zealand's most loved financial providers - we've been able to develop relationships that last for years. From the staff that works for us to the customers, we serve we treat people well and it shows in our ever-expanding base of customers who rely on us for affordable personal loans and quick loans.
What Bluesky Finance can offer you
Bluesky Finance specializes in car finance but, also provides affordable personal loans.
We offer loans from as little as $1,000 and loans terms of up to 60 months which makes our loans ideal for all types of people and circumstances. You can apply online or contact us telephonically.
Striking a perfect balance
Bluesky Finance strikes a balance between the speed of a payday loan and the loan amounts offered by personal loans from traditional banks. With a short-term loan, you can get the cash you need now without having to make a long-term commitment but, you will have bigger installments to make.
Bluesky Finance Product Details
Loan Type

Personal loans

Interest Rate

9.95%

Loan Amount

up to $50,000

Repayment

6 months to 5 years

Decision

48 hours
Applying for a loan with Bluesky Finance is quick and convenient
Prior to filling out the online loan application form, we recommend that you make use of our online loan calculators to view what a loan will cost and how much you will be expected to repay per month.
Choosing a longer loan term will make your monthly installments lower but may make the total cost of borrowing higher.
Ensure that your details are correct
Once we've provided you with a loan agreement form it is your responsibility to read through the information provided and make sure that all your details contained therein are accurate. You should also ensure that you understand the costs and repayment schedule of your personal loan.
You can use the loan calculator
Our calculator is nice and easy to use all you have to do is place the amount that you would like to loan on the left block. The second block is for the amount of time that you would like to take your loan for and the third block is for the amount of payment that you would make per month.
Once you ask it to calculate you will find out how much you will be paying per month or week or fortnightly. The calculator is designed to make your life simply because you can find the perfect loan for yourself.
Our easy step process to get the car of your dreams
We encourage our members to first find the car that they would like to purchase and look at all the options regarding the car before applying. Once you have found your car you can then apply for your loan. Please, when you apply for your loan make sure that you give as much information as possible. We will find you the best loan from your information.
Our interest rate and application fees
Our rates are 9.95 per year and we have an application fee of 450 dollars that we will add into your loan amount so that you only pay one amount for your loan per month. Please note that the interest may change baring the amount that you will be lending.
Customer Reviews & Testimonials
"
I applied for my loan online, it was quick and easy!
Sam J
— Auckland —
I applied for my personal loan online, I was helped by one of the brokers and got my loan paid out on the same day
Michael S
— Dunedin —
Getting a personal loan through Bluesky Finance is easy and convenient. I applied for my loan online and I got instant loan approval
Barb N
— Auckland —
I applied for a loan with Bluesky Finance, they discussed the steps and fees with me and as soon as I got approval the money was paid into my account
Michelle W
— Auckland —
Bluesky Finance Contact Details
Contact Number
E-Mail
Website
Physical Address
Level 1 - Unit 8 / 212, Antigua St

Central Christchurch

Canterbury

8011

New Zealand