Low-interest starting from 693.5%
Payday loans up to $1,000
Repayment up to 42 days
In-page navigation
---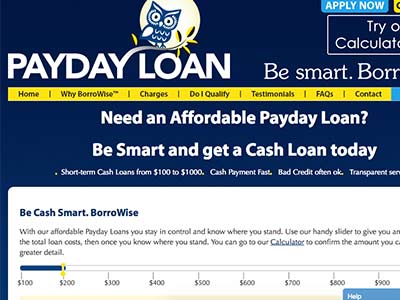 About Payday Loan
We offer payday loans online that are easy to apply for and can be credited into your bank account on the very same day.
You can apply with us even if you have bad credit as we focus on affordability and not solely on your credit history.
Dedicated to providing great service
Payday Loan ensures that when you need a little extra cash you can get it with ease and at a reasonable rate. Whether you need to pay bills or make a small purchase our quick loans can help you do it quickly. What makes us truly different to other lenders is our sheer dedication to providing the best customer service.
What Payday Loan can offer you
We're a responsible lender that is registered with the relevant government body - so when you use our services and take out a short-term loan with us you can rest assured that you're dealing with a reputable and well-established company that is transparent.
About our payday loans
We offer one of the quickest turnaround times on payday loans of between $100 and $1,000. You can repay your loan in terms that match your pay cycle and we allow customers to repay their loans early and save money if they are able to do so.
Payday Loan Product Details
Loan Type

Payday loans

Interest Rate

from 693.5%

Loan Amount

up to $1,000

Repayment

7 days to 42 days

Decision

2 hours
Here's how to apply with Payday Loan
Since our loans are available entirely online and you can enjoy instant approval - the rates we offer are higher than those offered by banks on their personal loans.
Considering this, these loans are only ideal for emergency situations and temporary cash flow issues.
How to repay the loan
You will generally receive your loan within one business day. This is ideal since you will be able to access the money quickly and easily and then proceed to make the necessary payments or purchases. Repayment is simple - the payday loan will be deducted directly from your account on the agreed day.
A lender you can put your faith in
Unfortunately, a lot of lenders are out there to make a profit and do not care about the means of obtaining that money. We are not like this – we only want the best for our customers which is why we will only lend to them if we are certain they will be able to meet their monthly repayments. Before approving a loan we use eligibility checking software to assess the application. From there we will determine whether the chosen borrowing amount is feasible for the applicant's income bracket. We care about you and your financial wellbeing so borrow from a lender that cares.
Unsecured loans that will bring a smile to your face
With today's economic climate it is not difficult to believe that there are many people still struggling with poor credit. As a result, there are many people who are not homeowners. Secured loan options require borrowers to provide an asset such as their home or vehicle as collateral or security. However, our loans are unsecured which means we do not need you to provide any collateral. The only downside to unsecured loans is that you can only access lower borrowing amounts at higher rates. But, as pointed out above, you can combat higher rates by repaying the loan faster.
Customer Reviews & Testimonials
"
I was very embarrassed about my credit history but, after dealing with your kind and professional employees, I was put at ease. Well trained staff and good products – you come highly recommended ...
Pam O
— Christchurch —
By being able to make minor additional payments throughout my loan term I was able to save money on my loan; money that could go towards financing the things that I love doing instead. Thank you ...
Mark C
— Clevedon —
When working with my finances I enjoy being able to discuss the options with a real person. Thanks to your staff I was able to come to an agreement that I was satisfied with. Will definitely give...
Peter S
— Cambridge —
Payday Loan Contact Details
Contact Number
E-Mail
Website