Payday loans up to $1,500
Repayment up to 38 days
In-page navigation
---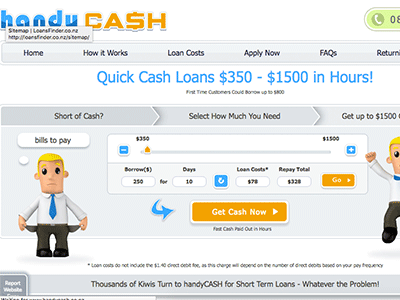 About Handy Cash
We've been operating for over Handy Cash and have the reputation and credibility that we deserve.
Most of our customers have used us for a payday loan in the past and are aware of just how reliable and efficient we are. We're a New Zealand lender that goes beyond the call of duty every time!
Service with a Smile
Our service agents are all highly trained and can ensure you are always served professionally, quickly and, of course, with a smile. If you're short on cash and are looking for a quick online loan solution Handy Cash can offer you a convenient payday cash loan online.
What Handy Cash can offer you
If you've run short on cash before payday these instant cash loans can help you get by at a reasonable rate.
You can apply for the loan online via our website and send your supporting documents by email or fax. We generally approve loans within 2 hours and credit the customer's account immediately after.
Lend up to $1,500 with Handy Cash
We offer quick and convenient payday loans that range from $350 to $1,500 - 100% online. You can view all the details of our loans, procedures and application requirements on our website - this is to ensure our customers are in the know at all times!
Handy Cash Product Details
Loan Type

Payday loans

Loan Amount

up to $1,500

Repayment

10 days to 38 days

Decision

2 hours
See How Simple Things are at Handy Cash
Don't waste time standing in a queue at the bank visit our website and complete you application in just 5 minutes.
With such simple and convenient service it's no wonder our customers recommend us to their friends and family! We're affordable, fast and convenient and are improving by the day. Applying for a personal loan with Handy Cash is as easy as 1, 2 and 3!
Not Ideal for Debt Consolidation
Although payday loans are ideal for people with bad credit or those who are blacklisted they are not ideal for debt consolidation. Our loans simply offer small amounts of cash for emergency expenses such as car repair bills or medical bills.
Customer Reviews & Testimonials
No reviews for this business.
Handy Cash Contact Details
Contact Number
E-Mail
Website