Rating based on 721 reviews
---
Pronto
Pronto is a Registered Financial Service Provider / FSP417766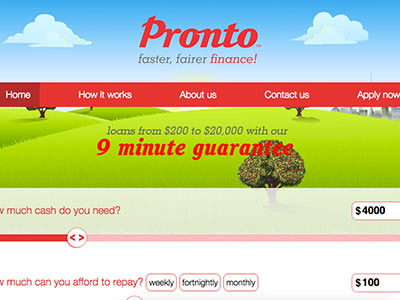 About Pronto
If you need a quick cash loan chances are slim that your local bank will be able to assist you as quickly as you need them to.
At Pronto, we can help you access the money you need when you need it and for as long as you need it. Our cash loans are simple, convenient and most of all, affordable!
Same day cash loans guaranteed
Getting a loan may seem a daunting task that will take you days to complete and will leave you feeling like the effort was simply not worth the reward but, with an online lender like Pronto you can get the cash loan you need on the same day that you apply and with no stress.
What Pronto can offer you
While short term loans are usually unsecured, we also offer secured loans which allow us to significantly lower the borrowing cost to you.
If you want an affordable loan Pronto is the best place to get one with our competitive interest rates and fees.
A simple loan application - 100% online!
Our loan application consists of only one page and can be completed in just a few minutes. Due to simplicity and speed at which you can get a loan at Pronto, we're simply the country's most popular lender. With us, you can get a loan of up to $20,000 and secure an interest rate as low as 16%.
---
Interest Rate
From 0 %

To 0 % Per annum
---
---
In a Nutshell
Average processing time 1 to 2 hours
Online application
In-store application
Unsecured loan option
Secured loan option
Bad credit consideration
Early repayment
---
Our cash loans are simple, convenient and, most of all, affordable
We will review your monthly income and expenses to make you a loan offer that will meet your budget and needs simultaneously.
You can use our loan calculators to determine the best loan amount and term however, we may make an alternative suggestion.
Necessary supporting documents
Once you've completed the online loan application it's then time to upload your ID, bank statements and proof of address. Those who are employed will also be required to provide their two most recent payslips in the case that their bank statements are insufficient while those who are self-employed can apply by providing their bank statements alone.
Introducing the simple application process
Technology has assisted us to make a streamlined application process for our customers. No one has the time to sit around waiting on a response which is why we do not expect you to. Simply complete our online application via any Smartphone, Tablet or personal computer and get a response within minutes. Once your application has been assessed and your loan is approved you can simply sign the documentation online and the cash will be paid into your account – it is that simple. No more afternoons spent at the bank – all you need is the electronic device of your preference and the comfort of your own home.
Our 9-minute guarantee
Efficiency is our middle name which is why we aim to get finance delivered to you pronto. It is our promise to have your cash cleared into your account within nine minutes of you signing your contract. Our instant digital signature advanced technology allows for faster processing of loans which is why we are the lender to look to for fast loans. If we are unable to live up to our nine minute promise then we guarantee that we will make your first repayment for you. With us efficiency is everything!
---
Eligibility & Requirements
18 years or older
NZ resident
Earning a stable income
Credit check
Bank statements
Proof of address
---
Other Products & Services
Auckland personal loans
Hamilton instant finance
Tauranga online cash loans
Whangarei fast cash loans
Gisborne instant loans
Car repair loans
Cash advance NZ
Online loans
Loans NZ
---
Customer Reviews & Testimonials
I read about the Pronto promise but never thought that it would actually turn out to be true. I was pleasantly surprised by the efficiency of the promise!
Barry N
— Queenstown —
Pronto helped me to finance the family vacation that I had been promising my family for years! Thank you for helping my family and I get the break we deserved.
John A
— Ettrick —
After being turned away by multiple banks and lenders I was beginning to give up hope. But that was when I found Pronto and they gave me the chance to get the finance I have been needing despite my credit record.
Janine
— Dipton —
I am a very hands-on type of individual which is why I found the online calculator a very nifty tool. I was able to determine the best loan option for my situation with the help of this wonderful piece of technology!
Trevor V
— Matata —
Previous
Next
Address
Physical Address
278 Queen St

,

Richmond

,

Tasman

,

7020

,

New Zealand
Opening Hours
Monday 09:00 – 17:00
Tuesday 09:00 – 17:00
Wednesday 09:00 – 17:00
Thursday 09:00 – 17:00
Friday 09:00 – 17:00
Saturday Closed –
Sunday Closed –