Low-interest starting from 29.95%
Quick loans up to $20,000
Repayment up to 7 years
In-page navigation
---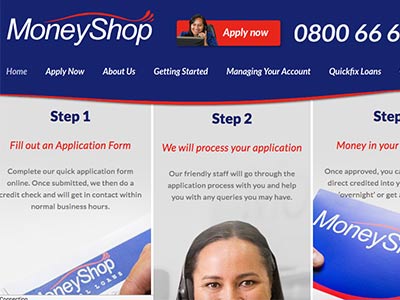 About Money Shop
Their APR is clearly lower than the majority of their online competitors.
They also offer much longer loan terms so that customers can easily afford a quick loan from them. Money Shop's products are superior because they've been designed by Kiwis for Kiwis.
A company that is a cut above the rest
Apart from their fantastic unsecured quick loans they also offer secured loans for those who are looking for larger loan amounts or for people who have poor credit and want to secure a lower interest rate. With such flexible loan amounts and loan options, they're a cut above the rest!
What Money Shop can offer you
Money Shop doesn't only offer impeccable prices on their instant loans but they also offer a range of financial articles and information on their website which you can use to help you better manage your money and improve your overall financial situation. You can also make use of their fast loan calculators which are available on their website.
They offer pre-approval on their loans
Money Shop knows that you're busy and that the last thing you want is to sit around waiting for news of whether your quick loan will be approved or not. This is why they provide customers with immediate pre-approval - so they don't have to waste time only to be denied hours or days later.
What Money Shop can offer you
At Money Shop you can get a quick cash loan of between $200 and $20,000 - depending on whether you can provide security or not.
If you can't provide security, you will be able to borrow up to $5,000 with their unsecured quick loans. They have competitive interest rates on both their secured and unsecured fast loans and offer some of the most flexible lending terms in the country.
A superior fast loan application
If you need a quick cash loan they're the best lender to get it from because their loan application can be done entirely online and has been simplified to ensure that customers can do it in under 10 minutes. Once you've applied, they will then send you an email requesting all the necessary supporting documents.
Bad credit quick loans to the rescue
Thinking of applying for a Money Shop quick loan, but you are worried about your credit score? Just because you have encountered some rough patches on your financial journey does not mean that you should be unable to access instant finance. The sad reality is that most lenders and banks turn away those with a poor credit record and those are the people that need credit the most.
The good news is that a bad credit loan can assist you to improve your credit score which will allow you to access better loans with higher borrowing amounts and lower rates in the future. Make the smart choice for your finances and get a bad credit quick loan from Money Shop today.
Money Shop Product Details
Loan Type

Quick loans

Interest Rate

29.95 – 34.95% p/a

Loan Amount

up to $20,000

Repayment

6 months to 7 years

Decision

24 hours
We offer pre-approval on our fast cash loans
With a 2-minute application process and their fast way of working you can have your quick cash loan in your bank account within 2 hours.
Quickly apply and see if you qualify:
Step 1:
You'll need to advise why you need the loan as well as a few personal details.
Step 2:
They will then put a tailored fast loan package together for you according to your specific needs, finances, and ability to provide collateral.
Step 3:
As soon as your fast loan has been approved you can expect to receive the money in less than 2 hours.
Secured vs. unsecured quick loans
When it comes to deciding on which type of loan is more suited for you, you will need to assess your current financial situation as well as your credit score. With a secured quick loan, the borrower will be required to provide a form of security such as property or a vehicle. But, with added security, come higher borrowing amounts and lower rates.
If you are not a homeowner or do not own a vehicle you can apply for an unsecured quick loan that does not require any collateral. With a poor credit score, it is often best to go for a secured quick loan since you can access a better rate. At the end of the day, the type of loan will depend on your own affordability.
Get a quick loan from a company that cares
Money Shop works hard to always go over and above for their clients by providing them with the very best quick loans possible. Apply now and enjoy a fast loan solution for your problems as well as world-class service from a friendly team.
Benefits of becoming a Money Shop client
Secured fast loans up to $20,000.
Unsecured fast loans up to $5,000.

Impeccably quick service.

Cash payouts within 2 hours.

Reliable and transparent assistance.
Customer Reviews & Testimonials
"
I heard about the Money Shop from friends and family that have borrowed from them in the past. I have only ever heard good things and now I, too, have only got good things to say about them! Good...
Jeff S
— Brightwater —
I felt like a kid in a candy store when I began my loan research with Money Shop. Thank you for the versatility and flexibility that is your loans! I will never look back again.
Taylor W
— Palmerston —
Got exactly what I needed in the shortest time possible. They deliver great service at a very fast pace.
Wilson A
— Napier —
Friendly and reliable staff that is always willing to assist immediately.
Kim H
— Auckland —
They offered me a great and affordable quick loan deal. I am very happy with their service delivery as well.
Ward L
— Hamilton —
Money Shop Contact Details
Contact Number
E-Mail
Website
Physical Address
593 Great South Rd

Otahuhu

Auckland

1062

New Zealand