Low-interest starting from 19.95%
Quick loans up to $20,000
Repayment up to 3 years
In-page navigation
---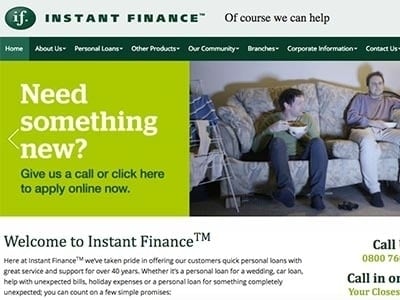 About Instant Finance
When you require a quick loan you can stop your search at the best lender in New Zealand. Instant Finance has the solution you need and they are always more than willing to help you.
Instant Finance graced New Zealand with its presence in 1971 and has grown from strength to strength ever since. They are in the business of assisting the people of New Zealand with fast loans in a responsible way.
They have the confidence of knowing the business of lending and the strife of giving its customers only the best service possible. Getting a quick loan from Instant Finance will be the best decision you can make.
Quick loans with a difference
Together with the excellent service, Instant Finance believes in treating its customers with the utmost respect. They were able to establish relationships with long-lasting customers.
When it comes to understanding the frustration of money troubles, Instant Finance is in a class of its own. They make it their business to listen without judgment while also helping and guiding people in the right direction. Getting a quick loan need not be a daunting task. Instant Finance is here to understand and give its customers the best options for success.
A Quick loan from a lender you can trust
Apart from giving its customers excellent service and understanding individual situations, Instant Finance is trustworthy. They provide Kiwis with sound, safe, and transparent financing options for good financial growth. They are proud to say that with this foundation they have managed to open 26 branches across New Zealand.
Being able to get a loan from a reputable, well-established, and transparent lender has made life easier for many Kiwis over the years.
What Instant Finance can offer you
Life has a way of sneaking up on you in many different ways. It might be close to month-end and you just need a little fast loan to get you through the last few days.
Whatever the reason may be, Instant Finance will have you covered. Understanding customers and their loan needs are what they do best and they have a good track record to prove it.
There is no need to suffer financially when there is a lender that has proven over the years that they are there to lend a helping hand.
A caring lender that goes over and above
It is often the case that lenders go about giving people quick loans without really establishing whether or not it is a good idea. Instant Finance prides itself that they go more than the extra mile for you.
The staff at Instant Finance understand, and they care. They will listen to your financial circumstance and then give you the best-suited options.
They will even help you to plan your finances in such a way that you stay in optimum financial health. Instant Finance cares about your financial well-being in every way.
Instant Finance can assist you with a car loan
If the time has come for you to trade in your trusted old friend for a newer version, they can assist. They understand that having a reliable car in today's life is a necessity. Get a loan you can trust. Getting to and from work, getting the kids to school and all those day-to-day things need a car you can count on.
If you have your eye on your dream car, let Instant Finance help you achieve your dream with a car loan you can trust.
Instant Finance Product Details
Loan Type

Quick loans

Interest Rate

19.95 – 29.95% p/a

Loan Amount

up to $20,000

Repayment

4 weeks to 3 years
Choose from a variety of loans to suit your requirements
Instant Finance has made the process of getting a quick loan as easy as possible.
There is no more waiting in queues with a ton of paperwork. They realized that getting a loan is a sensitive matter. You can simply apply for a loan online on their website.
Here are the requirements and documentation needed:
You will have to be at least 18 years of age.
You need to be a citizen of New Zealand or have residency.
A valid proof of address.
A valid photo ID or a New Zealand driver's license will do for identification.
A 3-month bank statement will also be required.
Now that you know what you need you can head on over to their website and fill in the application form for your quick loan. It is highly advisable to complete the application in full and with all the required documents. This will speed up the process.
Here is how you do your application:
Step one:
You will firstly hit the apply now button to start filling in your application. This will take a few minutes with a few very standard questions regarding your:
Personal details.
Contact details.
Employment details.
Complete your quick loan application and submit it.
Step two:
Instant Finance will then do a credit check. They will then also work out the best loan to suit your individual needs. They do a detailed assessment to make sure that your financial health does not deteriorate any further.
Step three:
Instant Finance will require a security item on your loan. After all of this has been dealt with and everything that is required has been submitted, they will decide on your loan.
Step four:
As soon as the quick loan application has been assessed and approved, you can expect to receive the money within 24 hours.
Choosing Instant Finance means choosing the best
Everybody comes into a little financial trouble at least once in their lifetime. It is frustrating and a very sensitive matter when that time comes. To know that there is a lender out there that understands and cares makes life easier.
You do not need to feel helpless anymore. Come to New Zealand's trusted lender and see how much they care about you. Make the informed choice and choose Instant Finance for a fast loan today.
The benefits of a Quick loan from Instant Finance
Instant Finance is a reliable and trustworthy lender.
They offer an easy application process.
Tailor-made loan repayment plans for every one of up to 36 months.
With them, you can borrow up to $20,000.
You get your money within 24 hours of approval.
Instant Finance helps you with personal financial advice as part of their service.
Customer Reviews & Testimonials
"
Instant Finance really gives you instant satisfaction. Really good service and value for money!
Kyle D
— Wellington —
"Great quick cash option when in a bind, reasonable rates as well."
Jennifer C
— Auckland —
I really love how easy to use the website is and how convenient the application process was. I will be sure to use Instant Finance again if need be and to recommend them to others!
Lilly Z
— Auckland —
I am so glad I took a chance with Instant Finance for my quick loan. They are so friendly and helpful and explained everything in great detail. I will never use another lender again.
Smith A
— Auckland —
Getting a quick loan seemed to be a difficult task. A family friend told me about Instant Finance and I went to their website. I was surprised at how easy the whole process was. They are a great ...
Jones H
— Wellington —
I just wanted to say thank you to Instant Finance for making life so easy. They have simplified the quick loan process so much. It is a pleasure doing business with them. They are always ready wi...
Brown E
— Dunedin —
Instant Finance Contact Details
Contact Number
E-Mail
Website
Physical Address
3/11 Goulding Ave

Christchurch

Hornby

8042

New Zealand
---
Postal Address
P.O. Box 11427, Ellerslie Level One, Building B 600 Great South Road, Greenlane, 1051, New Zealand