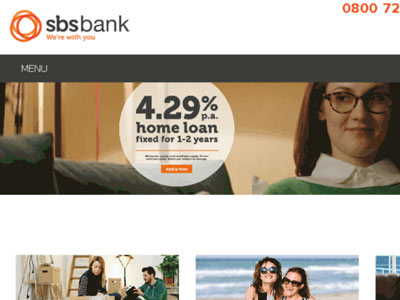 About SBS Bank
A common misconception about credit unions is that they don't offer a comprehensive range of products and services as a traditional bank but, at SBS Bank you'll find that not only do we have everything that a bank does but we have a lot more and we offer much more competitive rates and the lowest possible fees.
Reach your financial goals faster with us
One of the primary reasons that people choose to become members of SBS Bank is so that they can access low rate personal loans but, in addition to this great service we also offer a range of savings and investment accounts that are second to none in New Zealand and will have you reaching your savings goals quickly and easily.
What SBS Bank can offer you
We offer everyday banking accounts, savings accounts that offer returns much higher than those offered by New Zealand banks, personal loans, debt consolidation loans, car loan and a range of insurance products including life cover, funeral plans and car and home insurance at much more affordable rates than you'll find elsewhere.
Get a personal loan with us
Our personal loans range from $1,000 to $50,000 which are ideal for anything from buying a new car, taking a much deserved holiday and even consolidating debt. With SBS Bank you can apply for a loan online and get it credited in just 24 hours! You can also make extra payments on your loan or repay early with no penalty!
SBS Bank Product Details
Loan Type

Credit union loans
We offer much more competitive rates and the lowest possible fees
If you're looking to apply for a loan with us you must first become a member before we will allow you to apply with us.
Once you've done this you can then decide which of our great products makes the most sense to you and your lifestyle and we'll gladly offer you credit where and when it's needed.
Making things easier for you
SBS Bank makes it easy to become a member and even easier to apply for the financial products and services that you need through our modern and innovative online platform. You can apply for a loan online, open a savings account or pay accounts and bills online - which saves you time and money! To apply simply fill in our simple online contact form and we'll be in touch!
Why was my credit union loan declined?
There might be a number of reasons that resulted in declining your loan application. If we see that you have a number of debts that you are already paying for, we might have to turn your credit request down. Nothing stops you from applying for credit in future when you have settled some of your loans. We will not close our doors on you.
I would like to top up on my credit union loan
Applying for an additional credit union loan will depend on your affordability and whether your credit profile allows you to take the credit. If your other loans are in good standing and you qualify for extra credit, we will approve your application. We always advise our customers to first finish paying off their initial credit union loan before applying for another one.
Financial maturity is important and maintaining a good credit record is just as significant
A number of customers are settling debts that they never really wanted to apply for because they weren't in a sense of financial emergency. If you don't need the credit, there is no need to ruin your credit profile for something that you can always get at a later stage.
Customer Reviews & Testimonials
"
The time taken to get on my credit union loan application was less than a day.
Beth T
— Glentui —
Applying for a credit union loan on the SBS Bank website was easy and hassle-free.
Jonathan B
— Gore —
SBS Bank Contact Details
Contact Number
E-Mail
Website
Physical Address
36 Spring St

Tauranga

Tauranga

3110

New Zealand
---
Postal Address
PO Box 835, Invercargill, 9840, New Zealand
Opening Hours
Monday

09:00 – 16:30

Tuesday

09:30 – 16:30

Wednesday

09:00 – 16:30

Thursday

09:00 – 16:30

Friday

09:00 – 16:30

Saturday

– Closed

Sunday

– Closed