First Credit Union
Updated
Low-interest starting from 9.95%
Credit union loans up to $50,000
Repayment up to 48 months
In-page navigation
---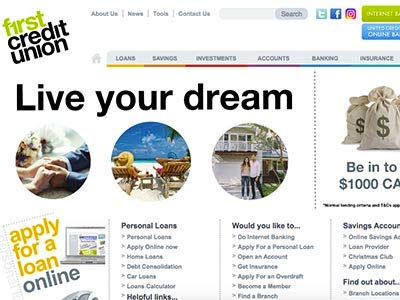 About First Credit Union
First Credit Union is a credit union with a rich history and a strong culture.
We've been diligently providing a range of savings and personal loan services to our member for over 60 years. As a credit union we focus on the well being of our members and strive to help them achieve their financial goals and dreams.
Operating for the benefit of our members
Credit unions are essentially financial and insurance providers that operate solely for the benefit of their members and at First Credit Union this is exactly what we do. We offer personal loans, car loans, insurance, savings accounts and everyday transactional accounts at a fraction of the cost you would find at a local bank.
What First Credit Union can offer you
At First Credit Union we offer a full scope of financial, banking, savings and insurance products and services at some of the lowest rates in the country.
As a credit union member, you will have access to this fantastic range of products and will be able to make your money go further - reaching your goals and making your dreams come true.
A taste of our products and services
We offer personal loans from as little as 11.99% and floating rate home loans at just 5.60%. If youre buying your first home our 1 to 2 year fixed rate home loans are ideal since you can secures fixed rates of between 4.39% and 4.99% per annum.
First Credit Union Product Details
Loan Type

Credit union loans

Interest Rate

9.95 – 18% p/a

Loan Amount

up to $50,000

Repayment

3 months to 48 months
At First Credit Union we offer a full scope of financial services
When applying to become a member of a credit union you generally have to work in a certain field or live in a certain area but the only requirement with First Credit Union is that you be a New Zealand citizen or resident currently residing in the country.
You can apply online or come visit our offices during business hours to become a member.
A few reasons why we're just better
Unlike large banks and other lenders we don't place limits on what you can and cannot do - as long as you can afford the long or short-term credit that you are applying for you can have it! In addition, although we will look at things like your debt and credit history we will always do our best to accommodate you based on affordability rather than the past.
Adhering to your end of the bargain
Everything that we do is to satisfy the needs and wants of a customer, we would inconvenience you. It is for this reason why we also expect the client to do their end of the bargain by ensuring that their credit union is always up to date and they never miss a payment. In essence, the relationship between us and the customer is one that requires all parties to work together for the greater good.
If you encounter problems that may make it difficult for you to settle your loan on time, please notify us as soon as possible. We know that problems may arise that are beyond your control. Don't wait until the date of your debit order before you inform us as this will already be too late for us to make another alternative.
How do I pay my credit union loan?
The most convenient way of ensuring payment is by making a debit order system that automatically debits on the agreed date. The customer has to ensure that there are sufficient funds on their bank account on that day. There will extra charges if money couldn't be deducted on your debit order date.
Customer Reviews & Testimonials
"
All it took was a credit union loan application from First Credit Union and I was good to go.
Jessica R
— Inangahua —
The interest rate charges at First Credit Union are quite affordable on credit union loans.
Emily P
— Inglewood —
The credit union loan application was fast and easy to complete. Within minutes, I was done and had already submitted my loan application.
Derick F
— Invercargill —
First Credit Union Contact Details
Contact Number
E-Mail
Website
Physical Address
111 Collingwood Street

Hamilton

Waikato

3204

New Zealand
Opening Hours
Monday

09:00 – 16:30

Tuesday

09:00 – 16:30

Wednesday

09:00 – 16:30

Thursday

09:00 – 16:30

Friday

09:00 – 16:30

Saturday

– Closed

Sunday

– Closed