Low-interest starting from 8.9%
Credit union loans up to $50,000
Repayment up to 5 years
In-page navigation
---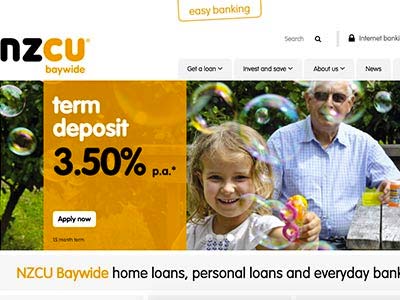 About NZCU Baywide
One of the major benefits that you can enjoy when you become a member of a credit union is that of low rate lending and superior savings accounts.
Unlike traditional banks, credit unions like NZCU Baywide do not operate for the purpose of profit and are therefore able to offer financial products and services that are superior.
Our most popular products
One of our most popular financial products at NZCU Baywide is our low rate personal loans which can be used for anything from renovating your kitchen, buying a new or used car and taking the family on holiday to consolidating debt and getting out of a spending mindset and into a saving mindset.
What NZCU Baywide can offer you
When you need a personal loan the first place that you're likely to go is to your local bank but with lower interest rates, more flexibility and better service a credit union like NZCY Baywide should be your first stop.
We offer a wide range of financial and banking services that are just better in every way!
Our personal loans - need to know
We offer secured personal loans from as low as 8.9% per annum and unsecured loans from just 11.9% per annum. Our secured loans range from $2,000 to $60,000 making them ideal for purchasing a vehicle or consolidating expensive debts. Also, check out our 0% deposit home loans where you can borrow up to $250,000!
NZCU Baywide Product Details
Loan Type

Credit union loans

Interest Rate

8.9 – 27.90% p/a

Loan Amount

up to $50,000

Repayment

6 months to 5 years

Initiation Fee

$250
Access our 0% deposit home loans by becoming a member
In order to access our range of products and service, you must first apply to become a member.
This is a quick and simple process that can be completed online in just a matter of minutes. Simply provide us with all of your personal, contact and employment details, set up and account and you're on your way to a better home and personal loan rates and better service!
Stop spending and start saving!
If you're ready to leave debt behind and start saving then as a credit union can help you with our fantastic savings and investment accounts that do more than just offer you a great way to save. They offer you higher than average returns and a safety net which ensures that when the unexpected happens you can deal with it without having to go into expensive debt.
I am facing financial difficulties
If you are facing some financial difficulty that is making it difficult for you to pay your loan, you need to inform us right away. Although you will still be liable for extra charges, we will be aware of the situation you are faced with. The most important factor is to be certain that you will be able to pay for the personal bad credit loan you are applying for.
If you are not certain, don't apply. Only apply once you are certain that you will have the required amount on a monthly basis until you are done with the loan. Failure to have the money will also ruin your credit profile and it will take a great deal of effort to get your creditability in good standing again. There will always be implications for not paying your personal bad credit loan on time.
Is my information safe and protected?
Everybody who uses our services will tell you that we take their private and confidential seriously. No information is shared or leaked with any third parties.
I would like to top up my loan?
We need to see how much you need to pay before we can approve your top-up. If you would like to top-up, give us a call and we will see what we can do to ensure that you get what you are looking for. We can't make every client happy but we can always try to meet them halfway.
Customer Reviews & Testimonials
"
The interest rates at NZCU Baywide for peer to peer are quite reasonable and affordable.
Ethan M
— Herekino —
NZCU Baywidehas the best agents that go above and beyond for their customers.
Simon S
— Hikuai —
NZCU Baywide Contact Details
Contact Number
E-Mail
Website
Physical Address
60 High St

Dannevirke

Manawatu-Wanganui

4930

New Zealand
---
Postal Address
NZCU Baywide Feedback, PO Box 431, Hastings, 4156, New Zealand
Opening Hours
Monday

09:00 – 16:30

Tuesday

09:30 – 16:30

Wednesday

09:00 – 16:30

Thursday

09:00 – 18:30

Friday

09:00 – 16:30

Saturday

– Closed

Sunday

– Closed